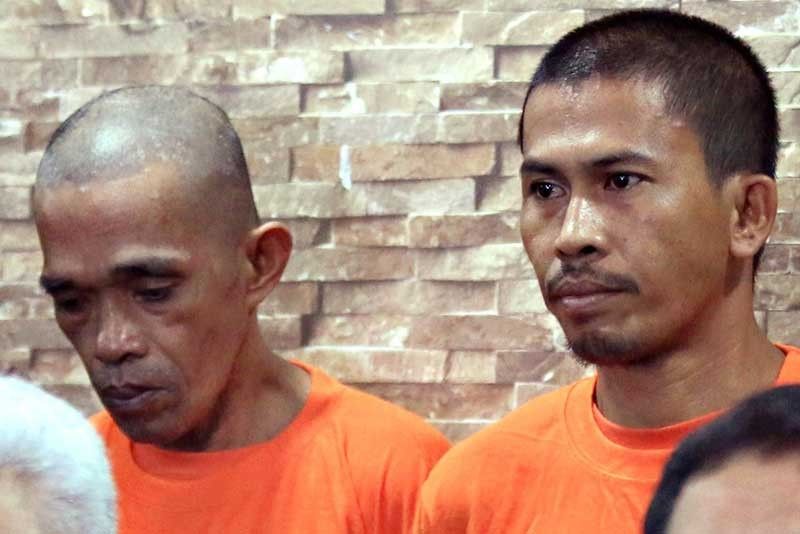 Alleged Abu Sayyaf members Harub Jaljalis and Pinky Ani Hadjinulla are presented during a press conference at the National Bureau of Investigation headquarters in Manila yesterday.
Edd Gumban
2 Abu Sayyaf in 2001 beheadings fall
Rey Galupo
(The Philippine Star) - February 8, 2019 - 12:00am
MANILA, Philippines — Two alleged Abu Sayyaf members suspected of involvement in the kidnapping and beheading of workers from a Basilan plantation in 2001 have been arrested, the National Bureau of Investigation (NBI) said yesterday.
Harub Jaljali, alias Indal, and Pinky Anu Hadjinulla were caught in a canteen near the city hall in Barangay Sta. Catalina, Zamboanga City last Sunday, NBI deputy director Ferdinand Lavin said.
An informant and a survivor identified the two men as among those who kidnapped and beheaded workers from the Golden Harvest plantation in Lantawan, Basilan.
Lavin said they are validating reports that the suspects, who allegedly belong to Abu Sayyaf leader Radullan Sahiron's faction, were in Zamboanga City for a bombing mission following the military's attack on the bandit group's lair in Jolo, Sulu.
Indal is allegedly a bomb maker who received training from Indonesian and Middle Eastern jihadists, according to Lavin.
Indal reportedly serves as a liaison for foreign terrorists who slip into the country and was seen escorting Abdul Patta Escalon, who was recently arrested, to Tuburan, Basilan while delivering uniforms and equipment to Abu Sayyaf members, Lavin said.
Lavin said intelligence officers have been following Hadjinulla, who was seen "monitoring children who were playing inside a mall."