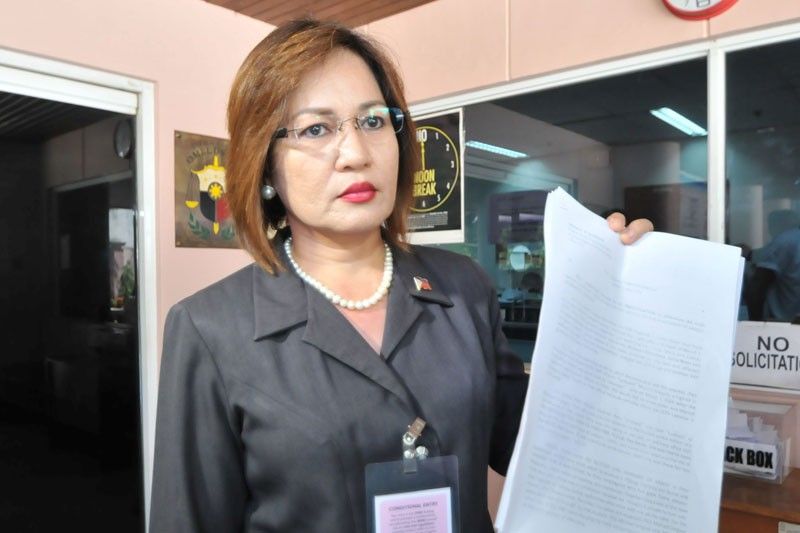 Former Cebu City assistant prosecutor Mary Ann Castro.
FREEMAN
Ex-Cebu prosecutor gunned down
MANILA, Philippines — A former assistant prosecutor in Cebu City was killed in a gun attack on Thursday night.
Police said Mary Ann Castro, 49, was driving her Nissan Juke (F1 1604) on her way home when she was shot along Escario street in Barangay Kamputhaw. The vehicle crashed into another car on the opposite lane and then rammed the fence of a construction site.
Probers said the killing could be due to a personal grudge or work-related.
Documents obtained by The Freeman showed that Castro was investigated in 2017 due to her alleged involvement in the illegal drug trade.
Chief Inspector Eduard Sanchez, Fuente police chief, said the trajectory of the bullets were precise and consistent, an indication that the assailant is a "well-trained shooter."
Castro was on vacation leave from the Masbate prosecutor's office, according to provincial prosecutor Jeremias Mapula. She was supposed to return to Masbate next week to attend a hearing at a regional trial court.
"She had performed her job well... I did not receive any complaint against her from litigants or from the court," Mapula said.
In 2015, the Supreme Court suspended Castro for six months for conduct prejudicial to the best interest of the service after she allegedly summoned a Special Weapons and Tactics team for personal reasons.
Castro was suspended for another six months in 2016 for forum shopping and violating the Code of Professional Responsibility when she filed two petitions for annulment of her first marriage in two separate courts.
In January last year, the Department of Justice suspended Castro for 90 days in connection with a complaint filed by former Cebu provincial board member Grecilda Sanchez-Zaballero, sister of her husband Leodegreco.
Zaballero claimed Castro used her "knowledge, connections and influence" to be close to her brother, whom the prosecutor had married. The couple separated after a few months.
Parallel probes
The offices of the National Bureau of Investigation (NBI) and the Commission on Human Rights (CHR) in Central Visayas will conduct parallel probes into the killing.
"I directed the NBI to investigate the ambush of prosecutor Mary Ann Castro and to identify the perpetrators at the soonest possible time," Justice Secretary Menardo Guevarra said in a text message to reporters.
CHR-Region 7 director Arvin Ordon said a quick reaction team would be formed to look into the killing even as he called on the police to conduct a thorough investigation.
Ordon said the CHR is alarmed over recent killings of lawyers.
Castro is the first lawyer killed in a gun attack this year.
The Integrated Bar of the Philippines-Cebu City chapter condemned the killing of Castro and called on authorities to exhaust all possible angles to put the perpetrators behind bars. – Mylen Manto/The Freeman, Evelyn Macairan