Thousands join interfaith rally for clean elections
January 14, 2019 | 12:00am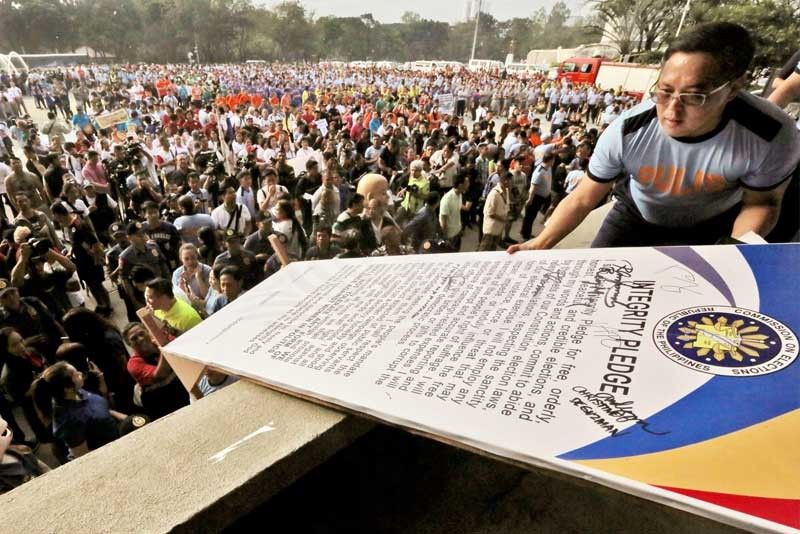 MANILA, Philippines — An estimated 6,000 people yesterday joined an interfaith rally and covenant signing in Quezon City for clean, peaceful, orderly and credible midterm elections in May.
Administration and opposition candidates attended the event together with officials from the Commission on Elections (Comelec), Department of the Interior and Local Government, Philippine National Police (PNP), Armed Forces of the Philippines (AFP) and other government agencies.
The activity started as early as 5 a.m. and ended at around 9 a.m., according to the Quezon City Police District (QCPD).
The event was preceded by a unity walk from various parts of the city and ended at the Quezon Memorial Circle.
Five of the senatorial
candidates of the opposition were present. They were Sen. Paolo Benigno Aquino IV, Magdalo party-list Rep. Gary Alejano, lawyers Jose Manuel Diokno and Lorenzo Tanada III and civic leader Samira Gutoc.
Former presidential communications assistant secretary Mocha Uson, who is running for a seat in Congress as representative of AA-Kasosyo party-list, and former police senior superintendent Cesar Mancao, candidate of May Pag-asa party-list, were also in attendance.
The candidates joined other representatives from the government and private sectors in calling for peaceful and honest elections.
"Mahalaga at maganda na nagsamasama yung iba-ibang institution such as the PNP, AFP, Comelec and the candidates to push for peaceful elections," Aquino told reporters.
He admitted they are facing an uphill battle being part of the opposition. But he expressed confidence they could still catch up in the coming months.
"Before the start of the campaign, mabibigyan ng oras at swing ang mga kasama sa Otso Diretso," Aquino said, referring to the opposition slate.
The other members of the senatorial slate are former interior chief Manuel Roxas II, election lawyer Romulo Macalintal and former solicitor general Florin Hilbay.
The candidates recited and signed an Integrity Pledge, the highlight of the activity where they promised to abide by the country's laws, respect the sanctity of the electoral exercise and shun any form of violence.
PNP chief Director General Oscar Albayalde, in a speech read by Director Rolando Felix of the Directorate for Integrated Police Operations for Visayas, called for the cooperation of all participants to ensure peaceful elections.
"I take this opportunity to enjoin everyone to help us sustain and strengthen our peace efforts during the entire election period.Everyone has a vital role in this effort," Albayalde said.
While there will always be evil elements out to sow fear and violence, the PNP chief said he is confident a united country will thwart any attempt to disrupt the polls.
"As long as we remain vigilant, these evil forces will not prosper in perpetrating their activities," he said.
National Capital Region Police Office chief Director Guillermo Eleazar said there were no untoward incidents in Metro Manila on the first day of the election period, except for a tricycle driver who was arrested at a checkpoint in Manila for alleged shabu possession.