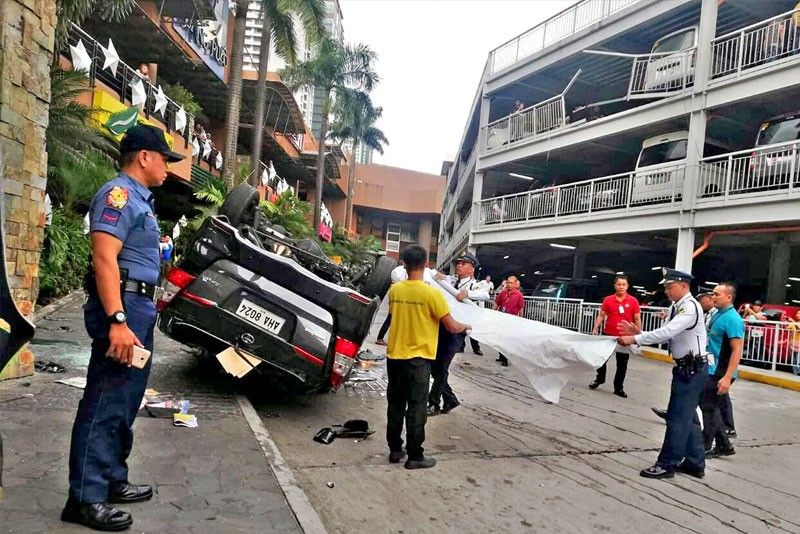 Photo provided by the Philippine National Police shows Teodoro Llamanzares' car overturned after it plunged from the third floor of a parking building in Greenhills, San Juan City yesterday.
Poe's father-in-law hurt in car crash
Non Alquitran
(The Philippine Star) - November 19, 2018 - 12:00am
MANILA, Philippines — The father-in-law of Sen. Grace Poe was injured after his car fell off a parking building on the third level of a mall in Greenhills, San Juan City yesterday.
Teodoro Llamanzares, 83, was taken to the Cardinal Santos Medical Center after he suffered minor injuries, city police chief Senior Superintendent Dindo Reyes said.
Witnesses told police that Llamanzares was parking on the third floor of the Promenade mall's parking building when his black Toyota Innova (AHA 8024) rammed the railing at around 9:45 a.m.
Reyes said Llamanzares accidentally stepped on the car's accelerator, which caused it to hit the railing and plunge from the building.
No one else was hurt in the accident.
Police said the management of the Premonade mall immediately sent a medical team to the hospital and talked with Poe's husband Neil.
Doctors attending to Llamanzares assured his family that he is in stable condition.
Reports said Llamanzares and his wife just came from church when the incident happened.
Members of the Police Community Precinct 1 in Greenhills pulled Llamanzares out of the car and rushed him to the nearby hospital.
Reyes said they were still investigating the accident.
Poe was thankful that her father-in-law did not suffer serious injuries.
"It's a good thing he was wearing his seatbelt so he only suffered fractured ribs and bruises. We expect his speedy recovery," Poe said in a statement.
"We want to thank everyone for their prayers and concern. We're just thankful he was safe and no one else was hurt," she added.– With Paolo Romero