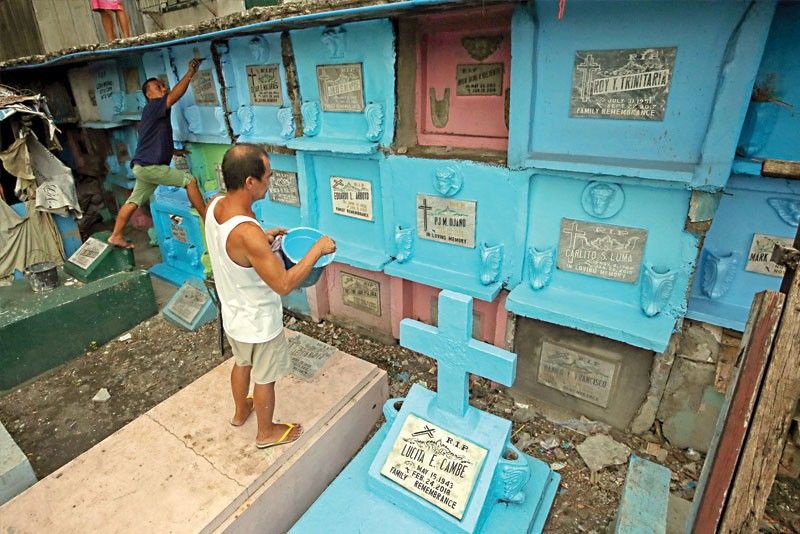 People clean the tombs of their departed loved ones at the Manila North Cemetery yesterday in preparation for the observance of All Saints' Day on Nov. 1.
KJ Rosales
SPD to deploy 900 cops for Undas
MANILA, Philippines — The Southern Police District (SPD) will assign more than 900 police officers to secure 28 public and private cemeteries during the observance of All Saints' Day or "Undas," an official said yesterday.
"We will also monitor the security preparations and deployment of additional police officers to intensify monitoring of all bus stations, airport commercial centers and some segments of the LRT and MRT," said Senior Superintendent Eliseo dela Cruz, Southern Police District director, referring to the Light Rail Transit and Metro Rail Transit.
He said 1,605 force multipliers, composed of barangay watchmen as well as members of the Bantay Bayan and Barangay Peacekeeping Action Teams, among other groups.
Dela Cruz also reminded the public to make sure that their houses are locked and their appliances unplugged before leaving for the cemetery.
In Manila, at least 1,500 police officers will be assigned to secure the Manila North Cemetery, the Manila South Cemetery, Manila Chinese Cemetery and portions of the La Loma Cemetery, according to Senior Superintendent Danilo Macerin, Manila Police District's directorial staff chief.
A skeletal force will be assigned as early as tomorrow while full deployment will be on Wednesday morning.
Vehicles are barred from the four cemeteries and motorists will have to park along adjacent streets, Macerin said.
Caloocan Mayor Oscar Malapitan has tapped the department of public safety and traffic management to supervise security preparations for the city's public cemeteries in Tala, Bagbaguin and Sangandaan and limit the number of vendors there.
He said the local police, non-government volunteers, medical teams and traffic enforcers will also be stationed in and around the cemeteries.
Malabon public information chief Bong Padua said a command center will be set up in Tugatog Cemetery where police officers, traffic enforcers and medical personnel will be stationed starting on Oct. 30.
He said Lascano street will be closed to traffic.
Navotas and Valenzuela have also signified that their preparations for Undas are almost complete. – Rey Galupo