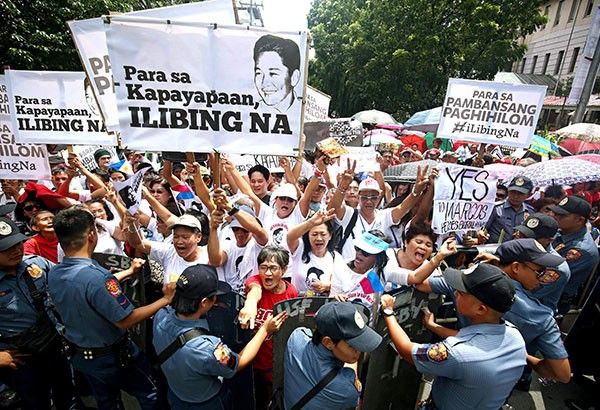 Marcos loyalists at a rally outside the Supreme Court in Manila in September 2016.
MIGUEL DE GUZMAN, file
No moving on from Marcos-era massacres and abuse, Bangsamoro group says
(Philstar.com) - August 26, 2018 - 10:44am
MANILA, Philippines — Moro families who lost relatives to massacres and fighting in Mindanao during the presidency of Ferdinand Marcos will never forget, a Bangsamoro activist group said Saturday.
"Under his Martial Law, Bangsamoro suffered from his anti-Moro war and series of massacres such as the Jabidah, Tacub, Manili, Palimbang and many others. Until now, no justice has been given to our people!" Suara Bangsamoro, a mass organization associated with the national democratic movement, said in a statement Saturday.
RELATED: The Forgotten War: Memories of Martial Law in Mindanao
The group was responding to remarks by Ilocos Norte Gov. Imee Marcos earlier in the week that critics of her father's more than 20 years in power should move on. "The millennials have moved on and, I think, people at my age should move on as well," she said on the anniversary of the assassination of Benigno Aquino Jr., her father's political rival and critic.
Youth groups promptly disputed her claim.
On Friday, former Sen. Ferdinand "Bongbong" Marcos said he understands his sister's sentiments.
"The government fell. The cases against us were filed. The cases came to a decision," the former senator said. "What do we [as a nation] want to do about it now?"
Parts of Mindanao saw heavy militarization in the 1970s—a situation that activists and rights advocates say still remains—in response to the Moro independence movement and to rebellion by the Moro National Liberation Front.The "pacification" campaign has been blamed for human rights violations—including massacres and rapes—in that period.
A widespread fire in Jolo, Sulu that destroyed thousands of houses was said to be the worst since the 1974 Battle of Jolo—also called the Burning of Jolo—between the government and the Moro National Liberation Front.
"During Martial Law, more than a thousand of Palimbang (in Sultan Kudarat province) men of all ages were rounded up and mercilessly massacred inside that mosque by the military. From wives to widows in an instant blow, the women of Palimbang wept and struggled to pick up the shambles of their village to build lives for their children. These people, my relatives, deserve justice," Suara Bangsamoro chairperson Jerome Succor Aba said.
Marcos supporters contend that the ousted dictator did not directly order the abuses.
Guiamel Alim, while chairman of the Consortium of Bangsamoro Civil Society, said in an interview in 2016 that there has been "no reparation, no justice, no institutional reform and structural changes. Simply said, the Bangsamoro has not recovered from these war atrocities."
He told Philstar.com in 2016 that "they still remember how their relatives were massacred, their women raped and the ultimate result of social dis-integration."
Since that interview, the government has enacted the Bangsamoro Organic Law, which is meant to create a new region to replace the Autonomous Region in Muslim Mindanao and pave the way for institutional reforms and correcting what President Rodrigo Duterte has described as historical injustices in the region.
Aba said on Saturday: "How can we move on? Our blood boils at the callousness of your dismissal of your sins. Your family owes us for the lives of relatives long lost to us. Your family owes us for raping our women. Your family owes us for the stolen sanctities of our communities you ransacked. Your family owes us for demonizing our culture and beliefs. Your family committed genocide against the Bangsamoro."
Aba, who added: "So when Bongbong asked what else we need from them, we have one clear answer: Justice." — Jonathan de Santos