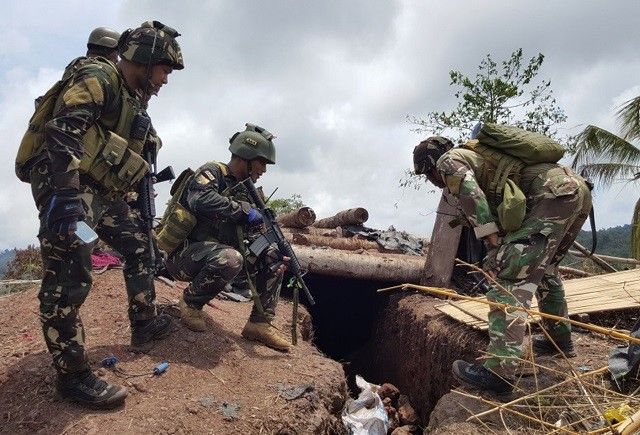 In this file photo, soldiers clear an Abu Sayyaf trench
File
Abu Sayyaf killed, 20 soldiers hurt in Sulu encounter
ZAMBOANGA CITY, Philippines — An Abu Sayyaf militant was killed and at least 20 soldiers were injured in a firefight in Patikul, Sulu on Thursday morning.
Troops from the 41st Infantry Battalion engaged a big group of the Abu Sayyaf members under sub-leader Idang Susukan and Ben Tattoo in Barangay Langhub about 9:30 a.m., the military said.
Western Mindanao Command confirmed the fresh encounter but is still waiting for more information from Joint Task Force Sulu.
Military officers on the ground disclosed that the soldiers were conducting focused military operations when they encountered around 40 Abu Sayyaf militants, who fired rifle grenades at them from different directions.
A source disclosed that at least 18 of the soldiers sustained shrapnel injuries in the 45-minute firefight. Another two sustained gunshot wounds.
The military said a Abu Sayyaf member was confirmed killed although ground troops said the Abu Sayaf dragged away the bodies of others who had been shot or killed.

The JTFS have mobilized reinforcements from three other military battalions nearby to conduct blocking operations against the Abu Sayyaf group.

The wounded soldiers were also immediately evacuated to the AFP Station Hospital in Camp Teodulfo Bautista at Barangay Bus-bus, Jolo town, Sulu.
The encounter was the third major engagement of the JTFS since Tuesday, when Army Scout Rangers landed in a firefight with Abu Sayyaf groups in the mountains of Barangay Tugas and Barangay Latih, also in Patikul town.