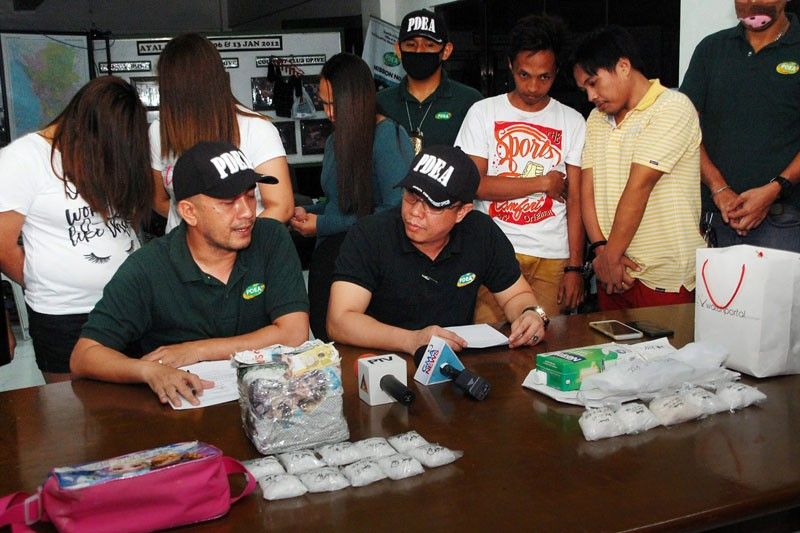 Philippine Drug Enforcement Agency officials present five suspects, from whom nearly P7 million worth of shabu was confiscated, in a press conference at the PDEA headquarters in Quezon City yesterday.
Joven Cagande
P7-M shabu seized in Las Piñas, QC stings
MANILA, Philippines — Almost P7 million worth of shabu was seized from five suspects in separate operations by the Philippine Drug Enforcement Agency (PDEA) in Las Piñas City and Quezon City on Sunday.
The PDEA Special Enforcement Service arrested Momina Kiaban Kusin, alias Bai, Laila Dali Kamsa, and Christine Claros Bermejo at the parking lot of a mall along Alabang-Zapote Road in Pilar Village, Las Piñas at around 12:30 p.m.
Agents confiscated 500 grams of shabu, with a street value of P3.4 million, from the suspects.
Abdul Socri Socor Daromimbang, alias Kadir, and Salman Socor Daromimbang, were arrested in another sting at the basement parking level of Circle C building on Congressional Avenue just before 6 p.m.
Five plastic ice bags containing 500 grams of shabu were seized from the suspects.
In Pasig City, Marvin Talavera Bedana was arrested for allegedly creating trouble along Marcelo street in Suarez Village at around 8 p.m. Sunday.
Bedana reportedly tried to punch police officers sent to arrest him.
Alleged pushers slain
Meanwhile, two reported pushers were killed in an alleged shootout in Caloocan on Saturday night.
Alvin Maglaya and Jesus Funelas allegedly fought back during a sting by the Caloocan police drug enforcement and special operations units in Barangay 160.
Four sachets of shabu and two .38 caliber revolvers were confiscated from the suspects.