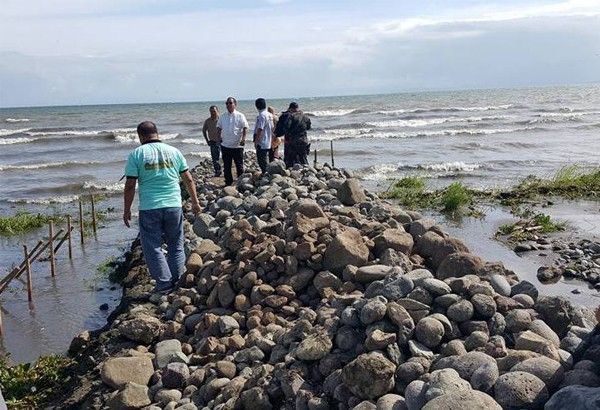 ARMM officials inspect a fish port project in lakeside Ditsaan-Ramain town in Lanao del Sur
John Unson, file
Planned Lake Lanao reclamation raises environmental concerns
LANAO DEL SUR, Philippines — Residents are wary of planned reclamation work in Lake Lanao using debris from Marawi City as filling material.
Experts, among them professors in Mindanao State University, have warned of the potentially devastating effect on the lake's ecology and its capacity to contain floodwaters from surrounding hinterlands in Lanao del Sur during the rainy season.
Marawi City is the capital of Lanao del Sur, a component province of ARMM.
The chairman of Task Force Bangon Marawi, Eduardo Del Rosario, recently announced that around eight million metric tons of concrete debris from the conflict-torn areas in Marawi City will be used for land reclamation projects.
ARMM Vice Gov. Haroun Al-Rashid Lucman said Thursday the task force must study the potential impact on Lake Lanao, from which the Meranaw people of the Lanao provinces take their name.
The downstream flow of the lake that drains at seashores of Lanao del Norte powers state-owned hydroelectric plants supplying about three-fourths of Mindanao's daily power needs.
"We are not antagonistic people. We welcome development plans as long as they are environment-friendly. Lake Lanao is the strongest icon of the Meranaw tribe. The term Meranaw means 'people of the lake' and by that we value so much Lake Lanao," Lucman said.
Lucman said Meranaws are only asking for a scientific study on the potential effects to Lake Lanao of the TFBM plan.
Lake Lanao, Asia's largest, is teeming with endemic wildlife.
He said government engineers under Marawi City Majul Gandamra and Lanao del Sur Gov. Soraya Bedjoria Alonto-Adiong can help do a study on the viability of expanding the shores of Lake Lanao using debris from conflict-torn areas as filling materials.
"Meranaws, for centuries, have been relying on fishes from this lake for survival," said Lucman, who hails from the lakeside Bayang town in the second district of Lanao del Sur.
A popular Catholic peace activist, Oblate missionary Eliseo Mercado, Jr., said any artificial expansion of the shores of Lake Lanao is just like tampering with its eco-system.
"Nature does not forgive and forget. The effects of such action on the lake, on its fauna and flora and people would be forever," said Mercado, who is involved in outreach activities complementing the southern Mindanao peace process.