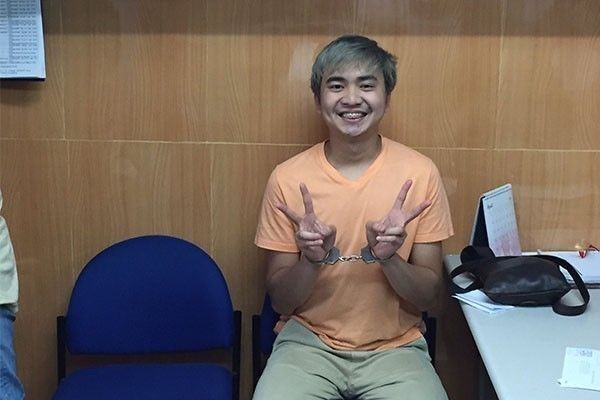 Gaza first went viral when he spent for a billboard in Morayta, Manila asking for a coffee date with an actress. She declined.
The STAR/Marc Jayson Cayabyab
Alleged scammer Xian Gaza selling 'surrender shirt' for P9,000
MANILA, Philippines — After being released from jail, 24-year-old Xian Gaza is now selling the shirt he wore when he surrendered to the police.
Gaza, whose real name is Christian Albert Gaza, took to Facebook to share that he is looking for serious buyers of the t-shirt he wore when he surrendered at the Malabon Police Headquarters last April 12. He is selling the shirt for P9,000.
According to Gaza, who ever buys the orange "surrender shirt" will earn a one-on-one coffee date with him at a hotel lounge in Pasay City.
Gaza, who has said on video that he is a scammer who wants a new start, shared that he got out of jail last Friday evening. He posted a certificate of discharge indicating that he posted bail fixed at P126,000.
"Subject detainee is released from confinement by virtue of court order dated April 13," the certificate reads.
In his post, Gaza thanked those who helped him get released.
"I would like to express my deepest gratitude to the Filipino public for all the hate, love and support that I received for the last few days—most especially to those God-sent angels who helped me get back to the free society," Gaza wrote.
Gaza surrendered to the police on Thursday after two warrants of arrest were issued against him over an alleged coffee shop investment scam.
He earlier asked for help to come up with P160,000 for his temporary freedom, despite his bail bond fixed at P126,000 only.
Now that he is free, Gaza has vowed to change his ways and said he would leave the life of fraud behind. Charges against him have not been dropped.
"I'm now ready for a new life, lead me Lord. National Scammer "Young Fraudigy" Xian Gaza now signing off," Gaza wrote, while referring to himself as a former ex-convict.
Aside from the "surrender" shirt, Gaza also said he is looking for a best orange template of "Nyeam" shirt design. "Nyeam" is an expression he popularized during one of his travels.
It was not clear whether Gaza plans to sell the orange "Nyeam shirt."
Gaza's stunt of inviting actress Erich Gonzales for coffee through a large billboard ad went viral last year.
RELATED: 'Kilig' or overly 'creepy'? Coffee date billboard invite earns mixed reactions