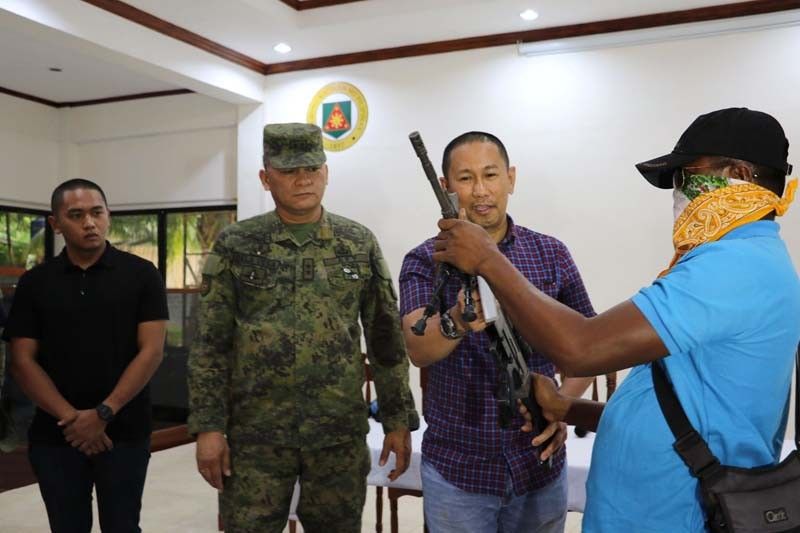 4 BIFF bomb makers surrender after Army seizes camps
John Unson
(philstar.com) - April 11, 2018 - 7:50pm
MAGUINDANAO, Philippines — Four bomb makers of the outlawed Bangsamoro Islamic Freedom Fighters surrendered to authorities Wednesday, the first from the group to yield since it was formed in 2010.
The BIFF, which splintered from the Moro Islamic Liberation Front eight years ago, has been using the Islamic State flag as its banner since 2014.
The four BIFF members agreed to return to the fold of law at the urging of Maj. Gen. Arnel Dela Vega of the Army's 6th Infantry Division and Lt. Col. Alvin Iyog of the 2nd Mechanized Infantry Battalion.
The four men, who asked to be identified only as Ahmed, Malik, Nazzer and Muktar, all in their early 20s, told reporters they decided to bolt from the BIFF due to its escalating violence against people who refuse to support its activities.
"The targets now include local Muslim communities that are against religious extremism. That is something bad. That is un-Islamic," Muktar said in accented Filipino.
The four men, who admitted having gone through clandestine training on the fabrication of improvised explosive devices, were among more than 50 BIFF bandits that soldiers drove away from camps at the boundary of Datu Salibo and Shariff Saydona Mustapha towns in the second district of Maguindanao last Tuesday.
They promised to start life anew before Dela Vega and Maguindanao Gov. Esmael Mangudadatu during a brief meeting at the Army's Camp Siongco in Datu Odin Sinsuat town on Wednesday afternoon.
"I assured them of livelihood and education support. My office can even provide their siblings free education for them to become educated, productive citizens," said Mangudadatu, chairman of the provincial peace and order council.
The four militants readily confessed to their having planted roadside bombs in the past six months.
They also told reporters that they laid booby traps that hurt dozens of civilians along farm-to-market roads in villages whose residents refuse to shell out "protection money".
Mangudadatu said he is ready to provide the four men a moderate cleric to counsel them on Islamic principles on religious tolerance and fraternalism with non-Muslims to hasten their return into mainstream society.
Security up vs retaliatory attacks
Meanwhile, the police and military are preparing for retaliation by the BIFF following the takeover by soldiers of its two enclaves in the province early Tuesday.
Soldiers are now in control of the BIFF camps in the second district of Maguindanao.
Six militants, initially identified only as Awar, Mantato, Sukarno, Badrudin, Izhak and Guiapar, were killed in firefights before the camps were cleared from BIFF occupation by personnel of the Army's 2nd Mechanized Infantry Battalion.
Dela Vega said Wednesday residents in the two towns have warned of a plot by the BIFF to avenge its losses in its latest encounters with the military.
Dela Vega presented to reporters on Tuesday afternoon 18 firearms and about 100 kilos of gun parts and materials for improvised explosive devices that were found in two gunsmith shops in the BIFF camps.
Its two camps the military now control were common lairs of the leaders of its three factions — Abu Toraife, Bongos and Karialan. They are all wanted for multiple murder, frustrated murder, arson and other crimes.
"It seems they have reunited. Our operations against them are being assisted by local officials and barangay leaders. We are thankful to these patriotic people," Dela Vega said Wednesday.
Chief Superintendent Graciano Mijares, director of Police Regional Office-Autonomous Region in Muslim Mindanao, said the Maguindanao provincial police deployed personnel in plainclothes to public places vulnerable to BIFF bomb attacks early Wednesday.
Mijares said their security efforts are coordinated closely with local government units and the 6th ID.