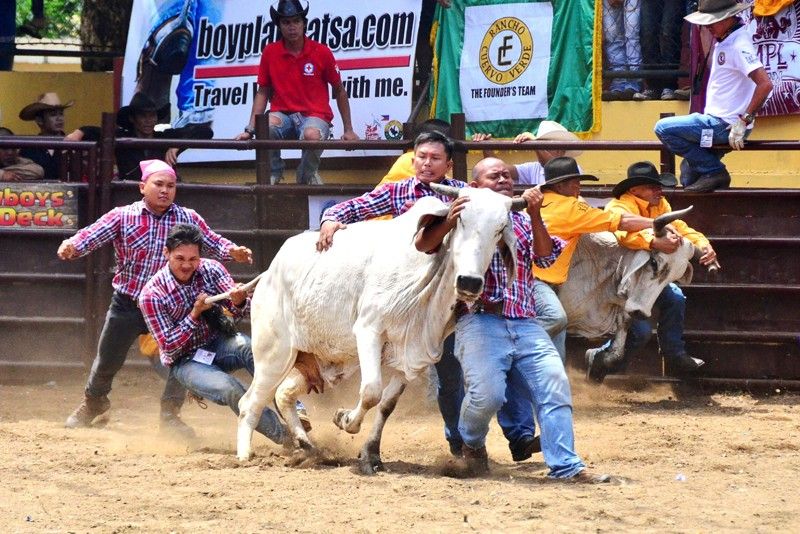 Men try to bring down cows during the carambola competition of the Rodeo Masbateño Festival in Masbate City on Monday.
Masbate tourist arrivals up
Cet Dematera
(The Philippine Star) - April 11, 2018 - 12:00am
LEGAZPI CITY, Philippines — The annual Rodeo Masbateño Festival in Masbate City continued to attract local and foreign visitors, an official of the Department of Tourism (DOT) reported yesterday.
Benjamin Santiago, DOT-Bicol director, said hotels and transient houses are fully booked for the four-day festival, which started on Monday.
Activities include lassoing, carambola, casting down, bronco and bull-riding competition.
Santiago said a 50 percent increase in the number of visitors could be attributed to the impending closure of Boracay.
"We see new faces here... Maybe they will have side trips after watching the rodeo, such as going to the beach or dive spots," he said.
Santiago said they advised beach resort operators to comply with proper waste disposal or appropriate sewerage system to ensure they would not face closure similar to the fate of those in Boracay," Santiago said.
Environment Secretary Roy Cimatu, who attended the opening of the festival, reminded operators of tourist spots in the province to comply with government requirements.