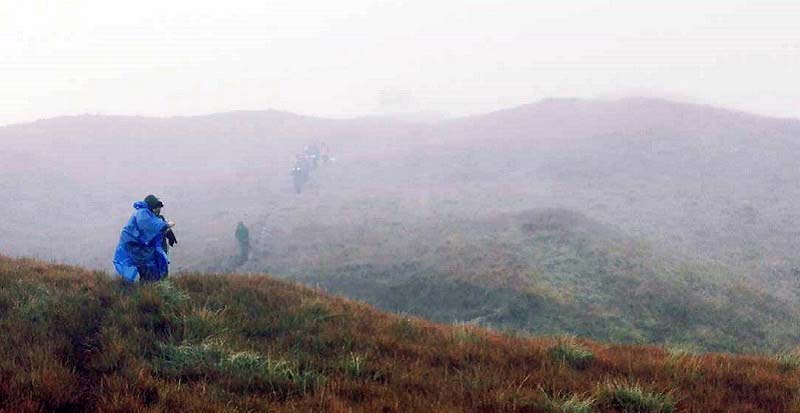 Mt. Pulag, at over 2,900 meters above sea level, is the highest peak in Luzon and the third highest in the country. Jonathan de Santos, file
Benguet elders plan ritual to appease spirits on Mount Pulag
BENGUET, Philippines — Kabayan, Benguet folks led by their indigenous leaders and elders are going to perform rituals to appease the spirits at Mount Pulag, where the 5.9 hectares of grassland were damaged in a fire last month.
Benguet tourism officer Clarita Prudencio said Mount Pulag, considered the playground of the gods by indigenous communities in the province has been desecrated.
The Ibalois of Benguet believe the souls of their dead go to Mount Pulag.
"A desecration of our cultural beliefs has been made because we consider the mountain sacred and a playground of the gods guarded by spirits called 'tinmongao'," Prudencio explained.
Most of the mountains in Benguet are sacred to IP communities because they are burial grounds and heritage sites. She said alcohol and drugs are prohibited at these sites.
A meeting was held by the Mount Pulag National Park management this week to discuss the cost of damage to the sacred ground.
Elders in the area have asked if they can conduct a prayer and ritual within the damaged site, said Park Superintendent Teber Dionisio.
Dionisio added elders intend to butcher pigs using the traditional process called 'uwik' where wood is stabbed into the pig's heart while a "mambunong" (indigenous priest) acts as the medium between the offering and the supernatural.
In 2016, a provincial ordinance was passed identifying, preserving and protecting all heritage sites and structures in the province mandating their protection, including Mount Pulag.
Mt. Pulag, at over 2,900 meters above sea level, is the highest peak in Luzon and the third highest in the country. It is home to many species of highland flora and fauna, including the dwarf bamboo which covers the bald peak where it gets its name.
The Department of Environment and Natural Resources in the Cordillera has filed complaints against seven mountaineers led by a certain Ramon Kristomar Mackay, whose butane-fueled portable stove exploded and started the fire.
The hikers face violations of provisions of the Republic Act 7586 or the National Integrated Protected Areas System and the Presidential Decree 705, known as the Forestry Reform Code of the Philippines.