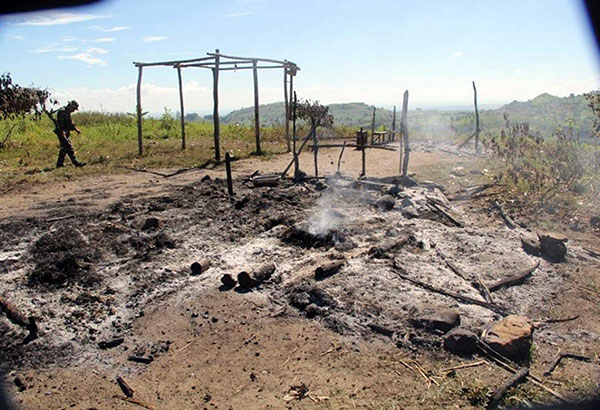 A soldier walks past what's left of the houses of ethnic Teduray villagers in Datu Unsay, Maguindanao after BIFF bandits burned them down on Monday. John Unson
BIFF kills Maguindanao ethnic group chieftain
John Unson
(The Philippine Star) - December 27, 2017 - 4:00pm
MAGUINDANAO, Philippines — Members of the Bangsamoro Islamic Freedom Fighters (BIFF) shot dead a chieftain of the ethnic Teduray tribe in Datu Saudi town on Tuesday.
Diego Met Dagadas suffered multiple gunshot wounds and died at the scene.
Initial investigation showed BIFF gunmen surrounded the house of Dagadas on Mt. Firis and shot him at close range.
The bandits also reportedly detonated an improvised explosive device before they escaped.
Maj. Gen. Arnel dela Vega of the Army's 6th Infantry Division (ID) said the killing was an apparent retaliation for the BIFF's loss in the air and ground assault on the bandits' lair in Datu Unsay on Monday.
Abu Misry Mama, spokesman for the BIFF, had earlier confirmed that they suffered casualties in the military offensive.
13, not 4 slain in air strike
Members of the municipal peace and order councils in Shariff Aguak, Datu Saudi and Datu Unsay maintained that the BIFF lost 13 members, eight of them minors. They said five bandits were killed in the air strike.
Capt. Arvin Encinas, 6th ID spokesman, had said only four BIFF men were killed and five others were wounded in the offensive.
The air strike was launched after BIFF gunmen attacked an Army detachment and burned the houses of Teduray villagers.
Dela Vega said they have tightened security in populated areas to prevent retaliatory attacks.
"Our security efforts...are supported by local government officials in Maguindanao," he said.
Maguindanao Gov. Esmael Mangudadatu said he requested the police to secure roads against possible bombings.