Damaged bridge isolates Biliran in Urduja's wake
December 18, 2017 | 2:48am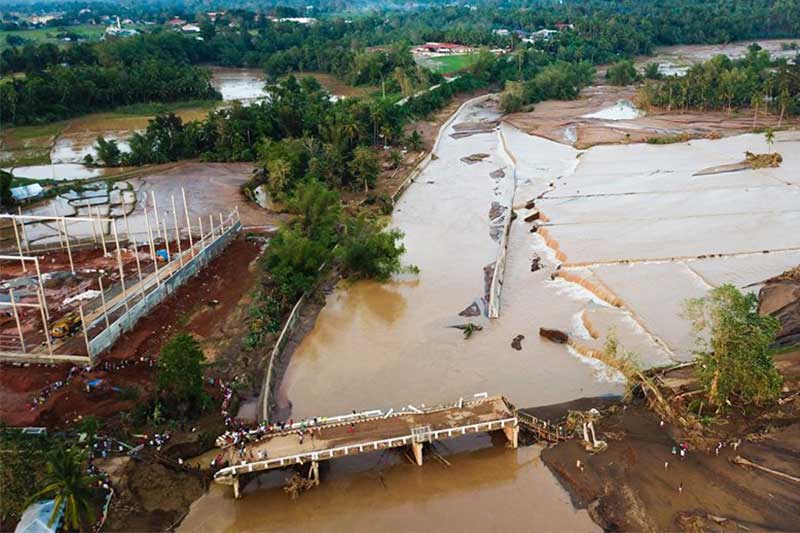 MANILA, Philippines — A state of calamity has been declared in the province of Biliran after tropical storm Urduja damaged five bridges, cutting the island off.
At least 26 have been reported dead while 23 are missing after the typhoon triggered landslides in Eastern Visayas.
The isolation has sparked panic buying while food and water continue to be a problem in Biliran, according to a report from Caritas Philippines.
Leyte Gov. Dominic Petilla said that the damaged bridge connecting Biliran Island from Leyte is a major challenge as the local government would have to use Coast Guard boats to send relief.
"The challenge now is how to bring our heavy equipment from Leyte to Biliran to assist them in clearing of its landslide," Petilla said in an interview with ANC's Headstart.
Petilla added that they are hoping the Philippine Navy would lend their RO/RO (roll-on/roll-off) vessels so that the Leyte government could send heavy equipment to Biliran.
The Philippine Navy, in March 2016, received three landing craft from the Australian government, which had sold the Philippines five from its fleet.
The Navy also has two strategic sealift vessels, the BRP Tarlac and BRP Davao del Sur, that can be used for Humanitarian Assistance and Disaster Response operations. The Tarlac demonstrated this capability in May, when it participated in the Balikatan exercises with US troops.
READ: '25 dead, 26 missing'
Small rescue boats are currently being used to bring water and food to Biliran but a bigger boat would make bringing relief goods to the isolated island faster, Petilla said.
Compared to supertyphoon Yolanda (international name Haiyan) in 2013, Urduja mostly damaged roads and bridges, according to the Leyte governor.
"Nothing was left standing in Haiyan but the roads and bridges were intact after this (Urduja) so meron kaming similar na typhoon in 2014 after Yolanda — typhoon Senyang which was also heavy rains and it destroyed several bridges in Leyte," Petilla said.
Leyte has also been placed under a state of calamity after flash floods have been reported in the northern part of the province. The provincial government has sent relief goods to the damaged areas including the towns of San Miguel, Barugo, Palo, Tanauan and Tacloban City.
"The challenge now is to get the roads back to be operational," Petilla said.
RELATED: 'Urduja' causes P6M in damage to Romblon roads, bridges