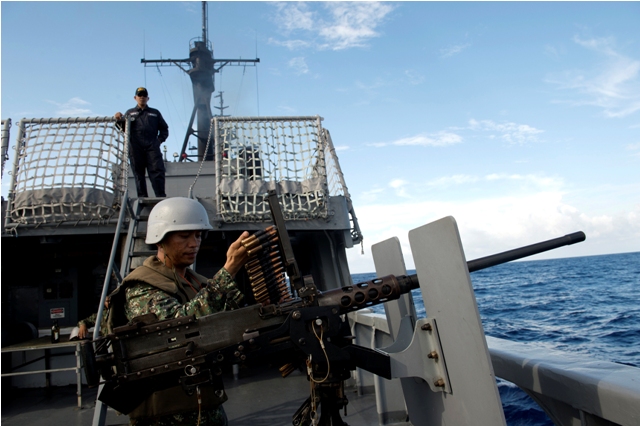 A member of Philippine Navy loads bullets for a machine gun during a bilateral maritime exercise in June 2014. AP/Noel Celis, file
More joint patrols along southern border seen in 2018
(philstar.com) - December 12, 2017 - 7:40am
ZAMBOANGA CITY, Philippines — Security against cross-border kidnapping and piracy in waters shared by Malaysia, Indonesia and the Philippines will be boosted when more joint patrols, which could include Australia and the US, are launched next year.
Around $5 trillion in commercial cargo passes through the waters, which needs to be better secured against abductions and hijacking by groups affiliated with the Abu Sayyaf group.
R.Adm. Rene Medina, commander of Naval Forces Western Mindanao, said the trilateral patrols with Malaysia and Indonesia in border waters have drawn more attention from the Australian and US navies, which have indicated interest in participating.
Medina said the Philippine Navy held joint patrols with the Royal Malaysian Navy and Indonesian Navy late November. He said that arrangement will continue under the Trilateral Cooperative Agreement among the three countries.
The Philippine Navy also held drills with the Royal Australian Navy along the southern border in late November. Medina said he and his Australian counterpart have discussed holding joint patrols aside from maritime exercises.
"The US Navy was also talking with us on how they can come up or join in the area with regards to bilateral patrol," Medina said. — Roel Pareño