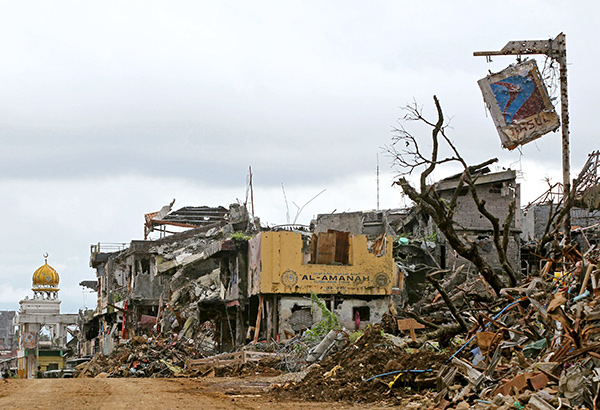 Among the establishments that need to be rehabilitated are the St. Mary's Church, Grand Mosque and Bato Mosque. File
Roads in Marawi battle zone cleared
MANILA, Philippines — All roads and bridges in the main battle area in Marawi are passable after being cleared of explosives and debris, the military said yesterday.
"Construction engineers from the Army, Air Force and Navy have been working day in and day out to ensure that 100 percent of primary roads and bridges in the main battle area...are passable and cleared of unexploded ordnance and improvised explosive devices (IEDs), " Col. Edgard Arevalo, Armed Forces of the Philippines (AFP) public affairs office chief, said.
More than 500 military engineers were deployed in Marawi as part of the Joint Engineer Task Group led by Brig. Gen. Arnold Fernandez.
The AFP said the engineering group is supporting the recovery, reconstruction and rehabilitation efforts of Task Force Bangon Marawi.
Arevalo said the task force also completed the preparation of an area in Barangay Sagon-songan where a temporary resettlement area will be built.
"Aside from engineering manpower, we have utilized our construction vehicles and equipment to clear…debris as well as demolish destroyed buildings...We have yet to identify possible dumps for the unexploded ordnance and IEDs," Arevalo said.
He said military engineers are also helping restore basic services such as water and electricity in government centers and places of worships.
Among the establishments that need to be rehabilitated are the St. Mary's Church, Grand Mosque and Bato Mosque.
"The AFP lauds our combat engineers who since the first weeks of the Marawi crisis have been supporting our operating units. As we transition to the rehabilitation phase, their services will significantly be needed…to successfully get Marawi back on its feet," AFP chief Gen. Rey Leonardo Guerrero said.
Football for peace
Meanwhile, the Philippine Marine Corps will launch today the 5th PMC Football for Peace, a fund-raising activity for children affected by the crisis in Marawi and other conflict areas in Mindanao such as Sulu, Basilan and Tawi-Tawi
The PMC said the tournament is also part of the Marines' advocacy of teaching children good values and to hope for a better future.