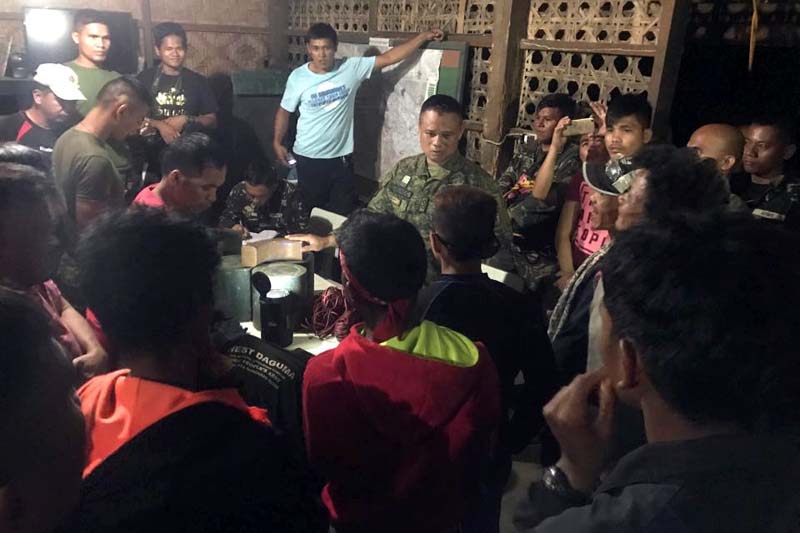 The nine rebels who surrendered Sunday yielded roadside bombs that they originally planned to plant along thoroughfares in Senator Ninoy Aquino town in Sultan Kudarat. JOHN UNSON
Nine NPA bomb makers surrender in Sultan Kudarat
John Unson
(Philstar.com) - September 25, 2017 - 12:00am
SULTAN KUDARAT, Philippines — Nine communist rebels trained to make and use powerful roadside bombs surrendered to the military on Sunday.
The nine supposed New People's Army guerrillas turned themselves in to the Army's 33rd Infantry Battalion in Barangay Malegdeg in Senator Ninoy Aquino, Sultan Kudarat.
They yielded six newly-assembled IEDs, "subversive" documents, medical supplies and lists of traders they were to subject to collection of "protection money" on a periodic basis.
The nine men, whose identities municipal officials asked to withhold pending the grant of government security clearances and to protect their relatives from the ire of their leaders in the NPA's Guerilla Front 73, are now confined in a military camp.
More than 20 NPAs from Senator Ninoy Aquino and nearby towns in Sultan Kudarat have pledged allegiance to the Philippine flag in the past six months through the joint efforts of the 33rd IB and municipal officials.
Lt. Col. Harold Cabunoc of the 33rd IB said on Monday that the nine NPAs willingly appeared at a designated site in Barangay Malegdeg in Senator Ninoy Aquino town where local leaders were to meet and fetch them.
"It was good that they also turned over powerful improvised explosive devices," Cabunoc said.
Maj. Gen. Arnel Dela Vega, commander of the Army's 6th Infantry Division, said on Monday he is thankful to local officials who helped work out the surrender of the nine NPAs.
Dela Vega said he is also grateful to Sultan Kudarat Gov. Pax Mangudadatu for helping rehabilitate the more than 20 NPAs who earlier returned to the fold of law through initiatives by the 33rd IB.
The leader of the nine NPA bombers, who asked to be identified only as Buloy for fear of reprisals, said what hastened their surrender last Sunday was the raid by authorities hours before of the hideout of wanted criminal gang leader Dodong Baylon in Barangay Kabulanan in Isulan, Sultan Kudarat.
Combined personnel of the 33rd IB and the Philippine National Police recovered from Baylon's hideout a rocket-propelled grenade, an M16 rifle, two M14 rifles, a vintage .30 caliber Springfield bolt-action rifle, a 12-gauge shotgun, three shoulder-fire M-79 grenade launchers, and a .38 caliber revolver.
"We felt we will be targeted next. Isulan is very near Senator Ninoy Aquino. If we get arrested we can face criminal cases for keeping IEDs so we decided to yield without hesitation to the people who started negotiating our surrender secretly before that operation against Dodong Baylon was launched," Buloy said in Bisaya.
Baylon, who was to be arrested in the joint police-Army operation based on a warrant from a court, managed to escape just as the raiding teams began surrounding his hideout in Barangay Kabulanan.
His alleged coddler in the barangay, a Moro guerrilla commander named Morix Endeng, was arrested and is now undergoing interrogation by police.