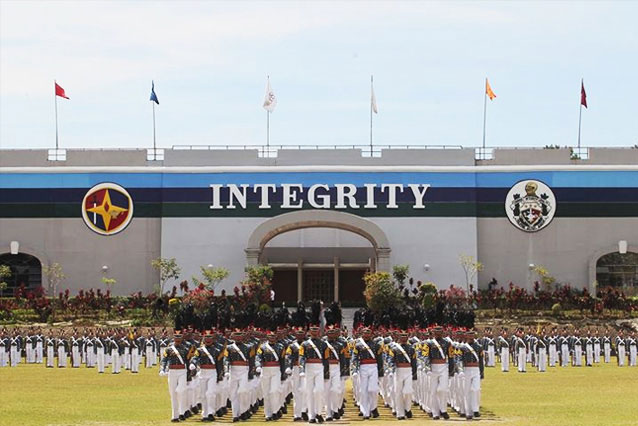 Fourth-class cadets, or plebes, of the Philippine Military Academy undergo eight weeks of rigorous training before they are integrated into the cadet corps. PMA
Tondo woman tops PMA entrance exams
MANILA, Philippines — A young woman from Tondo, Manila topped this year's entrance examinations of the Philippine Military Academy, with two other women in the top ten of more than 1,400 who passed.
Grace Silla Cabale, 18, garnered the highest score in the August 20 examinations that the PMA held in testing centers around the country, besting over a thousand who who qualified for admission into the academy.
The 1,475 who passed had to compete against 15,502 applicants.
Lt. Col. Reynaldo Balido, PMA spokesperson, said PMA still has to wait to see if Cabale reports to the AFP Medical Center in Quezon City for physical and medical tests.
If she passes those, she will be welcomed into PMA class of 2022 on April 2018.
"May mga ganyan eh, pumapasa pero di tumutuloy mag-report at maging kadete," he said.
Cabale leads 479 successful female examinees and 996 males.
Aside from Cabale, others on the top ten list are:
Ian Joseph Agduma Valdez
Jen Kym Danielle Tenedero Danganan from Irisan, Baguio City
Kimmayong Tabinas Ayahao from Ifugao
Gerizim Morano Villaran
Aeron Jan Omila Sanidad
Mark Nicholas Nava Suemith
Ericka Marie Depositar Torio from Caloocan City
Nathan Miguel Gaspar Icaro
Adrian Butalid Cortes
Balido said the PMA released the top ten successful examinees to encourage other young men and women to enter the prestigious military training institution.
From the 479 successful female entrance examinees, only 350 will finally become cadets to compose PMA Class 2022.
The PMA accepts female cadets but men make up a majority of each class.
"We are not limiting, we are just maintaining the mandated percentage of females in the cadet corps," Balido said in a Sun.Star Baguio report in March referring to the PMA's "quota" of 20 percent.
In March, 23-year-old Rovi Mairel Valino Martinez led her 167 "mistahs" of the PMA's Salaknib ("Sanggalang ay Lakas at Buhay para sa Kalayaan ng Inang Bayan") class.
The PMA graduate from Fortaleza Bangad, Cabanatuan City joined the Philippine Navy.
In 1999, Arlene dela Cruz, a former Math major at the University of the Philippines-Baguio, became the first female PMA topnotcher.
She died in a car accident in in Bataan in 2008.
Seven other female cadets landed in the top ten in 2017, perhaps the biggest number of females in the top honor rolls since the PMA began accepting females in 1993.
Almost half of the 167 graduating cadets last March were female, the highest so far in PMA history.