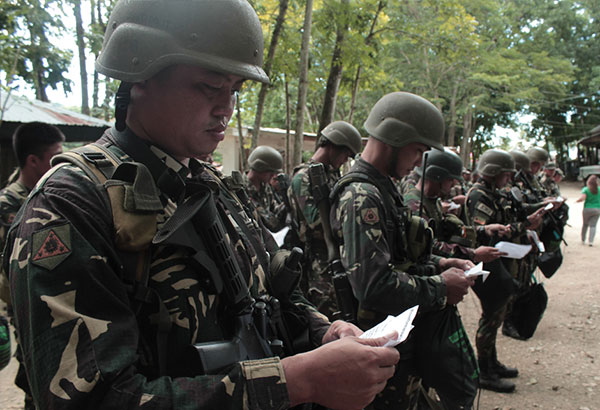 Marawi soldiers stand in full-gear reading letters addressed to them under the #loveformarawi initiative by Kapatid Zarah Juan. The letters were part of care packages that were sent to the soldiers through Go Negosyo's Kapatid for Marawi effort. File photo
Marawi soldiers receive rice supply, letters of support
Roel Pareño
(philstar.com) - September 9, 2017 - 10:40am
ZAMBOANGA CITY, Philippines — Government troops battling the Islamic State-inspired Maute group received rice supply, chocolates and letters for their patriotism in defending Marawi City, according to military official.
Capt. Jo-Ann Petinglay, spokesperson of the Western Mindanao Command and Joint Task Force Marawi, said 100 sacks of rice were donated Saturday by the government of the Autonomous Region in Muslim Mindanao led by Regional Gov. Mujiv Hataman.
Petinglay said the sacks of rice were delivered in Camp Ranao, Marawi City and received by soldiers of the Joint Task Group "Ayuda," the unit in charge of logistical goods and supplies.
She said the bags of rice will be brought to different military units inside the main battle area on Sunday.
Brig. Gen. Rolando Joselito Bautista of the Joint Task Force Marawi expressed his gratitude for the support provided by Hataman and the ARMM regional government.
"Rest assured our troops are more motivated to bring back peace and stability in Marawi City," Bautista said.
Meanwhile, soldiers in the main battleground also received on Saturday letters and chocolates from the the Zamboanga Council of the Boy Scouts of the Philippines.
Petinglay said the troops read the letters from BSP with mixed emotions, recognizing that the letter senders are young yet know how to appreciate the sacrifice of soldiers for the country.
Westmincom chief Lt. Gen. Carlito Galvez Jr. said the goodies and letter artworks further inspire his men to fight the Maute group in Marawi City, which is now in its 110th day.
"It is so heartwarming to know that these young boys are well aware of the sacrifices our soldiers are doing here in Marawi," said Petinglay as quoted by Galvez.