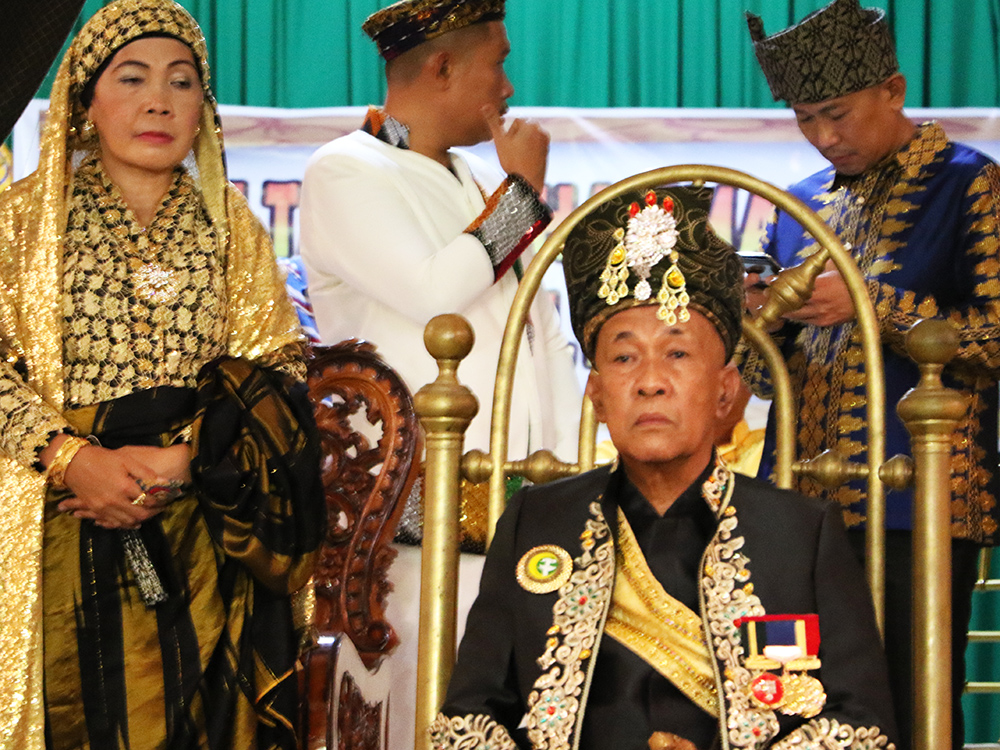 Mohamad Kuso Kanebpal Mangudadatu assumed on Wednesday as central Mindanao's Sultan Tambilawan II sa Buayan. Philstar.com/John Unson
Maguindanao enthrones sultan to sustain traditions
John Unson
(Philstar.com) - July 13, 2017 - 7:02am
MAGUINDANAO, Philippines — Moro leaders installed Wednesday a sultan to sustain traditions preserving Islamic principles on religious tolerance and universal love that violent religious extremists (VREs) rabidly oppose.
The Police Regional Office-Autonomous Region in Muslim Mindanao and the Army's 6th Infantry Division immediately pledged assistance to the initiative, to be led jointly by the now Sultan Mohamad Kuso Kanebpal Mangudadatu and the Maguindanao provincial peace and order council.
Now named Sultan Tambilawan II sa Buayan, Mangudadatu, a descendant of Shariff Kabunsuan, a 14th century blue-blooded Malay-Arab cleric from Johore in what is now Malaysia, is uncle of Maguindanao's now third termer provincial governor, Esmael Magudadatu.
Traditional elders enthroned, in a symbolic rite Wednesday in Buluan, the capital town of Maguindanao, the governor's uncle as Sultan Tambilawan II sa Buayan.
In context, the Buayan is the geographical principality of the centuries-old Moro royalty that spans from the upper valley of central Mindanao, spreading through the now second district of Maguindanao, the nearby provinces of South Cotabato, Sultan Kudarat and parts of North Cotabato, and the cities of Tacurong, Koronadal and General Santos.
Gov. Mangudadatu said the sultan, who is youngest sibling of his father, the late Datu Powa, former mayor of Buluan, will help push the provincial government's campaign against illegal drugs and misguided Islamic militancy.
"This is reviving the traditions of our ancestors in maintaining law and order via consensus building and, always as last recourse, the joining of forces together to defeat threats to security and to address social ills like religious extremism in current situation," Mangudadatu said.
While there have been evolutions in the political landscapes of the areas the sultans ruled in centuries before, the present Moro datus and leaders who are higher in statures can still catalyze the unity of elected leaders and their respective constituents for a good cause through diplomacy and influence.
"We can reinvigorate and harness these traditions in addressing nagging security issues, among them the spread of misguided militants who are known for misinterpreting Islamic teachings on peace, love for neighbors regardless of religions," Mangudadatu told reporters Wednesday.
Moro history books tell of stories about how Moro datus grouped together in fighting outsiders, including the Spaniards, the Americans and the Japanese during World War II, enabling them to preserve their bastions.
"Now we can ask the datus, many of them incumbent local officials, through our sultan, to group together again to help President Rodrigo Duterte fight illegal drugs and fanatical religious extremism in Maguindanao," Mangudadatu said.
Sultan Tambilawan II sa Buayan will also focus on convincing members of the Moro Islamic Liberation Front and the outlawed Bangsamoro Islamic Freedom Fighters to send their children to mainstream schools for them to become professionals.
Provincial officials present in Wednesday's enthronement of the sultan said the effort shall be supported by the Maguindanao Program for Education and Community Empowerment (MagPEACE).
The MagPEACE, operating under the supervision of Gov. Mangudadatu, presently bankrolls the studies of more than 6,000 Muslim, Christian and Lumad college scholars from the 36 towns in Maguindanao.
The program, pioneered by Gov. Mangudadatu after his first election to office in 2010, already produced more than 2,000 college graduates, one of them a graduate of Bachelor of Laws and another, a physician wannabe who has just completed a degree on medicine.
It also facilitated the schooling of a now practicing veterinarian and teachers presently applying for teaching positions in elementary and high school institutions.
Chief Superintendent Reuben Theodore Sindac, director of PRO-ARMM, said their community-relations personnel are ready to provide assistance needed to hasten the peace-building missions of the newly-installed sultan.
"We in PRO-ARMM, a culture-sensitive entity, respects and supports the traditional practices of locales on nation-building and diplomatic approaches in resolving peace and security issues," Sindac said.