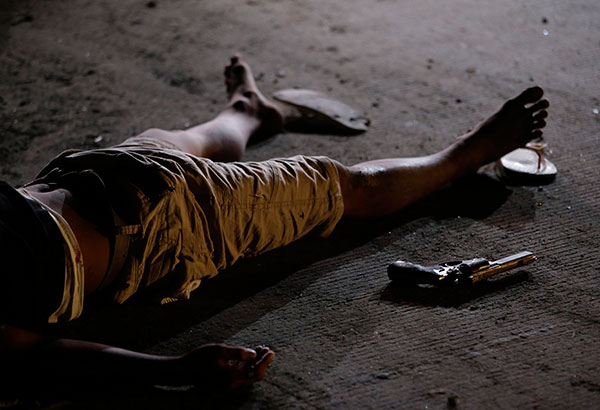 One of the fatalities, who has yet to be identified, was killed in an alleged shootout with police officers in Guiguinto, Bulacan on Friday. AP Photo/Aaron Favila, file
Drug war: 3 killed in Luzon
MANILA, Philippines - Two persons were killed in separate anti-illegal drug operations in Bulacan and Nueva Ecija, while a relative of two wanted drug personalities was shot dead in Cagayan over the weekend.
One of the fatalities, who has yet to be identified, was killed in an alleged shootout with police officers in Guiguinto, Bulacan on Friday.
The motorcycle-riding suspect reportedly tried to avoid a checkpoint in Barangay Sta. Cruz, prompting police officers to pursue him.
A firefight ensued, which resulted in the death of the suspect.
Police recovered several plastic sachets said to contain shabu, a .22 caliber pistol and a motorcycle from the fatality.
In Nueva Ecija, Joel Pabustan was killed after he reportedly tried to resist arrest following a sting in Gapan City, according to Central Luzon police director Chief Superintendent Aaron Aquino.
Forty-six other drug suspects including a village councilman were arrested in separate anti-drug operations conducted in several cities and towns, Aquino said.
Meanwhile, a 60-year-old relative of two wanted drug suspects was shot dead by unidentified assailants in Ballesteros, Cagayan on Saturday.
Pepito Tamayo was standing in front of his residence in Barangay Mabuttal when a Toyota Innova pulled over.
Several men from the vehicle approached and shot Tamayo, killing him at the scene, according to Cagayan police director Senior Superintendent Warren Tolito.
Police said Tamayo had no criminal record and was not a drug suspect.
The victim was a relative of village chairman Eduardo Uclos and his brother Arnulfo, who are wanted for separate drug cases.
In nearby Enrile town, vendor Ronald Cauilan was wounded in an attack by motorcycle-riding men in Barangay 2.
Police have yet to determine if the attack was drug-related.