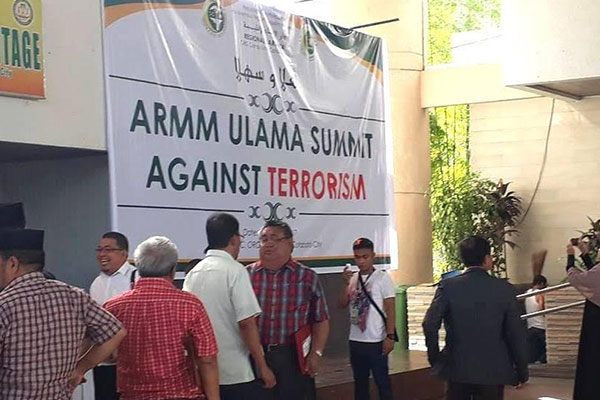 Members of the Darul Iftah attended a three-day anti-terrorism summit in Cotabato City in May. John Unson, file
Muslim clerics denounce desecration of Marawi cathedral
LANAO DEL SUR, Philippines — The Regional Darul Ifta' in the Autonomous Region in Muslim Mindanao (ARMM) on Wednesday branded as "un-Islamic" the desecration of a Catholic church in Marawi City by terrorists.
The Darul Iftah, also known as the House of Opinions, is a group of Muslim clerics from across the autonomous region, among them graduates of Islamic schools in the Middle East and North Africa.
In a statement Wednesday, members of the Darul Ifta' said the destruction of statues and other religious symbols in the St. Mary's Cathedral in Marawi City by terrorists was absolutely against the teachings in the Qur'an.
The grand Islamic mufti (preacher) in ARMM, Abu Huraira Udasan, declared "haram," meaning forbidden in Arabic, the activities of what he considers misguided and fanatical jihadist blocs in the region in a strongly-worded statement circulated early on.
The Darul Ifta' said there is not even a single teaching in the Qur'an ordering Muslims to desecrate non-Islamic worship sites and to persecute leaders of other religions.
The Darul Ifta' earlier condemned the plunder and looting by Dawlah Islamiya — another name for the Maute group — gunmen of houses in Marawi City where they laid siege after their initial May 23 encounter with soldiers there.
Local officials and the police placed at no fewer than 30 their estimate of innocent villagers whom terrorists had executed in the besieged city in the past two weeks.
Hataman: Vandalism of worship sites a serious offense
ARMM Gov. Mujiv Hataman, chairman of the regional peace and order council, said vandalism of non-Islamic worship sites is a serious offense in Islam.
"The destruction of the church in Marawi City was done by people who are introducing themselves as Muslims but are not adhering to the teachings of Islam. They are not Muslims therefore," Hataman told The STAR on Wednesday.
The Dawlah Islamiyah had earlier threatened to harm members of the Darul Ifta' and Hataman for embarking on a three-day Anti-Terrorism Summit in Cotabato City last month.
Participants to the summit condemned as "satanic" the activities of the group and committed support to efforts of President Rodrigo Duterte to nip Islamic extremism in Mindanao in the bud.
"They are so reckless in quoting verses in the Qu'ran in perverse manners to suit their perverse interests. They are unworthy of promises of divine graces from Allah," Hataman said, referring to Maute and Abu Sayyaf terrorists still engaged in fighting in Marawi.
The Dawlah Islamiya is still holding captive the parish priest of Marawi City, Fr. Teresito Suganob, snatched by gunmen who attacked and vandalized St. Mary's on May 23.
Besides Suganob, more than 10 others, three of them volunteer church workers, were also taken by terrorists as they fled when soldiers arrived to drive them away.