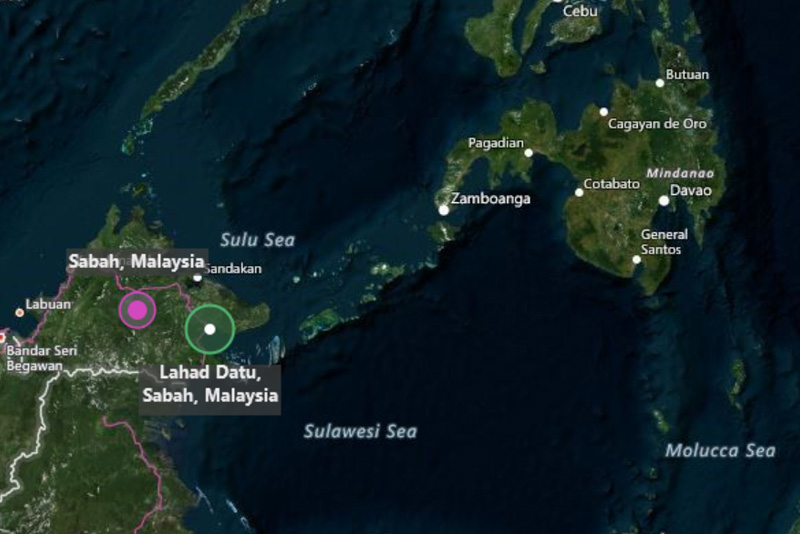 Abu Sayyaf gunmen were killed in an encounter with Malaysian security forces in Lahat Datu, Sabah on Thursday, Dec. 8, 2016. Philstar.com/Bing Maps
Abu Sayyaf kidnapping leader killed in Sabah
Roel Pareño
(Philstar.com) - December 10, 2016 - 6:15pm
ZAMBOANGA — A leader of the Abu Sayyaf group, believed to have orchestrated the kidnapping of four Samal Island tourists, and two of his cohorts were killed in an encounter in a district of Sabah on Thursday, the military said.
Maj. Filemon Tan Jr., spokesperson of Western Mindanao Command (Westmincom), said two other suspects went missing and two were captured during the shootout between the Malaysian authorities and the Abu Sayyaf group in Lahad Datu.
The military official said security forces in Sabah were preventing the Abu Sayyaf members from staging another abduction.
"The speedboat utilized by the Abu Sayyaf members was sunk during the fight," Tan said.
He said that based on the validation of Westmincom with its Malaysian counterpart, the shootout resulted in the killing of Abraham Hamid, suspected to be the leader of the Samal kidnapping incident.
The military said Hamid could have been involved in the kidnapping of Canadians Robert Hall and John Ridsdel, Norwegian Kjartan Sekkingstad, and Hall's Filipino girlfriend Maritess Flor on Sept. 21, 2015 at the Ocean View Resort in Camudmud, Samal City, Davao del Sur before they were brought to Sulu as captives.
The two Canadians were beheaded after their families and government failed to pay the P100-million ransom each, while Flor and Sekkingstad were freed allegedly on payment of huge ransom. This is despite the Philippine government's no-ransom policy for captives of militant groups.
Tan said Hamid was also tagged in the kidnapping of for Indonesian crew members of Tugboat Henry earlier this year.
During the shootout in Lahad Datu, Malaysian authorities also captured Abu Sayyaf members Samsung Aljan and Awal Hajal.
Tan said Westmincom described the death of Hamid as a big blow to the Abu Sayyaf group.