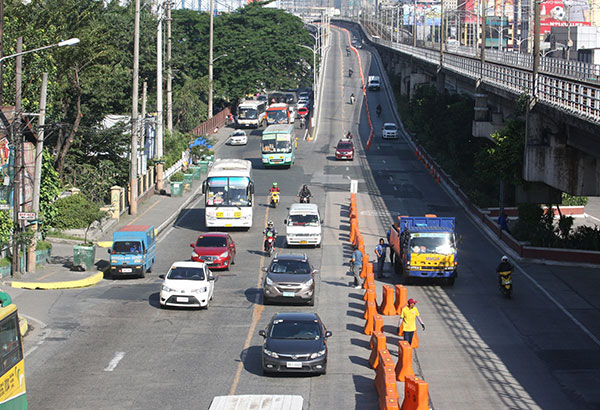 Bong Nebrija, supervising officer of the MMDA, said they might extend the test run to increase public awareness about the carpooling lane on EDSA. Michael Varcas, File
MMDA eyes extension of HOV lane test run
MANILA, Philippines — The Metropolitan Manila Development Authority (MMDA) may extend the dry run of the high occupancy vehicle (HOV) lane scheme along EDSA until next week, an official said yesterday.
Bong Nebrija, supervising officer of the MMDA, said they might extend the test run to increase public awareness about the carpooling lane on EDSA.
Nebrija said they were also anticipating the expected increase in the number of vehicles passing through EDSA this Christmas season.
"The dry run of the HOV lane will end on Friday. But we are planning to extend it until next week," he said.
He added they were waiting for updates on the car tint regulation from the technical working group of the Inter-Agency Council on Traffic.
Nebrija said tinted vehicles derailed the first day of implementation of the HOV lane.
MMDA personnel said they had a hard time monitoring on closed-circuit television cameras if the cars were occupied by two or more passengers.
Only vehicles with two passengers or more are allowed to use the HOV lane, which is the inner or leftmost lane on EDSA.
Driver-only cars are banned from using the lane.
The Metro Manila Council, composed of Metro Manila mayors, had approved the traffic scheme to encourage carpooling to reduce the number of vehicles along the most congested thoroughfare in the metropolis.
Nebrija said they would wait for the results of the MMDA's metrobase assessment tomorrow before extending the dry run of the HOV lane.
Van catches fire
Meanwhile, motorists were stuck in a traffic jam after a van caught fire along the EDSA-Ortigas flyover on Tuesday night.
Traffic policemen said the van was on its way to deliver rolls of tissue paper and cotton buds to a shopping mall in Quezon City when the incident happened.
The driver and his companions were rescued from the burning van, police said.
No one was reported injured in the incident.
Authorities have yet to determine the cause of the fire.