5 dead in Metro Manila shootings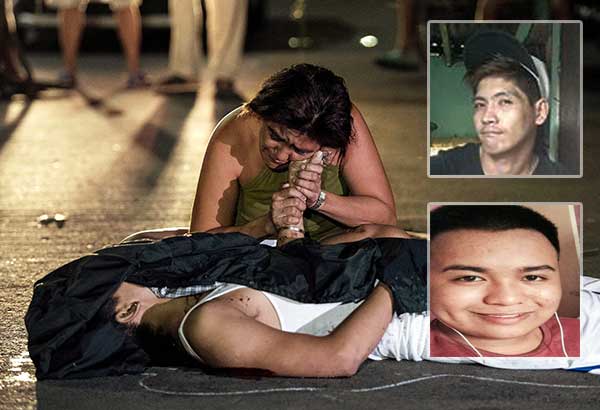 MANILA, Philippines — At least five persons have been killed in separate shootings in Metro Manila since Monday.
Among them was Aldrin Castillo, in his 20s, who was gunned down by six men on three motorcycles along Herbosa street in Tondo, Manila Monday night.
His mother, Nanette, could not help but express her anger at his killing.
"They always say the addicts fight the police. Does that mean that all the users have guns?" she said in Filipino on GMA News.
"Why is it that the rich don't get killed? Duterte, listen to me. Those Chinese who are behind the proliferation of drugs, why are they treated like VIPs? But the poor are killed even without proof," Nanette added, addressing President Duterte.
Nanette admitted that her son stopped using drugs sometime ago.
Barangay 91 officials said there was a closed-circuit television camera in the area but it stopped working hours before the attack.
Probers recovered five .45 caliber bullet casings at the crime scene.
Driver Edgardo Torres, 41, was waiting in his delivery van at the corner of Ma. Orosa and Kalaw streets when a man shot him just before 5 p.m., said Senior Police Officer 2 Joseph Kabigting.
Torres, who died at the scene, often delivered goods to vendors in Rizal Park.
Edmon Datuin, 34, was walking to the market when a man shot him behind the head along Block 15 in Baseco Compound.
Investigators are looking at illegal drugs as among the motives for Datuin's killing.
Haircut
In Quezon City, Aldrin Jore, 16, went out for a haircut on Monday but was later found dead with gunshot wounds to the head a few meters from his home, according to his mother, Amelita.
"I told him to come home immediately," she said in a television interview.
Jore was shot along Martan street in Barangay Commonwealth, according to a police report.
Two bullet casings and a deformed bullet from an unknown caliber of firearm were recovered from the crime scene.
Winifreda Mendoza, 43, was hit by a stray bullet in the head and is recuperating in an undisclosed hospital.
Jore's relatives are at a loss on who could be responsible for his killing.
His brother, Glen, said he was never included in the drug watchlist.
In Pasig, tricycle driver Michael Ian Angelo, 30, was shot dead by an assailant who posed as his passenger at the corner of Pioneer and Fairlane streets at around 9:15 p.m. Monday.
Angelo was categorized as a drug pusher and user in Barangay Pineda's drug watchlist, said Chief Superintendent Romulo Sapitula, Eastern Police District director.
Five bullet casings and a slug from an unknown caliber of firearm were recovered at the crime scene.