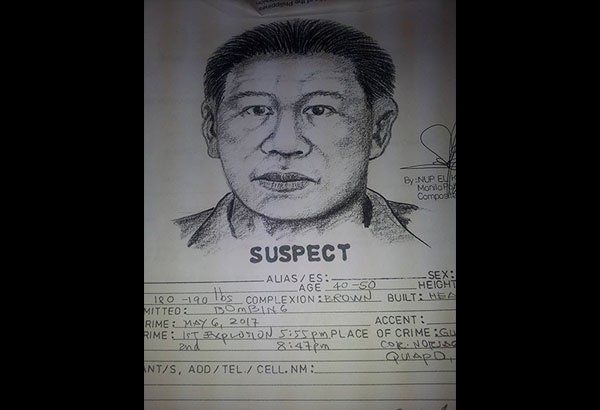 A sketch of Halid Macatanong, who reportedly occupied Room 404 of Diamond Lodge, was released yesterday.
No terrorist threat in Manila as Ramadan nears – MPD
(The Philippine Star) - May 18, 2017 - 4:00pm
MANILA, Philippines - After a series of bomb explosions in Quiapo last week, the Manila Police District (MPD) assured the public yesterday that there are no reported terrorist threats in Manila as the observance of Ramadan draws near.
Chief Superintendent Joel Coronel, MPD director, said they are closely working with several national government intelligence agencies to preempt any attack during the observance of the Muslim community's holy month.
Even with the assurance, Manila Mayor Joseph Estrada directed the MPD to fully secure the city during Ramadan and ordered the deployment of additional police at the Quiapo Golden Mosque and other Islamic centers.
"We will be implementing foolproof security arrangements to prevent a repeat of such incidents," Estrada said, referring to the April 28 and May 6 explosions that killed two people and injured 20 others.
Initial police investigation showed that an imam identified as Nasser Abinal, who also works as a tax officer of the Bureau of Internal Revenue (BIR), might have been the target of the May 6 twin explosions in Quiapo. The bomb was carried in a package by a hired delivery man who handed it over to an aide of Abinal just before it went off, killing them both.
Investigators recently tagged one of Abinal's neighbors as a person of interest. They also released a sketch of the man who allegedly dropped the second bomb at the canopy of the Diamond Lodge.
A ranking MPD official told The STAR that a certain Halid Macatanong and two women, one of them identified as Hanna Maurom, checked in at the lodge a day before the blasts occurred. Halid is reportedly a relative of Mohayden Macatanong, a neighbor of Abinal, while Maurom is the niece of Mohayden's wife.
The official said they are still checking CCTV footage in the area "because we noticed that there were two men on the terrace at the other side of the building minutes before the first explosion." The two might have been monitoring the package delivery, the official said.
At least 425 policemen, Coronel said, would be deployed throughout the city, with the biggest concentration in Quiapo and the Islamic Center, aside from setting up checkpoints and foot and mobile patrols.
Estrada told Muslim leaders that he would go hard on criminals who threaten to destabilize peace and order in Quiapo. He assured them of respect for the rights of every Muslim especially during legitimate police operations.