Systems change better for the environment than deleting old emails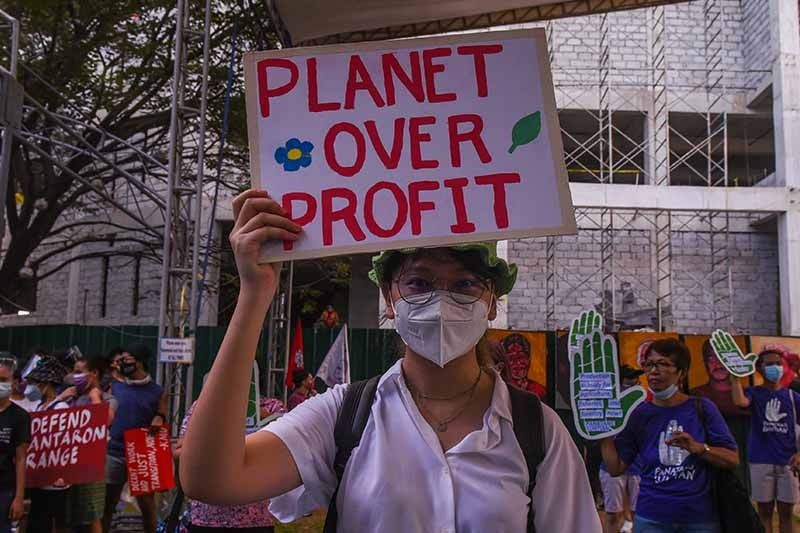 MANILA, Philippines — Using metal straws and eco-conscious search engine, reducing food waste, and shopping sustainably are worthwhile actions, climate activists said, but they stressed that these can only do so much to make our planet livable.
Last week, the campaign #LetTheEarthBreathe, which suggests individual lifestyle changes to protect the environment, trended on social media following the arrests of climate scientists who spoke in protests worldwide about the urgency and injustice of the climate crisis.
Most of the social media posts bearing the hashtag called on people to reduce the use of plastics, save electricity and water, and even delete unwanted emails.
But for climate activists, changes must be transformative to avert the catastrophic impacts of human-induced climate change.
"What's needed is not more incremental steps, but comprehensive and inclusive transitions in energy, food, industrial, urban and societal systems that deliver climate resilient, equitable development, without any delay," Greenpeace Philippines country director Lea Guerrero told Philstar.com.
A report by the Intergovernmental Panel on Climate Change stressed that limiting warming to just 1.5 degrees Celsius involves "rapid and deep and in most cases immediate" greenhouse gas emissions reductions in all sectors. Scientists have warned: any rise above 1.5 degrees Celsius will trigger the worst impacts of the climate crisis, and the window to act on climate change is rapidly closing.
"There's nothing wrong with engaging in small changes in lifestyle, but in this very critical moment of human history, we all need to do much more than delete our old emails or use metal straws," said Jon Bonifacio, the national coordinator of the Youth Advocates for Climate Action Philippines.
Deflecting responsibilities
Campaigners said there is nothing wrong with taking small steps as it shows that people acknowledge the problem and have desire to contribute to addressing it in their own ways. "It makes people feel that they are part of the solution," Guerrero said.
Individual lifestyle changes, if done collectively, can also produce positive impacts.
But the problem with the individual lifestyle approach is that it shifts the burden from the main culprits of climate change to humans, activists pointed out.
"When you look at who's mainly responsible for destroying the planet, it's not humanity as a whole, but really just a few countries, corporations, and individuals, and they are the ones who need to be accountable," Bonifacio said.
China is currently the world's biggest greenhouse gas emitter, but, historically, the US has contributed more emissions than any nation in the world.
The Carbon Majors Report, published in 2017, showed that just 100 companies have been identified as accountable for 71% of global emissions since 1988.
"We need to put in more work in taking on the root cause of our current crisis directly," Bonifacio said.
Guerrero stressed that focusing on individual actions also sends the message that people, not companies or governments, are the ones who need to change.
"The narrative on lifestyle change is also largely acknowledged as an attempt at greenwashing by corporations, again because it deflects the responsibility from them," she said, referring to campaigns to make operations of companies to appear more environmentally friendly than they are.
The Greenpeace country director also emphasized that no amount of individual lifestyle changes can make a significant dent in the fight against climate and ecological crises "if the system of relentless extraction and exploitation buy companies that has brought on the problem, and the government policies that allow these, continue."
"It takes technological, systemic, and cultural changes for which we need both consistent action from politicians and other decision makers as well as public pressure and social movement," she said.
Groups, such as Greenpeace, have been calling on the Philippine government to do a fast and fair shift to renewable energy systems, halt the expansion of coal, fossil gas and nuclear projects, call wealthy nations to scale up provision of climate finance and compensation for loss and damage, and institute climate action as the central policy of the country.
Fight for future
For climate justice advocate Marinel Ubaldo, people need to demand change and accountability from top emitters of planet-warming greenhouse gases, and action from governments.
"We can change our lifestyles, we can influence other people. We make sure that we don't do harm to our environment at the same time we have to ensure these corporations are actually changing their business practices for the betterment of the planet," Ubaldo, a survivor of Super Typhoon Yolanda (Haiyan) said.
After all, corporations and developed nations have the power and resources to implement changes in the way they do business and policies, she added.
Guerrero said that the individuals have a very important role in ensuring systemic changes happen "by fighting for the future we deserve, and lending their voice and strength to the climate movement."
In 2015, civil society organizations and typhoon survivors filed a petition before the Commission on Human Rights to investigate the responsibility of "carbon majors" for human rights impacts aggravated by climate change. The CHR, however, has yet to release a long-awaited resolution on the inquiry.
With their lives at stake, young activists across the world organize strikes and use social media to call for rapid transformation of societies to protect the planet from the worst consequences of the climate crisis.
"People need to realize that they have more power to bring about solutions through active participation in governance and in movements," Guerrero said.