Marcos, Duterte see double-digit drop in approval and trust ratings in September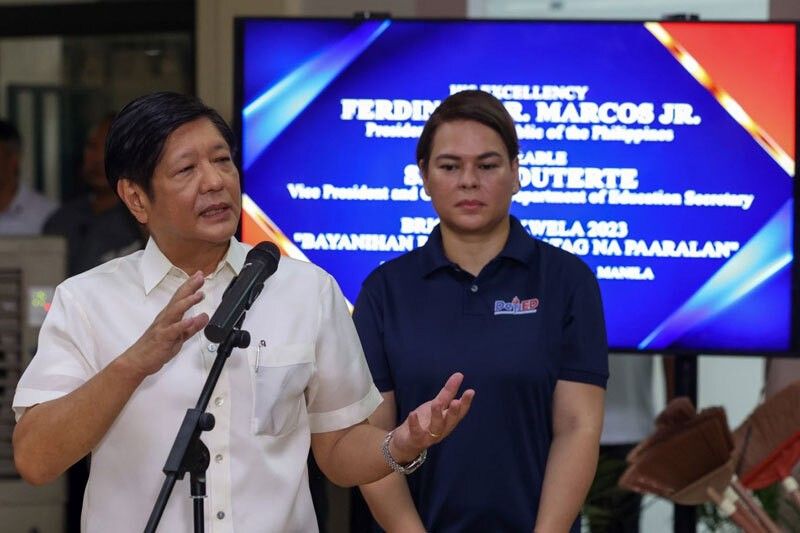 MANILA, Philippines — The extent to which Filipinos still trust and approve of President Ferdinand "Bongbong" Marcos Jr. and Vice President Sara Duterte has declined by double digits from June to September, the latest Pulse Asia survey found,
While the two top officials still retain the majority approval and trust of Filipinos, the latest survey by Pulse Asia done mid-September shows that both leaders lost some level of support across all regions and classes after enjoying minimal changes in their ratings in the same poll conducted in March.
The Pulse Asia survey was conducted from September 10 to 15, when budget debates triggered public clamor for transparency in government agencies' use and requests for confidential funds. The largest chunk of this in the proposed 2024 budget will go to the Office of the President (P4.5 billion), while P650 million was set to go to Duterte before lawmakers vowed to realign the secret fund.
The slump in Marcos and Duterte's trust and approval scores also comes "amid uncontrollable inflation," political science professor Cleve Arguelles said.
"Bagong Pilipinas appears to be taking a hit," Arguelles added.
Similarly, political science professor Arj Aguirre said that the drop in Marcos and Duterte's rating is "significant since it is beyond the margin of error."
The survey was also conducted during a time when hot-button issues affecting Marcos and Duterte dominated headlines and gripped public attention: among others, surging inflation and the perceived misuse of public funds through the confidential and intelligence funds, Aguirre added.
"It only means that there is a substantial portion of the population nowadays that have become dissatisfied with Marcos Jr and VP Sara in terms of doing something to curb the ill effects of inflation to ordinary citizens and in terms also of using a staggering amount of money through CIF, respectively," Aguirre said.
Approval scores dip for Marcos and Duterte
Approval ratings for Marcos decreased by 15 percentage points nationwide, going from 80% to 65%. Across all regions, declines in the president's performance rating ranged from 14 to 15 percentage points.
Marcos is the only top official in the survey who suffered a double-digit drop in approval ratings across all socio-economic classes, with his approval score slumping the most among members of Class E by around 29 percentage points or from 82% to 53%. This is followed by Class ABC (22 percentage point drop) and Class D (12 percentage point drop).
Similarly, Duterte's approval ratings dropped from 84% to 73% or by 11 percentage points at the national level. In Metro Manila, the vice president's approval ratings fell by 12 percentage points while it fell by 13 percentage points in the rest of Luzon.
Unlike Marcos, Duterte saw the biggest slump in approval ratings in the more affluent Class ABC (18 percentage point drop) going from 72% to 52%. This is followed by Class D (11 percentage point drop) and Class E (8 percentage point drop).
Drop in trust ratings
The Pulse Asia survey also showed that at least 71% still trust Marcos, while Duterte still enjoys a 75% trust score.
However, despite still being trusted by most Filipinos, Marcos and Duterte's overall trust scores declined by 14 points and 12 points, respectively.
Marcos saw the biggest dip in trust ratings in Luzon (20 percentage point decrease) followed by Visayas (13 point decrease), the National Capital Region (8 point decrease) and Mindanao (5 point decrease).
Meanwhile, the president saw double-digit declines in his trust ratings among all socio-economic classes, with both the affluent Class ABC and Class E having a 21 percentage point decrease.
Trust scores for the vice president dipped across all regions and socio-economic classes, with the biggest decrease in Luzon (18 percentage point decrease) similar to the president.
The decrease in trust among members of Class ABC and Class E for Duterte, however, were less pronounced compared to Marcos: Duterte saw just an 11 to 13 percentage point decrease in all socio-economic classes.
Legislative, judiciary leaders experience drop in ratings
Other key officials included in the survey -- House Speaker Martin Romualdez, Senate President Juan Miguel Zubiri and Supreme Court Chief Justice Alexander Gesmundo — also experienced dips in their approval and trust scores.
Romualdez has appeared to lose the majority approval of Filipinos after his score dipped to 41% from June's 52%. His ratings shifted downward in most regions and classes by an average of 11 percentage points, except for a slight increase of 1 percentage point in his bailiwick of Visayas.
Meanwhile, Zubiri saw a decline in his approval rating by 6 percentage points, going from 56% in June to 50%.
Gesmundo's approval score also slipped to 34% — the lowest among the five officials — compared to 44% in June.
Zubiri is the only official who saw a one-digit drop in trust ratings (8 percentage points), while Gesmundo lost 10 percentage points.
Romualdez also saw the largest dip in trust scores among the five officials, going from 54% to 38% (16 percentage point drop).
Additionally, Romualdez is the sole official in the survey who experienced a double-digit increase in terms of distrust among Mindanawons, which went up by 13 percentage points. — with reports by Xave Gregorio