Mayon on Alert Level 3 amid magmatic eruption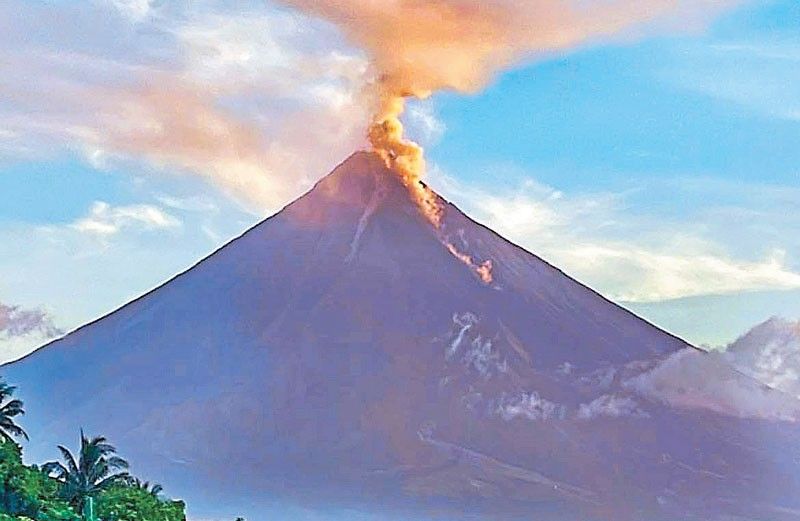 MANILA, Philippines — The Philippine Institute of Volcanology and Seismology (Phivolcs) has raised Alert Level 3 at Mayon Volcano as it undergoes a localized magmatic eruption.
Phivolcs yesterday said that this localized eruption is manifested by extrusion of lava in the crater summit as evidenced by the growing lava dome of the volcano. Alert Level 3 means there is relatively high unrest in the volcano and an increased tendency toward hazardous eruption.
"The overall monitoring parameters indicate that very slow extrusion of shallow degassed magma is ongoing and is incrementally increasing in rate; i.e., effusive magmatic eruption is taking place," Phivolcs said in an advisory.
"Mayon is exhibiting magmatic eruption of a summit lava dome, with increased chances of lava flows and hazardous PDCs (pyroclastic density currents) affecting the upper to middle slopes of the volcano and of potential explosive activity within weeks or even days," the state agency said.
Three PDC events were recorded Thursday morning on the Bonga (southeast) and Basud (east) Gullies, which lasted four to five minutes.
Mayon's alert level was raised from 1 to 2 last June 5, then from Alert Level 2 to Level 3 yesterday.
A total of 267 rockfall events and two volcanic earthquakes were recorded from Monday to Thursday, compared to the 54 rockfall events in the from June 1 to 4, with 98 rockfall events recorded yesterday alone.
Paul Alanis, Phivolcs resident volcanologist at the Lignon Hill Observatory in Legazpi City, said that the rockfall events had duration of one minute to three minutes, and "transported lava debris within a kilometer range of the southern upper slopes."
Phivolcs recommended that the six-kilometer radius Permanent Danger Zone be evacuated due to the danger of PDCs, lava flows, rockfalls and other volcanic hazards.
The state agency said that the sulfur dioxide (SO2) emission remained at baseline or background level.
Meanwhile, Phivolcs said that there is continuous degassing activity at the Taal volcano. "There was one volcanic earthquake and a volcanic tremor that has been ongoing since June 2 monitored at the volcano. It emitted sulfur dioxide flux of 5,718 tons per day, with voluminous emission of plumes of up to 2,400 meters tall," the agency said.
Despite the ongoing degassing activity, Phivolcs said that Taal will remain under Alert Level 1. Phivolcs recommended the strict prohibition of entry into the Taal Volcano island, especially the main crater and Daang Kastila fissures, and occupancy and boating on Taal Lake.
'Gov't is ready'
President Marcos gave assurance that the government is prepared to assist areas that may be affected by the increased volcanic activity of Mayon and Taal volcanoes.
"We are ready. We have been doing that ever since. We watch it very closely, make sure that any of the communities that could be affected are evacuated and are given assistance while they are evacuated until the time that they can return to their homes. It's the same thing," the President said yesterday.
Marcos said the situation in Taal is not that precarious compared to that of the areas near Mayon Volcano. "Mayon is a little bit more advanced... lava has not come out of it. If the lava flow starts, that's when we really have a disaster," he said.
"Right now, what we are doing is preparing and moving people away from the area... hope it doesn't happen but, unfortunately, the science tells us that it may happen. The lid, or the cap, on top of the lava is slowly rising – not so slowly rising – and it may erupt. That is why we are watching closely," the Chief Executive said.
Stay alert
The Department of Health (DOH) yesterday advised residents living near Mayon Volcano to stay alert and be wary of sulfur dioxide, a colorless toxic gas that can affect both human and animal health and plant life.
The health department said nearby residents should avoid unnecessarily going out of their homes; close the doors and windows, wear face mask and protective gear for eyes and covering for the skin.
The DOH also cautioned the public on the effects of exposure to volcanic ash, which may cause a number of health problems. "Anyone who already suffers from problems such as bronchitis, emphysema, or asthma, should avoid exposure to volcanic ash," said the DOH.
It noted nose and throat irritation, coughing, bronchitis-like illness, discomfort while breathing, eye irritation, minor skin problems, injuries/death due to roof collapse or vehicular accident resulting from slippery roads and poor visibility as the ashfall's health effects.
Meanwhile, the Office of Civil Defense (OCD) has ordered for more preparedness measures yesterday as it coordinated with Phivolcs, Department of Environment and Natural Resources and the DOH.
OCD spokesman Assistant Secretary Raffy Alejandro said a memo has been issued ordering heightened monitoring and close coordination among local disaster response units and support agencies. The OCD said concerned agencies and localities have also been told to prepare the public for possible evacuation if the situation worsens.
Notice to airmen
The Civil Aviation Authority of the Philippines (CAAP) is continuously updating its notices to airmen (NOTAM) informing pilots of flying aircraft at the current alert levels and associated risks related to the volcanic activities of Taal, Mayon and Kanlaon.
In Mayon, CAAP issued NOTAM B2003/23, advising airmen of the dangers of volcanic ash cloud rising up to 11,000 feet and drifting south to southeast with accompanying 338 rockfall events, according to Phivolcs.
In Taal, which is under low-level unrest, CAAP issued NOTAM B2000/23, advising flight operators to avoid flying close to the volcano's summit as airborne ash and ballistic fragments from sudden explosions may pose hazards to aircraft from surface up to 10,000 feet.
In Kanlaon under abnormal condition, CAAP issued NOTAM B1999/23 advising flights to avoid the volcano's summit due to the dangers of possible steam-driven or phreatic eruptions. – Rudy Santos, Rhodina Villanueva, Michael Punongbayan, Alexis Romero