EDCA sites not US bases – envoy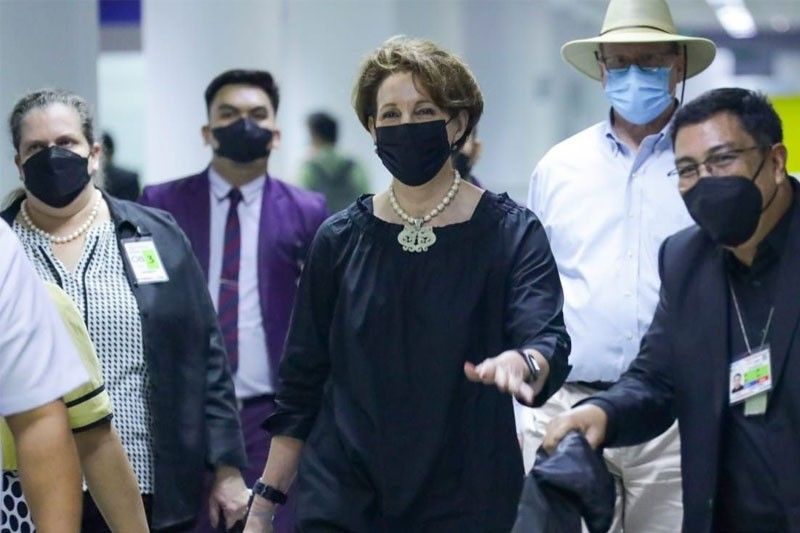 MANILA, Philippines — United States Ambassador MaryKay Carlson clarified yesterday that the Enhanced Defense Cooperation Agreement (EDCA) sites in the Philippines, which grant American troops greater access, are not US military bases.
"These are not US bases," Carlson said in an interview on ANC as she explained that the EDCA sites are Philippine military bases where the US provides financial support and contributes capital for necessary improvements.
She emphasized that all activities conducted by the US in the country are done at the invitation of the Philippine government, including the use of EDCA sites.
"It's important to note that these are not our sites. We have no rights to these sites. It's not as simple as snapping a finger and suddenly having access to everything," she said.
Earlier, President Marcos gave assurance that the new EDCA sites will not be utilized for offensive operations. However, China has criticized the establishment of these sites, claiming that they pose a threat to peace and stability in the Indo-Pacific, particularly targeting Beijing.
The Pentagon addressed these concerns by affirming that the US is not seeking permanent bases in the Philippines through the new EDCA sites. It emphasized that activities carried out would be responsive to the needs and priorities of local communities.
"We provide funding and insert capital to make improvements that are to the benefit of both the Philippine military and also be helpful to the US military in the event that any threat against either one of the two members of this mutual defense treaty alliance," Carlson said.
During the recent US-Philippines 2+2 Ministerial Dialogue in Washington, top diplomatic and defense officials from both countries issued a joint statement affirming their support for the swift operationalization of the new sites as military bases under the EDCA.
The US also pledged financial assistance to facilitate this process.
With this, Carlson stressed that Washington's commitment to the Philippines "stands on its own" and is not about China.
"The Mutual Defense Treaty dates back to 1951. Our commitment to the Philippines stands on its own," she said. "(It) extends to Philippine armed forces, aircraft and public vessels, including those of its Coast Guard, anywhere in the South China Sea."
Carlson added: "There's so much that we're working together. It's not about China. It's certainly not about China alone. It's about what we do together and it dates back decades."
She said that the Indo-Pacific region is a critical regional trade hub, noting that a large percentage of that passes through the West Philippine and South China Seas.
Meanwhile, the Philippine Navy (PN) will continue to make its presence felt in the disputed West Philippine Sea, but will not initiate any escalation of tensions.
Speaking at the Kapihan sa Manila Bay media forum yesterday, Rear Admiral Jose Ma. Ambrosia Ezpeleta stressed that the PN will continue to take direction from the National Task Force on the West Philippine Sea.
"We will continue to protect our territory. The Philippine Navy will continue to upgrade. We maintain to be the vanguards of our territory," Ezpeleta said.
The government has allocated P10 billion for the modernization of the Navy, with two high-tech ships scheduled to be delivered annually from next year until 2028.
"We are entering the capability stage. Compared to two years back, we are operating with dilapidated vessels. We are very capable now compared to ten years ago in terms of number of ships, trainings and all," said Commodore Roy Vincent Trinidad, Philippine Fleet deputy commander.
The Navy is also working to strengthen its recruitment program to attract more technical personnel with backgrounds in engineering, IT and computers.
Ezpeleta took pride in a Filipino scientist who had invented a remote-controlled gun named "Buhawi" which they now use in smaller ships. "We have many engineers and scientists developing our arms. We are also training the capacity of our personnel," he said.
Moreover, the Navy has procured nine advanced ships from Israel, and personnel have undergone comprehensive training on ship operations and maintenance.
Collaboration with non-governmental organizations is also underway to support the Navy's modernization goals. Ezpeleta revealed ongoing negotiations for the allocation of 10 hectares of reclaimed land along Roxas Boulevard for Philippine Navy use.
Yesterday, Gen. Andres Centino, chief of staff of the Armed Forces of the Philippines, was in Balabac, Palawan to urge the fast-tracking of military infrastructure projects on the island.
Centino was particularly interested in the completion of the Balabac military runway, one of four additional EDCA sites that can receive assistance from the US for base development.
Balabac's strategic location as a municipality on an island chain in the West Philippine Sea, through which vessels from international waters pass, is crucial for detecting and identifying foreign intrusions.
The Balabac military runway, which will be a joint-use air facility for the Philippine Air Force and the local government unit, is part of a larger project for further development of the facility under the EDCA partnership with the US.
The AFP also aims to develop the Narciso del Rosario Naval Station in Onok Island into a full naval base that can receive EDCA base development assistance.
Visiting Australian Foreign Minister Penny Wong underscored yesterday the arbitral ruling that Australia supports for a stable and prosperous region where norms apply.
In an interview with CNN Philippines, Wong said Australia's national interests are aligned with the Philippines'. – Jose Rodel Clapano, Rainier Allan Ronda