DA drops plan for NFA to import 330,000 MT rice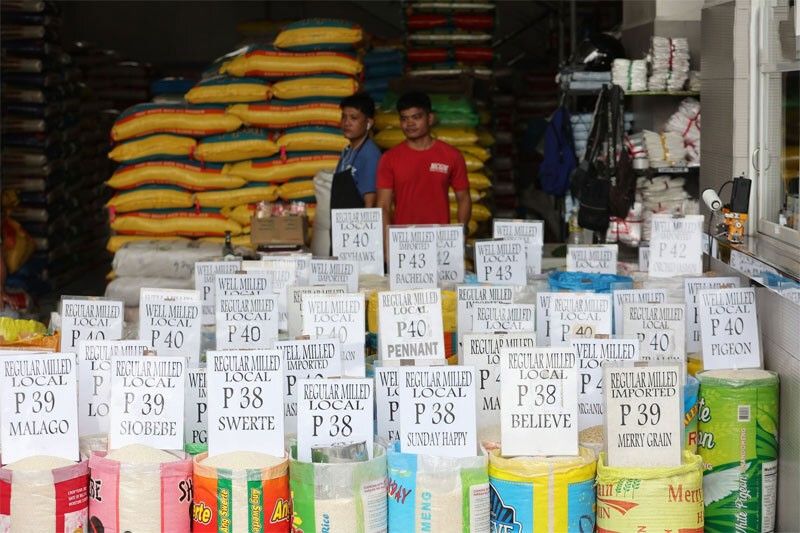 MANILA, Philippines — The National Food Authority (NFA) has dropped plans to import 330,000 metric tons (MT) of rice, a ranking official of the Department of Agriculture (DA) said yesterday.
In an interview, Agriculture Undersecretary for policy, planning and regulations Mercedita Sombilla said NFA acting Administrator Robert Rayo Bioco had proposed the importation to President Marcos because of concerns over the depleting rice buffer stock for this year.
"Administrator Bioco knew about the law. Because of fears, he was really proposing to source (330,000 MT) outside," Sombilla said, referring to Republic Act 11203 or the Rice Tariffication Law (RTL).
Marcos met with officials of the DA to address the deficit in the country's buffer stock this year.
"We did not discuss the importation and the President knew about that, the importation of the NFA is not possible. There are probably some schemes. The National Rice Program will be talking to the NFA on how they can really secure the 330,000 (MT) from local sources," Sombilla added.
"I told him (Bioco), I think you can really do that (procure 330,000 MT of rice) locally, you can," Sombilla added.
She also brushed aside a warning from Federation of Free Farmers (FFF) national manager Raul Montemayor of a repeat of the rice crisis in 2018 during the Duterte administration.
"I am just reviewing the projected supply, we will even have a surplus at the end of the year, at least 1.69 million metric tons, good for 45 days," Sombilla maintained.
Montemayor added that while the country's rice supply would be enough until June, a deficiency in the staple could happen during the lean months from July to September 2023.
"We will have lean (months), of course as usual, it's always been but by the end of second quarter, the importation will continue which is actually being required by RTL, which is being done by the traders so I don't really see how to justify the warning (on rice crisis)," Sombilla added.
Based on the projection of the DA, she said the total rice production for 2023 is seen at 13 MMT of rice or 20 MMT of palay.
"We are projecting a little bit higher rice production and there are interventions that are being put in place," she added. Montemayor said the country's rice stocks are good for only 27 days or until June, as he pushed for the importation of 1.2 million MT of rice to ensure a 60-day buffer stock during the second half of the year.
"For the first semester of 2023, the stock level by June 30 will be equivalent to only 27 days if imports do not increase beyond the reported arrivals of 790,000 tons during the first quarter. An additional 1.2 million tons will have to be imported in order to get a 60-day buffer stock level by June 30," FFF national manager Raul Montemayor said yesterday.
Low inventory
He said the country's beginning rice inventory on Jan. 1, 2023 was 1.77 million MT, including the carryover stock from 2022. The country imported a total of 3.8 million MT of rice in 2022.
"For 2022, local palay production must have fallen to 16.39 million tons in order to end up with the PSA (Philippine Statistics Authority)-announced year-end stock level of 1,765,500 tons. This is a huge 3.57 million ton decline, almost 18 percent from 2021 production levels," Montemayor said.
"The ending stock level of 1.765 million tons is the lowest since 2017 or earlier and is equivalent to only 48 days of national rice consumption," he explained.
At the same time, Montemayor urged Congress to amend Republic Act 11203 or the Rice Tariffication Law (RTL) amid the current spike in rice prices.
"Clearly, the proponents of RTL did not anticipate a situation like now, where both imports and local production are low and government is estopped from importing rice. We must also introduce additional safeguards to protect our farmers in the reverse situation, where farmgate prices are very depressed due to excessive imports," Montemayor added.
He blamed the huge drop in palay production in 2022 to high fertilizer prices, which discouraged farmers from planting.
He noted that the planned government importation of 330,000 MT would not be enough to fill the supply gap in case the private sector decides to scale down importation.
"Ironically, the plan to import rice may resurrect concerns about government interference in the rice trade, especially if NFA undersells private traders in the market or the government imposes price controls. This will further discourage traders from importing rice," Montemayor added.
Earlier, former agriculture chief and FFF board chairman Leonardo Montemayor questioned the legality of the plan of NFA to import 330,000 MT of rice, noting that the RTL specifically mandated it to procure its buffer stocks only from local farmers.
"If the government courses the importation through another agency, it will still violate the RTL's principal policy of fully entrusting the management of the rice market, including imports, to the private sector," Montemayor said. –Ramon Efren Lazaro, Delon Porcalla, Sheila Crisostomo