Oil still leaking from sunken vessel; Calapan to be most affected this week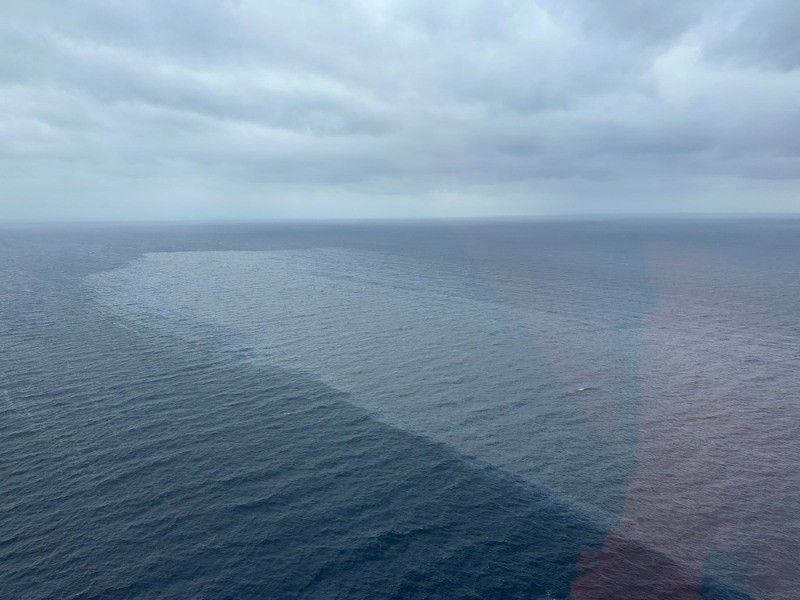 MANILA, Philippines — The University of the Philippines' Marine Science Institute (MSI) is expecting the spill from MT Princess Empress to concentrate in Calapan city of Oriental Mindoro this week as oil continues to leak from the sunken vessel.
In a bulletin published Saturday night, the UP MSI said currents in the coast of northern Mindoro to the Verde Island Passage are expected to be stronger in the coming days. This may lead to majority of the leak to spill over to Calapan from March 20 to 22.
"The Amihan winds, which contained most of the oil to the coasts of Nauhan and Pola in the previous weeks, are now more variable, allowing the oil to spread northwards," the MSI said.
"It is critical to stop the seepage before the end of the Amihan season, otherwise more critical biodiversity areas along the Verde Island Passage may be affected."
The MT Princess Empress was carrying 800,000 liters of industrial fuel when it sank off the coast of Oriental Mindoro in the early hours of February 28. Environmental groups and advocates have earlier called on the government to take action as the spill may affect the areas along Verde Island Passage.
This means that seagrasses and corals may be affected by the leak, while fish kills may also affect the livelihood of locals. Whatever fish caught in the area may also not be fit for consumption.
READ: Oil spill from sunken tanker could threaten Verde Island Passage's biodiversity — group
149K persons affected
Based on the National Disaster Risk Reduction and Management Council's situational report published Sunday, affected individuals climbed to 149,503 from the 147,293 reported on Saturday. Majority of them are from the MIMAROPA region, while 30,226 are from Western Visayas.
The NDRRMC noted that 189 individuals fell ill, feeling abdominal pain, dizziness, with some people reporting that they find it difficult to breath and others reported of having skin rashes and fever.
RELATED: Dozens sick in Philippine villages hit by oil spill | Oil spill-hit areas receive medical supplies
Meanwhile, the number of affected farmers and fisherfolks stood at 13,654, with a production loss or cost of damage estimated to be worth around P3.850 million. — Kaycee Valmonte with reports from Gaea Katreena Cabico