Teves, 2 sons face illegal firearms raps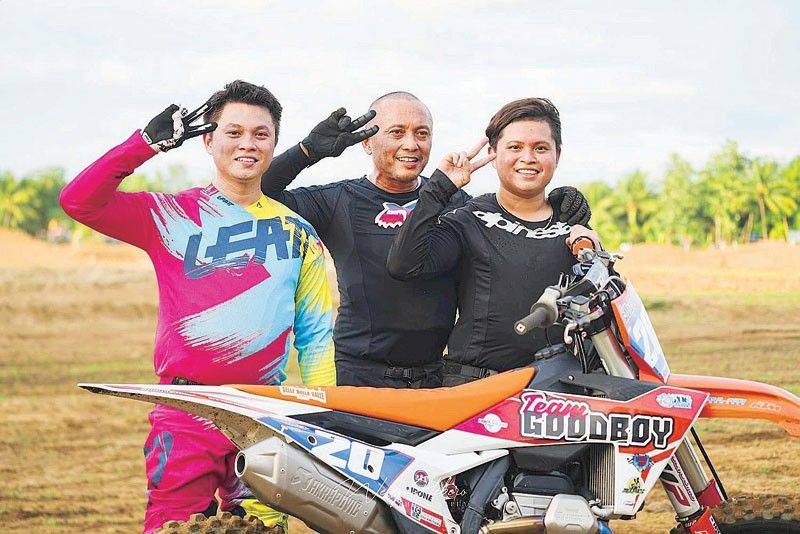 Lawmaker files for 2-month leave
MANILA, Philippines — Charges of illegal possession of firearms were filed by the police yesterday against Negros Oriental 3rd District Rep. Arnolfo Teves Jr. and his two sons, Kurt Matthew and Axel, in connection with three murder cases in the province in 2019.
While murder complaints were filed earlier by the Philippine National Police (PNP) against Teves and five others over the 2019 killings, these new charges received by the Department of Justice (DOJ) pertain to the firearms suspected to have been used in the crimes and recently seized by the Criminal Investigation and Detection Group (CIDG).
"The complainant is CIDG, and the respondents are Cong. Teves and two sons, Kurt and Axel. These are illegal possession of firearms cases in relation to the three murder cases," Justice Secretary Jesus Crispin Remulla explained to reporters.
Victims in these 2019 murder cases were Miguel Dungog, who was shot in front of the Silliman University Medical Center, Dumaguete City on March 25; Lester Pialago Bato, gunned down in Barangay Nagbo-alao in Basay town on May 26, and Pacito Retes Libron, also shot dead in Barangay Malabugas, Bayawan City on June 23.
Aside from Teves and his secretary Hannah Mae Soberano, who are facing three counts of murder over the killings, other respondents charged with one or two counts of murder are Richard Cuadra, Jasper Tanasan, Rolando Pinili and Alex Mayagma.
Dungog, a former agent of the National Bureau of Investigation (NBI), was running for board member in the May 2019 elections and was allied with the late Negros Oriental governor Roel Degamo, who was assassinated in his residential compound last March 4.
'Kurt ordered to deplane'
On Tuesday night, Ferdinand Topacio, the congressman's lawyer, decried the alleged harassment of the Teves family, citing how police ordered Kurt Matthew to deplane from a private aircraft bound for Manila from Negros Oriental.
"His plane was not allowed to take off. We are asking what are the reasons (for this police action against the lawmaker's son). They just said he can't fly. That in itself is alarming. It sends chills down the spine of the family of Cong. Teves," Topacio told "The Chiefs" on Cignal TV's One News channel.
Given these circumstances, Topacio said he and his clients intend to seek the help of the Commission on Human Rights (CHR).
"There are many events that we have not revealed yet which would lead one to believe that the threats against Cong Teves are real," he added.
Kurt Matthew hogged the headlines in March last year when he led his bodyguards in roughing up a security guard at the gate of BF Homes, Parañaque City for denying his vehicle entry into the subdivision – a scene captured on video that went viral on social media.
Yesterday, the Civil Aviation Authority of the Philippines (CAAP) said it had no information about the reported grounding of the private jet on which Kurt Matthew was supposedly on board.
"We do not know the reported holding of an aircraft, because it is not under us. It is under the PNP-Avsegroup," CAAP spokesperson Eric Apolonio told The STAR in an interview, referring to the Aviation Security Group.
In a separate interview, a police source told The STAR that the PNP-Avsegroup at Sibulan Airport (Dumaguete-Sibulan Airport) is monitoring the movements of four aircraft.
The source said the Avsegroup had requested the CAAP in Negros to inform them if any of these four aircraft's ground handlers file a flight plan with CAAP.
Asked if this monitoring is related to the police's investigation into Rep. Teves' possible involvement in the Degamo assassination, the source said it is "common knowledge" that a police task group is looking into that.


Day of mourning
Meanwhile, President Marcos has declared today (March 16) a special non-working day in Negros Oriental "to give the people of the province the opportunity to show their respect and join the interment" of the province's slain governor.
Based on Proclamation 185, signed yesterday by Executive Secretary Lucas Bersamin, it was the office of now Gov. Carlo Jorge Juan Reyes that requested the special non-working holiday "to allow the community to grieve and honor the memory of Gov. Degamo and the other victims."
Degamo, 56, was killed in armed attack at his private compound in Pamplona, Negros Oriental, while he was meeting his constituents. Eight other people died with Degamo, while 16 others were wounded.
Degamo, who supported Marcos in the 2022 presidential elections, is set to be buried at the family mausoleum in Siaton, Negros Oriental.
When Marcos visited Degamo's wake in Dumaguete City last March 8, he vowed justice for his friend and the other victims.
Earlier, the President branded his assassination as "purely political."
Today, the Special Joint Task Force Negros, composed of military and police personnel, has been mobilized for the large number of people expected to attend Degamo's burial.
6th suspect killed
In another development yesterday, authorities identified a sixth suspect in Degamo's assassination and said he was killed in the subsequent gun battle that happened hours after the March 4 bloodbath.
Maj. Cenon Pancito III, Joint Task Force Negros spokesman, identified the slain suspect as Arnil Libradilla, a former New People's Army rebel, from Sitio Awang, Barangay Atotes, Bindoy town in Negros Oriental.
Pancito said Libradilla was killed during pursuit operations hours after the incident locally known as the Pamplona massacre.
"In his Facebook, which we examined, he was claiming to be a sniper," he said of Libradilla.
Pancito said they believe that the four remaining suspects, including the leader of the assassins, reported also to be a former soldier, have not left Negros Oriental.
He said those behind the attack appear to be people of various former professions.
"It seems the common denominator among them is that each has a skill in terms of war fighting," Pancito said partly in Filipino.
Earlier, four suspects were arrested in Bayawan City, while another was nabbed by operatives of the CIDG in a raid in Amlan, all in Negros Oriental.
They are now in the custody of authorities.
In Manila, Remulla said there would be a "clearer picture" of what happened by the end of the week.
"We're just looking for four more persons of interest and we're just waiting for some things to happen. But we will have a more complete picture by the end of this week as there are more questions being answered right now," he said.
To speed things up, the DOJ has sought the help of intelligence units and agencies to get the information on the persons of interest and other backgrounders that would help prosecutors deal with suspects, said the DOJ chief.
'Breakthrough'
Hinting at a breakthrough in the investigation into the attack on Degamo, Col. Jean Fajardo, PNP spokesperson, said eight suspects will be named in the coming days.
At the same time, Fajardo called on "five to six" of these suspects still at large to give themselves up to authorities, warning that they might be executed by the very ones who hired them to kill Degamo.
"We are pursuing you relentlessly, you have nowhere to hide. In the coming days, we are expecting a major breakthrough in this case," Fajardo, speaking partly in Filipino, told yesterday's media briefing in Camp Crame, Quezon City.
Asked to elaborate on the major development, she said the NBI is expected to file criminal complaints against 12 other personalities implicated in the multiple murder case.
The PNP official said the mastermind and the intermediaries would be counted among those to be charged.
Earlier, police filed multiple murder and frustrated murder complaints against the four suspects in government custody – Osmundo Rivero, Joven Javier, Joric Labrador and Benjie Rodriguez.
Deadline
In Congress, the House committee on ethics and privileges gave Teves five days from yesterday to explain why he could "not process" his travel authority that already expired last March 9.
COOP-NATCCO party-list Rep. Felimon Espares, committee chairman, said this was the action agreed upon by panel members during their executive session yesterday to discuss the case of the congressman.
"It is a very simple but very important action. The committee approved to acquire jurisdiction on matters particularly to the expired travel authority," Espares told reporters.
Teves, who appears to have been tagged by at least two arrested suspects as the "brains" in the killing of Degamo, has yet to return to the country from the United States even after the travel authority granted to him by the House had expired.
Teves has formally requested the House leadership to extend his stay abroad by two months to May.
On insisting that Teves gives his reply in five days, Espares said it is important "so that the public will know that we do not neglect our responsibility."
"He should face the allegations being hurled against him, for everything to be clear. He would report to the House, explain to Speaker Martin Romualdez. That would be the best," he added.
Earlier, Romualdez called on Teves to return to the Philippines to face his accusers. But on Monday night, Teves reportedly phoned the Speaker to express his fears for his and his family's safety should he come home.
Meanwhile, San Juan City mayor and newly appointed Regional Peace and Order Council of Metro Manila chairman Francis Zamora said yesterday that receiving death threats, being subjected to ambush to death is part of the "occupational risks" faced by elective officials.
"I saw the video of the killing of Gov. Degamo. I realized that there are still people like them (the suspects). That is our occupational risks. It's normal," Zamora said in reaction to calls to provide elected officials additional security.
"If we will be given more security personnel, that would be fine," he added, but emphasized that the decision is up to the PNP and other concerned agencies if mayors in Metro Manila need more security. – Helen Flores, Gilbert Bayoran, Emmanuel Tupas, Michael Punongbayan, Rudy Santos, Ralph Edwin Villanueva, Sheila Crisostomo, Delon Porcalla, Jose Rodel Clapano