Marcos: Coordinate release of water from dams during typhoons
September 27, 2022 | 12:00am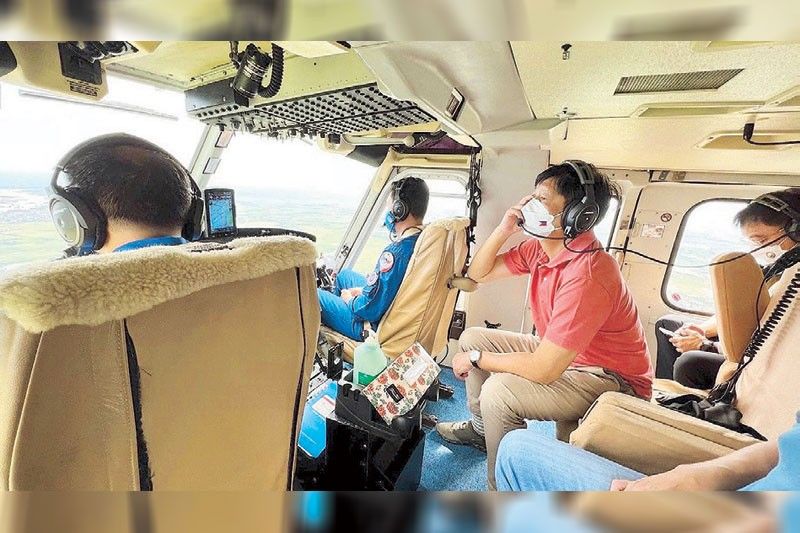 MANILA, Philippines — To prevent destructive flooding and casualties during typhoons, President Marcos ordered yesterday the close coordination among water agencies, local government units (LGUs) and the state weather bureau in releasing water from dams.
Marcos gave the directive as he presided over a briefing on the effects of Super Typhoon Karding at the headquarters of the National Disaster Risk Reduction and Management Council (NDRRMC) in Quezon City.
"We don't want that incident to happen where (dams) will simultaneously release water without warning the affected areas, that's why we have this problem," the President said in mixed Filipino and English after he received updates on the preemptive release of water from Ipo and Magat dams in Central Luzon.
Philippine Atmospheric, Geophysical and Astronomical Services Administration (PAGASA) administrator Vicente Malano reported to the President that Ipo dam in Bulacan and Magat dam in Isabela have been releasing water ahead of Karding. He said Magat and Ipo dams continued to release water yesterday.
Marcos asked Malano whether people downstream were evacuated prior to the release of water from the dams to which Malano replied, "We give them warning six hours before the release."
When asked by the President whether there were people affected by the flooding, Malano responded in Filipino, "There were critical areas that were hit by floods."
Marcos said he would also talk to the National Irrigation Administration (NIA) and the Metropolitan Waterworks and Sewerage System (MWSS) on the protocols on releasing water during severe weather disturbances.
"You be very, very careful about that. You can control (the release of water) anyway… The coordination required is going to be important. Ipo Dam, Magat – it should not be that you just don't talk to each other. You need to coordinate well," he said.
Magat dam is being operated by NIA, while Ipo dam is under the supervision of the MWSS, according to Malano.
After his briefing at the NDRRMC, Marcos conducted an aerial inspection in Bulacan, Nueva Ecija and Tarlac with Special Assistant to the President Anton Lagdameo, Interior Secretary Benhur Abalos, Social Welfare Secretary Erwin Tulfo, Energy Secretary Raphael Lotilla and Department of National Defense officer-in-charge Jose Faustino Jr.
The President, meanwhile, deferred his visit to typhoon victims yesterday to allow local officials to do their work. "I will not land in any place because from my experience if you're in the local government especially just after the typhoon, you have a lot of work. If I land there, they need to welcome me, provide police; I need to use their vehicles. They have a lot to do and I might only disturb them," Marcos said.
All hands on deck
Abalos said all hands were on deck at the LGUs affected by Karding, which forced over 19,000 families to flee its onslaught.
In an interagency meeting with President Marcos yesterday, the Department of the Interior and Local Government (DILG) Secretary said 19,368 families or 74,542 individuals were preemptively evacuated as of 5 a.m. yesterday.
The National Capital Region has the most number of evacuees at 8,233 families or 33,043 individuals, followed by Region III with 6,970 families or 25,358 individuals and Region IV-A with 3,460 families or 13,892 individuals.
Meanwhile, 231 families or 821 individuals were evacuated in Region I, 201 families or 758 individuals in the Cordillera Administrative Region, 148 families or 272 individuals in Region IV-B, 123 families or 390 individuals in Region II and two families or eight individuals in Region V.
The Armed Forces of the Philippines (AFP) yesterday said it has deployed Humanitarian Assistance and Disaster Response (HADR) teams to help residents in areas affected by Super Typhoon Karding in Northern, Central and Southern Luzon.
The AFP said unit commanders were directed to utilize available assets for Rapid Damage and Needs Assessment (RDANA) over areas of Luzon greatly affected by Karding.
The Philippine Air Force (PAF) deployed S-70i Black Hawk helicopters to conduct aerial surveys over the areas of Luzon greatly affected by Karding.
In La Union, authorities implemented the forced evacuation of 181 families or 523 individuals living in the floo-prone island village of Mindoro yesterday, according to Mayor Joy Pinzon-Merin.
In Abra, some 27 families sought refuge in evacuation centers while 20 families were accommodated by their relatives and neighbors. There are 36 families or around 98 individuals who fled to safer grounds in Benguet while in Kalinga, 39 families stayed with relatives and neighbors. Three families in Mountain Province took refuge at the evacuation centers while 14 families went to relatives.
The Department of Social Welfare and Development (DSWD) Cordillera said there were no fully damaged houses but nine were partially damaged. A full assessment of the damages in underway.
In Negros Occidental, classes in all levels, both in private and public schools, in 23 of the 32 LGUs were suspended yesterday because of monsoon rains enhanced by Karding.
Some families in Quezon province who evacuated amid the onslaught of Karding have started to go back to their homes as the weather situation in their areas became calmer, according to Quezon Governor Helen Tan.
However, there were some who had partially or totally damaged homes and they would still stay at the evacuation centers.
Meanwhile, the Department of Migrant Workers said yesterday that assistance awaits overseas Filipino workers (OFWs) and their families in areas affected by Karding.
Typhoon-affected OFWs and their families who need immediate assistance may call the Overseas Workers Welfare Administration hotline 1348. – Michael Punongbayan, Mayen Jaymalin, Jun Elias, Artemio Dumlao, Gilbert Bayoran, Ralph Edwin Villanueva, Marc Jayson Cayabyab, Ramon Efren Lazaro