Panganiban returns to DA as undersecretary
August 16, 2022 | 12:00am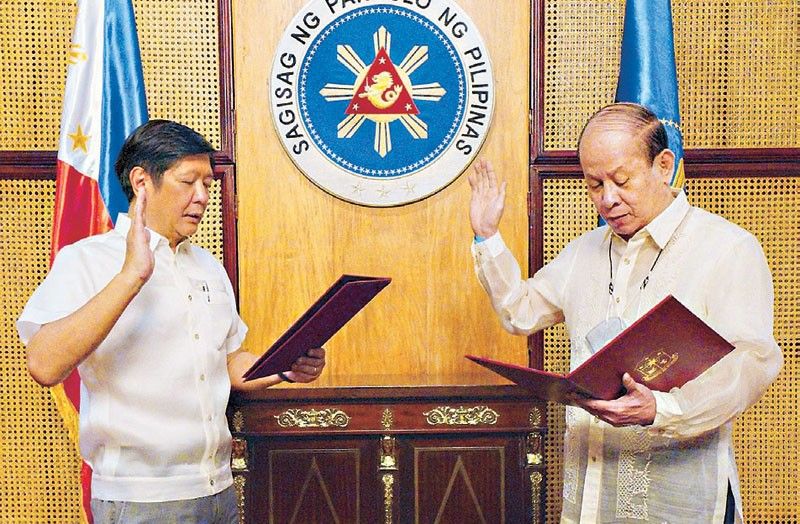 MANILA, Philippines — Former agriculture secretary Domingo Panganiban has returned to the agency as undersecretary as the Marcos administration focuses on efforts to increase farm production and to ensure access to affordable food.
In a Facebook post yesterday, President Marcos revealed that Panganiban was sworn in as agriculture undersecretary last Aug. 12.
"I greet Mr. Domingo F. Panganiban, who took his oath as undersecretary of the Department of Agriculture on Aug. 12, 2022. It is an honor to work with our experts in responding to the needs of our nation, especially in the field of agriculture," the President, who is also the agriculture secretary, said in Filipino.
Panganiban served as agriculture chief during the presidencies of Joseph Estrada and Gloria Macapagal-Arroyo. He also led the National Anti-Poverty Commission during the Arroyo presidency.
Panganiban was a field-level implementer of Masagana 99, a key program of Marcos' father and namesake that aimed to boost rice production.
He was also presidential assistant for agriculture during the presidency of the late Fidel Ramos.
Celis to Comelec
Four months before the barangay and Sangguniang Kabataan (SK) elections, President Marcos appointed information and technology (IT) expert Nelson Celis as commissioner of the Commission on Elections (Comelec).
Malacañang yesterday confirmed Celis' nomination to the poll body. "Malacañang confirms the nomination of Mr. Nelson Celis to Comelec as a commissioner," Press Secretary Trixie Cruz-Angeles said in a statement.
Comelec Chairman George Garcia also shared that Celis has been appointed to replace former Commissioner Aimee Torrefranca-Neri, whose appointment was not confirmed by the Commission on Appointments (CA) last June.
The 62-year-old Celis would finish the seven-year term of Neri that would end on Feb. 2, 2029.
Aside from Neri, also not confirmed by the CA were then chairman Saidamen Pangarungan and Garcia, who at that time was a commissioner. Garcia was appointed as chairman last July 22.
In a statement, Comelec acting spokesman John Laudiangco said that Chairman Garcia, Commissioners Socorro Inting, Marlon Casquejo, Aimee Ferolino and Rey Bulay are looking forward to working with Celis.
With Celis being the latest addition to the Commission, there is only one vacancy remaining in the seven-man Comelec en Banc.
Phivolcs OIC
Newly assumed Science &Technology Secretary Renato Solidum Jr. will designate his deputy at the Philippine Institute of Volcanology and Seismology (Phivolcs) as officer-in-charge of the institute while waiting for an appointment for a director to be made by President Marcos.
Solidum said that Dr. Teresito Bacolcol, Philvolcs deputy director, will be the OIC.
"Deputy director and directors (of Phivolcs) are appointed by the President," Solidum told The STAR.
Solidum was serving as concurrent S&T undersecretary for scientific and technical services, when he was named to head the DOST last Friday.
At a Laging Handa public briefing yesterday, Solidum said he would align the DOST's major programs with the economic agenda of the current administration in the next six years.
Solidum mentioned that DOST will continue to further improve its initiatives on transportation innovation and renewable energy, as well as helping push the passage of the law that would create the Virology Institute of the Philippines (VIP).
"We heard in the State of the Nation Address of President Marcos that the creation of the VIP will be one of his priorities in the legislative agenda. On the side, the DOST, through its agencies, have been preparing in terms of R&D initiatives and staff capabilities once the VIP is enacted into law," said Solidum. – Evelyn Macairan, Rainier Allan Ronda