Lydia de Vega, legendary sprint queen, 57
August 12, 2022 | 12:00am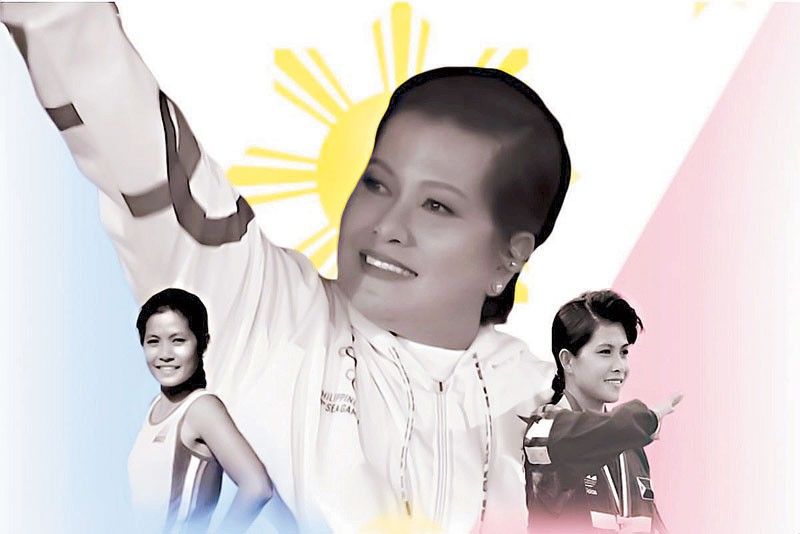 MANILA, Philippines — The country has lost a beloved sports legend.
Lydia de Vega-Mercado, Asia's sprint queen in the '80s and one of the greatest Filipino athletes of all time, passed away due to breast cancer Wednesday night. She was 57.
De Vega-Mercado's daughter Stephanie Mercado de Koenigswarter confirmed the news on her social media account.
"On behalf of our family, it is with absolute grief that I announce the death of my mother, Lydia de Vega this evening, Aug. 10, 2022, at the Makati Medical Center," Koenigswarter posted on Facebook. "She fought the very good fight and is now at peace."
The nation woke up to the sad news yesterday morning, triggering an outpouring of tributes
from sports leaders, fellow athletes, friends and fans.
President Marcos also condoled with De Vega's family and loved ones, saying the late sports icon "fought a good fight."??
"I join the entire nation in mourning the untimely demise of former Asian sprint queen Lydia de Vega, after a four-year battle with breast cancer. My sincerest condolences to her family and loved ones," Marcos said in a Facebook post.?
"Lydia de Vega has run her last race. She has finished her contest. She has fought a good fight. Let us pray for her peace," he added.
Laoag City Mayor Michael Keon, the former Gintong Alay head who discovered De Vega, hopes that "her passing should not be in vain" as he noted that the athlete rose as a track superstar winning two Asian Games gold medals, four Asian Championships top honors and nine Southeast Asian Games mints.
De Vega's last public appearance was during the opening ceremony of the 2019 SEA Games at the New Clark City where she, together with her fellow sports icons, carried the Philippine flag.
"She's a pioneer and she's perhaps the most bemedalled Filipino athlete, not just in track and field, but in all sports. She must be remembered not in vain," Keon added.
"I'm suggesting a big condolences and get-together in the old Gintong Alay camp in Baguio but it would up to the family."
Renato Unso and Elma Muros-Posadas, former Gintong Alay teammates, said De Vega, known as Diay to her friends, was a great athlete and a greater person.
"It's sad to lose someone like Lydia de Vega. She's generous, kind and humble, a symbol of a true great athlete, and has respect to her fellowmen," said Unso.
"I'm deeply saddened that Diay is gone because in all of our events in Gintong Alay in 1981, we're always together and most of the pictures we had in competition, we were always beside each other," said Muros-Posadas. "It's hard to accept that Diay is gone. We were like Vilma (Santos) and Nora (Aunor) of sports during our time."
The sports world mourned her passing. Her imprint as a legendary athlete proved far and wide with sports leaders from other countries also expressing their sympathy and condolences.
"On behalf of the men and women's of PATAFA, our deepest condolences and prayers… We lost one of our own, one of our best, but her spirit will live on in our hearts," said athletics president Terry Capistrano.
"I join the country, especially the athletics and track and field community in mourning the death of Lydia 'Diay' de Vega. We stormed heaven with our prayers. The Lord had other great plans for Diay," said former Philippine Athletics Track and Field Association chief Philip Juico.
"Had Diay stayed a bit longer in this life, she would have continued as a role model and an inspiration as an authentic Filipino athlete who genuinely loved sports for the good it could do and not for what she could get out of it," he added.
Philippine Olympic Committee (POC) president Abraham Tolentino joined the country and his fellow sports leaders in grief, saying it is "another sad day for Philippine sports, and although we lost a great icon, she made an imprint on the hearts of all the people she inspired."
"Her story will always be a success story to all athletes that Filipinos are capable of being in the pedestal specially to those who dream and pursue it," Tolentino added.
Foreign NOCs saddened
National Olympic Committee (NOC) leaders abroad expressed their grief.
"On behalf of Brunei Darussalam NOC, I would like to convey our sincere condolences to the Philippines NOC and the family of the late Lydia de Vega," Brunei NOC president Prince Haji Sufri Bolkiah said in a message.
"Brother President Tolentino, our deepest condolences to the family of the late Lydia de Vega and all Philippines NOC," said Indonesia Olympic Committee president Raja Sapta Oktohari."
Gen. Prawit Wongsuwan, president of the NOC of Thailand, was among the first to convey his condolences.
"We received this news with sadness. On behalf of NOCT, allow us to express our deepest condolences to the POC and the family of the late Lydia de Vega," Wongsuwan said. "Her legacy continues to live on. May she Rest In Peace."
Singapore National Olympic Council president Tan Chuan-Jin said: "Our deepest condolences to the POC and the family of the late Lydia de Vega. Who can't forget the iconic Queen of the track."
Congress grieves
Members of the Philippine Senate and the House of Representatives were also saddened by her death.
Sen. Risa Hontiveros said De Vega "left an everlasting international legacy and the impact of her spirit cements her as one of our best… as one of the most recognizable female athletes in the country, her brilliance encouraged many women and young girls to reach our full potential and continue her legacy— to win, to take space, and to keep coming back for more."
Sen. Bong Go was also saddened: "De Vega brought many honors to our country and inspired many of our young people to go into sports… Just like how Lydia helped and inspired many of our young athletes today, as the chair of both the Senate Committees on Health and on Sports, I will continue to help advance her cause by protecting the welfare, safety and health of our athletes in our quest to be one of Asia's sports powerhouses again."
"It's sad that Lydia was ravaged by illness, but no matter what, the memories she left of the talent and skill of being a Filipino athlete will never be erased," said Sen. Lito Lapid.
For Sen. Joel Villanueva, the "passing of one of the icons of Philippine sports, fellow Bulakenyo and childhood hero Lydia de Vega is very sad news." He noted that his grandfather, Joaquin Villanueva, was also an Olympian and sprinter like De Vega.
Even boxing champ and former senator Manny Pacquiao thanked De Vega for inspiring fellow Filipinos.
"You ran. You sprinted. You competed in pursuit of your own personal excellence so that the world can know our country, our Philippines. And you succeeded, as more and more Asians became aware of our country," Pacquiao said.
"I know what it is like to exercise, practice, and run alone. I went through all those times that we spent lonely mornings, running, and practicing to reach the best version of ourselves. But in the end, success makes it all worth it," he added.
The House also joined the nation in mourning the death of track legend, with Speaker Martin Romualdez saying her "death highlights the need for our government and the private sector to support Filipino athletes not only while they are healthy and physically able to compete but in retirement as well."
Senior Deputy Speaker and Pampanga Rep. Gloria Macapagal-Arroyo noted that De Vega's demise "is a big loss" to the country as the athlete "put Philippine sports on the world map and brought much honor to our country."
PBA party-list Rep. Margarita Nograles noted that it was "saddening that De Vega, during her last days, had to seek financial help from the public for her medication and relief from cancer."
"Our programs to support our athletes are really not enough. We should give retirement benefits to our past Olympians. We study how we can help our current and retired Olympians," Nograles said.
Dasmariñas Rep. Elpidio Barzaga Jr. maintained that De Vega was among the "first modern sports heroes that Filipinos looked up to."
Barzaga pointed out that it was De Vega who "paved the way for the likes of Hidilyn Diaz in capturing the imagination of the young girls in every corner of the country through the glory achieved in sports," referring to the Olympic gold medalist in weightlifting. – Alexis Romero, Cecille Suerte Felipe, Sheila Crisostomo