Marcos at Pinas Lakas: Get vaccinated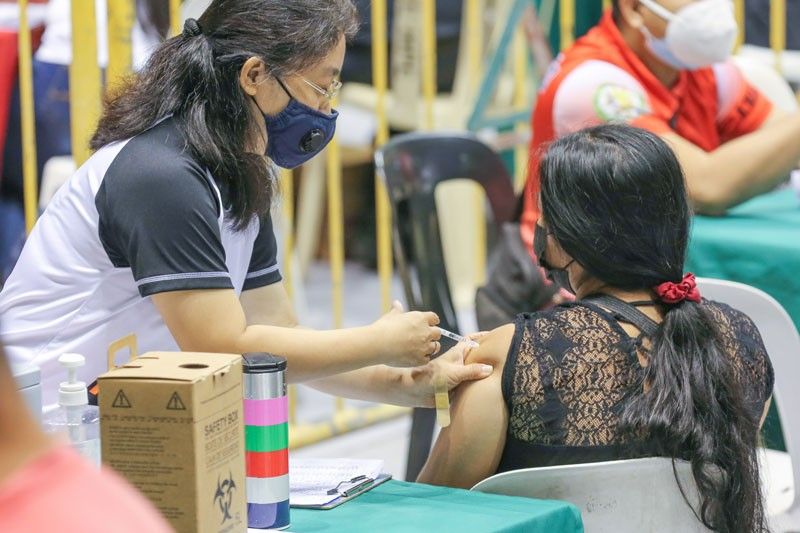 MANILA, Philippines — Despite the rising number of COVID-19 cases, President Marcos yesterday expressed confidence that the government can still control the spread of the disease even as he urged Filipinos to avail themselves of booster shots and to encourage their families and friends to do the same.
Speaking during a visit to a vaccination site in Pasig, Marcos reiterated that vaccines could provide protection against emerging COVID-19 variants.
"I have promised you, and I will repeat it: I think we can control it so we won't impose lockdowns anymore. We won't have lockdowns anymore... especially if our booster rollout is successful," he said in Filipino and English.
"Those who are here for the booster shot, encourage your colleagues, your families, everyone, tell them to get boosters, so that we won't have to worry about COVID, so we can say that it's over here in the Philippines," he added.
Marcos' visit to the COVID-19 inoculation site at the Pasig Sports Complex is part of the government's vaccination program Pinas Lakas, which seeks to administer jabs to at least 23 million people within the first 100 days of the Marcos administration.
The Philippines recorded an average of 3,047 new infections per day this week, 32 percent higher than last week's tally, according to the Department of Health (DOH).
The country, however, is still classified as low-risk, logging an average attack rate of 2.43 cases per 100,000 population.
Authorities said the rise in cases did not translate to a rise in hospital admissions.
Marcos stressed the present situation is "very different" from last year.
"We have now the vaccines and many, many people have been vaccinated already. Of course, we still have – the subject of the booster rollout actually came about because we were talking about the face-to-face classes this coming semester," he said.
"We should be prepared for anything. The recommendation of the DOH is (vaccination) should not be limited to children. Everyone should get boosters so that we can be safe from COVID or Omicron and its variants," he added.
The Chief Executive praised the Pasig local government for the orderly conduct of its vaccination campaign.
He also reminded the public to continue observing health protocols like frequent handwashing and wearing of face masks until the country becomes COVID-19-free.
Also present during the event were Executive Secretary Victor Rodriguez, DOH officer-in-charge Undersecretary Maria Rosario Vergeire, Pasig City Mayor Vico Sotto, Vice Mayor Dodot Jaworski, Pasig Rep. Roman Romulo and other local officials.
24,100 new cases
For the past week, the DOH recorded 24,100 new COVID-19 cases.
The latest COVID-19 Bulletin issued by the DOH also noted that from July 25 to 31, there were 76 new patients in severe and critical conditions, and 44 verified deaths from the disease.
Meanwhile, the daily average number of new COVID-19 infections is 3,443 – 24 percent higher than the figure recorded from July 18 to 24.
Last Sunday, the DOH recorded 744 severe and critical COVID-19 patients who sought admission in hospitals – 9.2 percent of the total COVID-19 admissions in the country.
Out of the 2,583 intensive care unit beds intended for COVID-19 patients, 601 (23.3 percent) were occupied while 29.5 percent or 6,505 out of 22,051 non-ICU COVID-19 beds are being used.
The DOH also reported that as of July 17, more than 71 million individuals or 91.81 percent of the target population have been vaccinated against COVID-19.
Meanwhile, 16.2 million individuals, including the 281,215 individuals boosted last week, have received their booster shots.
The DOH likewise said 6.7 million senior citizens or 77.87 percent of the target A2 population were able to receive their primary vaccine series.
The agency reminded the public to continuously observe the minimum public health standards under Alert Level 1.
"Remember to always wear a best-fitted face mask and if possible, stay in well-ventilated areas. Once symptoms are felt, immediately isolate. For additional protection, have yourselves vaccinated and boosted," the DOH said.
'Very high' positivity rates
Five provinces in the Visayas registered "very high" COVID-19 positivity rates as of July 30, the OCTA Research Group said yesterday.
Data shared by OCTA Research fellow Guido David showed "very high" positivity rates or above the 20 percent one-week positivity rates in Capiz, Aklan, Antique, Bohol and Negros Oriental from July 23 to 30.
Capiz recorded the highest positivity rate as of Saturday, reaching 51.2 percent, higher than the 30.6 percent posted in the province last July 23, followed by Aklan with 36.9 percent positivity rate, Antique (28.7 percent), Bohol 28.2 percent and Negros Oriental (27.6 percent).
"Very high positivity rates (more than 20 percent) were observed in Aklan, Antique, Bohol, Capiz and Negros Oriental," David said in tweet.
He added that the rise in positivity rates was also observed in other parts of the Visayas and Mindanao as of July 30.
The positivity rate in Misamis Oriental increased from 9.7 percent on July 23 to 17.2 percent on July 30.
Increased positivity rates were also registered in South Cotabato, from 11.2 percent to 15.2 percent; Zamboanga del Sur, from 9.7 percent to 12.7 percent; Cebu, from 9.9 percent to 12.4 percent; and Leyte, from 9.2 percent to 10.7 percent.
Last Sunday, David said 14 provinces in Luzon registered "very high" or above 20 percent COVID-19 positivity rates while the National Capital Region (NCR) recorded a slight increase.
Isabela recorded the highest positivity rate at 36.3 percent as of July 29, as against 25.7 percent on July 23, followed by Tarlac (31.6 percent) and Laguna (30.9 percent), Camarines Sur (28.4 percent), Quezon (27.5 percent), Zambales (27.2 percent), Cavite (27.1 percent), Nueva Ecija (25.8 percent), Albay (25.4 percent), Pampanga (23.2 percent), Cagayan (22.7 percent), Rizal (21.7 percent), Pangasinan (21 percent) and La Union (20.9 percent).
David said the NCR's positivity rate slightly increased from 14.2 percent on July 23 to 15 percent on July 29.
Health care worker shortage
In a related development, the Private Hospitals Association of the Philippines Inc. (PHAPI) has expressed concern over the continued shortage of healthcare workers amid the entry of monkeypox and the rising number of COVID-19 cases in the country.
PHAPI president Dr. Jose Rene de Grano said they are worried over how they are going to handle a situation where there would be surges of both COVID-19 and monkeypox.
"That is what really worries us. Although we have beds in hospitals, our limitation is really on the number of healthcare workers," De Grano said at a public briefing yesterday.
"We really have this shortage in healthcare workers. We cannot just continuously admit patients without having the needed manpower or healthcare personnel," he added.
This is the reason they continue to favor the imposition of the overseas deployment cap for health care workers, according to De Grano.
"We are not saying that they must be prevented from leaving, but what is important is for the government to control it so that we won't have a shortage," he said.
He added that they are hoping that the government would provide private hospitals with subsidies for additional wages of health care workers.
"This would greatly help private hospitals in their bid to increase the salaries of our nurses," De Grano said.
He also lamented that health care workers in other areas of the country have not received their One COVID allowance, although according to the Department of Budget and Management, funding for this has already been released to the DOH.