Pope offers prayers for Agaton victims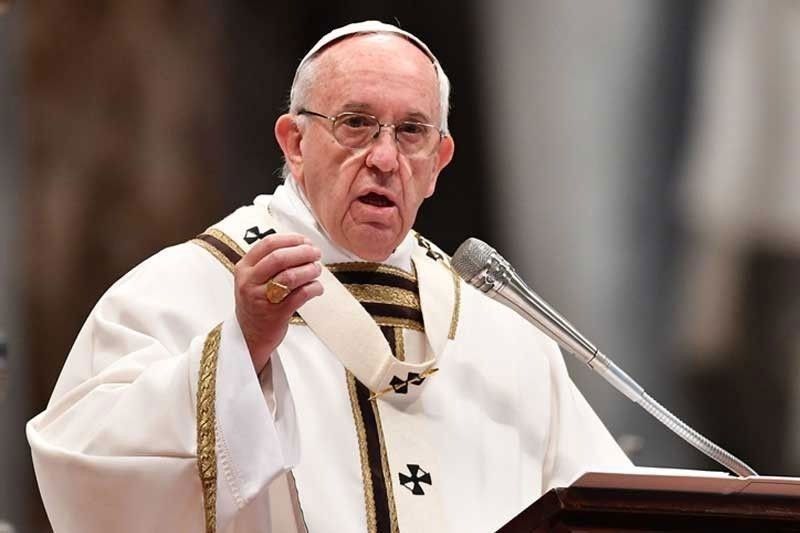 MANILA, Philippines — Pope Francis has offered prayers for the victims of the recent flooding and landslides in the Philippines brought about by Typhoon Agaton as he expressed his solidarity and closeness with them in their most difficult times.
"His Holiness Pope Francis wishes to express his solidarity with all those suffering in the wake of the storm," Pope Francis said in a telegram dated April 14, signed by Cardinal Pietro Parolin, secretary of state, and addressed to Apostolic Nunciature Bishop Charles Brown.
Brown forwarded the letter to Catholic Bishops' Conference of the Philippines (CBCP) president and Caloocan Bishop Pablo Virgilio David.
Pope Francis also said he would pray for the families whose loved ones died due to Agaton, as well as those who were left injured as he offered prayers for those who were "displaced as well as those engaged in recovery efforts."
"As a sign of his spiritual closeness, His Holiness willingly invokes upon all the Filipino people God's blessing of strength and peace," Parolin said.
For his part, Brown also offered his prayers for the victims of Typhoon Agaton.
Pope Francis has a soft heart for the Filipino people as he visited the Philippines in January 2015, when he met and dined with victims of Super Typhoon Yolanda in Tacloban City and Palo, Leyte as he led a mass in various locations in the Philippines.
'Do not despair'
Manila Archbishop Jose Cardinal Advincula reminded the Catholic faithful not to lose hope and patience amid all their struggles and sufferings caused by many factors – including the COVID-19 pandemic – that killed thousands of people and resulted in joblessness in the country.
Advincula said the Catholic faithful will also have their own "third day" or resurrection from all of their sufferings as he emphasized that the resurrection of Jesus Christ is a reminder of hope when he successfully passed through the darkness of death to an everlasting life.
"Jesus rose again to tell you in ways more powerful than words, do not despair, continue to trust, continue to hope, your third day will also come, there is also a resurrection that awaits you," Advincula said in his Easter message.
Advincula said the life of Jesus Christ did not end with all his suffering and death, as he emphasized that the Catholic Church celebrates the life of Christ after he rose again on the third day after remembering his death on Good Friday.
He said that Jesus Christ died on the cross for the sins of everyone.
"This is what Easter Sunday reminds us, there is always a resurrection – and because Jesus rose again, we have hope. There will always be a third day for us," he said.
"Just wait, for life does not end there. Hindi pa po tapos ang lahat (It is not the end). There will always be a third day, a day of victory, a day of resurrection. Even this pandemic will have its third day, and one day we will all experience resurrection," he added.
Advincula said people should always continue to be with Jesus Christ amid all their struggles and sufferings, as he assured the faithful that the Catholic Church will continue to pray for everyone, especially to those who are in difficult times.