Dispute brewing among Comelec execs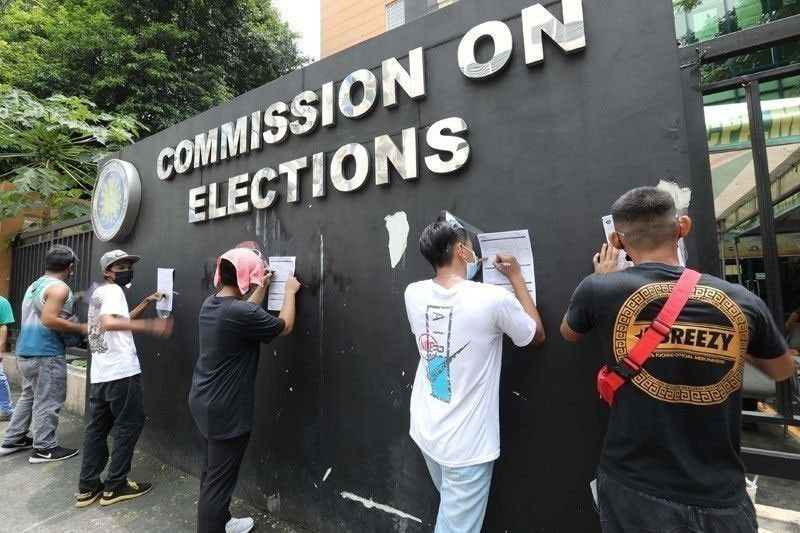 MANILA, Philippines — Is a rift brewing among Commission on Elections (Comelec) commissioners less than a month to the May 9 polls?
Senior Commissioners Aimee Ferolino and Marlon Casquejo staged a "black protest" during yesterday's en banc session in support of Commissioner Socorro Inting, who resigned as chair of the poll body's gun ban committee.
Inting's resignation came after the en banc approved Comelec Resolution 10777, recalibrating the rules and regulations on the election gun ban and giving Chairman Saidamen Pangarungan the power to grant gun ban exemptions and place areas of concern under Comelec's control.
Senior Commissioners Inting, Casquejo and Ferolino dissented or expressed reservations on the amended resolution.
All were present during yesterday's hybrid en banc session, which Ferolino, Inting and Casquejo attended virtually. Commissioner Aimee Neri had to excuse herself due to medical emergency while Pangarungan and Commissioners George Garcia and Rey Bulay were physically present, along with other Comelec officials.
Garcia said there was "nothing unusual" during the en banc session as he stood firm that Inting remains the chair of the Committee on the Ban on Firearms and Security Concerns (CBFSC) as they did not tackle her resignation.
"Nothing unusual. All items in our agenda (main, supplemental and other matters and subject of executive session) were disposed of and acted upon. Commissioner Inting is still the chairperson of the CBFSC. No en banc action yet on her resignation," Garcia said.
Garcia said he did not notice what Casquejo and Ferolino were wearing as they attended the en banc virtually.
He insisted there is "no such rift" in the Comelec, noting that "everybody were actively participating" in the discussions.
Garcia said Inting's decision to resign as CBFSC chair could not be called a misunderstanding in the poll body.
"All systems go tayo sa election," he said.
In another development, Garcia refused to comment on the alleged vote buying case in Romblon involving presidential candidate Ferdinand Marcos Jr., whom he served as counsel in an electoral protest filed against Vice President Leni Robredo.
Garcia was an election lawyer before he was appointed to the Comelec. He informed the Comelec's law department that he would inhibit in all cases that would be filed against Marcos to protect the integrity of the poll body.
Garcia said the Comelec is hoping that the National Bureau of Investigation (NBI) will complete its investigation on a Smartmatic employee tagged in the alleged security breach involving operations of the automated poll service provider.
He said the Comelec's legal remedies or options against Smartmatic would be based on the results of the NBI investigation. – Ralph Edwin Villanueva, Evelyn Macairan