LPA to dump rain in parts of Philippines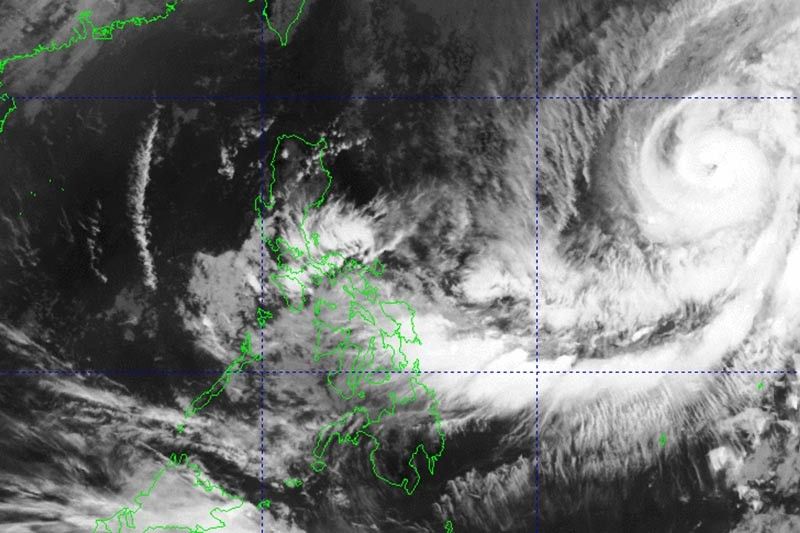 MANILA, Philippines — A low pressure area, formerly known as Tropical Depression Agaton, will continue to dump rain in parts of the Philippines, forecasters said Wednesday.
Agaton, the first cyclone to hit the Philippines this year, weakened into a low pressure area Tuesday evening, but it will still dampen parts of the country, especially those in the east.
According to PAGASA, residents of Masbate, Sorsogon and Eastern Visayas will experience scattered to widespread rains and thunderstorm due to the LPA.
The weather disturbance will also bring scattered rain showers and thunderstorms across the rest of Bicol region and Visayas, Northern Mindanao, Caraga, Marinduque, Romblon and Quezon province.
Meanwhile, Metro Manila and the rest of the country will have isolated rain showers or thunderstorms.
Such weather conditions may result in possible flash floods or landslides, PAGASA warned.
The slow-moving LPA was last seen 65 kilometers southeast of Guiuan in Eastern Samar. Meanwhile, the typhoon with international name Malakas—formerly known as "Basyang—was about 1,545 km east of Central Luzon.
Forty-three fatalities have been reported during the onslaught of Agaton, the National Disaster Risk Reduction and Management Council said.
As It Happens
LATEST UPDATE: April 19, 2022 - 3:30pm
Tropical Depression Agaton (international name Megi) is the first tropical cyclone to enter the Philippines in 2022. Bookmark this page for updates. — Main photo: JMA
April 19, 2022 - 3:30pm
Chinese President Xi Jinping has sent a message of condolence to President Rodrigo Duterte over the aftermath of tropical cyclone Agaton (international name Megi).
On behalf of the Chinese government, Xi expressed deep condolences to the victims of the typhoon, the Chinese Embassy says.
"Xi Jinping said, he was shocked to learn that the Philippines was hit by the typhoon, which has caused heavy casualties and property losses," the embassy says.
Xi Jinping Sends Message of Condolence to Philippine President Rodrigo Duterte over Typhoon Disaster in the Philippines pic.twitter.com/5rTrPfWEEN

— ChineseEmbassyManila (@Chinaembmanila) April 19, 2022
April 15, 2022 - 11:55am
Pope Francis expresses solidarity with all those suffering in the wake of cyclone Agaton (international name Megi).
In a letter addressed to CBCP President Pablo Virgilio David conveyed through Apostolic Nuncio Charles Brown, Vatican's Secretary of State Cardinal Pietro Parolin says the Pope "willingly invokes upon all the Filipino people God's blessings of strength and peace."
"He also offers the assurance of prayers for the dead, injured, and displaced as well as those engaged in recovery efforts," Cardinal Parolin says.
April 14, 2022 - 1:14pm
The death toll from landslides and flooding in the Philippines triggered by tropical storm Megi (locally named Agaton) hit 115 on Thursday, official figures show, as more bodies were found in mud-caked villages.
Scores of people are still missing and feared dead after the strongest storm to hit the archipelago nation this year dumped heavy rain over several days, forcing tens of thousands into evacuation centres. — AFP
April 13, 2022 - 10:24am
The death toll from landslides and floods in the Philippines rises to 58 on Wednesday, official tallies show, as rescuers dug up more bodies with their bare hands in villages crushed by rain-induced avalanches of mud and earth.
Most of the deaths from tropical storm Agaton (international name Megi) — the strongest to hit the disaster-prone archipelago this year — were in the central province of Leyte where a series of landslides has devastated communities.
At least 47 people died and 27 were missing after waves of sodden soil smashed into farming settlements over the weekend, local authorities said. Just over 100 people were injured. — AFP
April 13, 2022 - 9:05am
The death toll from "Agaton" has reached 43, NDRRMC says.
The council also reports seven missing persons and eight injured individuals as of April 13.