'Agaton' slightly weakens; 'Malakas' to enter PAR tonight or early Tuesday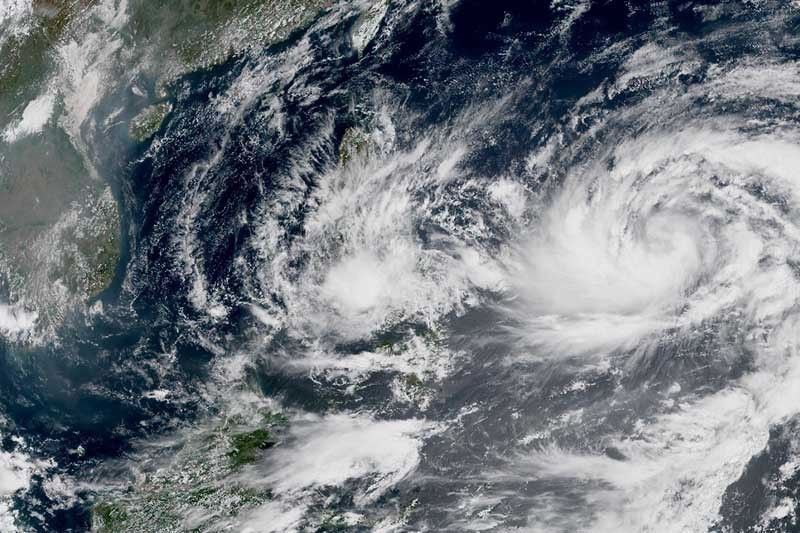 MANILA, Philippines (Updated 2:56 p.m.) — Tropical depression Agaton remained almost stationary over the coastal waters of Samar, while the tropical cyclone with international name Malakas gained strength, forecasters said Monday.
In a bulletin issued past 2 p.m., PAGASA said Agaton remained over the coastal waters of Marabut, Samar.
The cyclone's peak winds decreased to 45 kilometers per hour near the center from 55 kph, and its gustiness was down to 60 kph from 75 kph.
PAGASA placed the following areas under Tropical Cyclone Wind Signal No. 1:
Southern portion of Masbate (Dimasalang, Palanas, Cataingan, Pio V. Corpuz, Esperanza, Placer, Cawayan)
Eastern Samar
Samar
Northern Samar
Biliran
Leyte
Southern Leyte
Northeastern portion of Cebu (Daanbantayan, San Remigio, Medellin, City of Bogo, Tabogon, Borbon, Sogod, Catmon, Carmen, Danao City, Compostela, Liloan) including Camotes Island
Eastern portion of Bohol (Getafe, Talibon, Bien Unido, Trinidad, Ubay, San Miguel, Pres. Carlos P. Garcia, Mabini)
Surigao del Norte
Dinagat Islands
Strong winds are prevailing or are expected in areas under TCWS No. 1. PAGASA said Agaton's winds have "minimal to minor threat to life and property."
In the next 24 hours, rough to very rough seas (2.8 to 4.5 meters) will prevail over the seaboards of areas under TCWS No. 1. Such conditions may be risky for most sea vessels.
According to PAGASA, moderate to heavy rains with at times intense rains will be experienced today in the following areas:
Sorsogon
Masbate
Romblon
Biliran
Leyte
Southern Leyte
Northern and central portions of Cebu including Bantayan and Camotes Islands
Northern portion of Negros Oriental
Northern portion of Negros Occidental
Aklan
Capiz
Iloilo
Antique
Guimaras
Meanwhile, light to moderate with at times heavy rains will affect the following areas:
Dinagat Islands
Oriental Mindoro
Marinduque
Quezon
Rest of Bicol region and Visayas
Agaton is forecast to "slowly loop" in the vicinity of northeastern portion of Leyte and the southern portions of Samar and Eastern Samar before emerging over the Philippine Sea by Tuesday evening as Severe Tropical Storm Malakas begins to interact with it, PAGASA said.
It added that Agaton is expected to remain a tropical depression, but any significant intensification will be likely inhibited by its binary interaction with Malakas.
One death, two injuries, and one missing person have been recorded during the onslaught of the year's first tropical cyclone, but these figures have yet to be confirmed, according to the National Disaster Risk Reduction and Management Council.
'Malakas' intensifies
In a separate advisory, the state weather bureau said that Malakas (international name) slightly gained strength while moving northwestward over the Philippine Sea.
The severe tropical storm was last seen 1,300 km east of Southern Luzon, with peak winds of 100 kph near the center and gustiness of up to 125 kph. It is heading northwest at 15 kph.
Malakas is expected to enter the Philippine Area of Responsibility by Monday evening or early Tuesday morning. Once it is inside the country's jurisdiction, it will be named "Basyang."
PAGASA said the duration of Malakas within the PAR region "will likely be short", and that the cyclone is projected to continue intensifying throughout the forecast period and become a typhoon this evening. A peak intensity of 155 kph may be reached by late Tuesday or early Wednesday.
"Malakas is unlikely to directly affect the weather condition in the country. However, it is forecast to influence the movement and development of another tropical cyclone (Agaton) as it tracks generally northwestward towards the PAR region," PAGASA said.
Forecast position of Agaton
Tuesday morning: In the vicinity of Marabut, Samar
Wednesday morning: 195 km east of Guiuan, Eastern Samar
Forecast position of Malakas
Tuesday morning: 1,135 km east of Southern Luzon
Wednesday morning: 1,480 km east of Central Luzon
Thursday morning: 1,495 km east of extreme Northern Luzon
Friday morning: 2,270 km east northeast of extreme Northern Luzon
— Gaea Katreena Cabico
As It Happens
LATEST UPDATE: April 19, 2022 - 3:30pm
Tropical Depression Agaton (international name Megi) is the first tropical cyclone to enter the Philippines in 2022. Bookmark this page for updates. — Main photo: JMA
April 19, 2022 - 3:30pm
Chinese President Xi Jinping has sent a message of condolence to President Rodrigo Duterte over the aftermath of tropical cyclone Agaton (international name Megi).
On behalf of the Chinese government, Xi expressed deep condolences to the victims of the typhoon, the Chinese Embassy says.
"Xi Jinping said, he was shocked to learn that the Philippines was hit by the typhoon, which has caused heavy casualties and property losses," the embassy says.
Xi Jinping Sends Message of Condolence to Philippine President Rodrigo Duterte over Typhoon Disaster in the Philippines pic.twitter.com/5rTrPfWEEN

— ChineseEmbassyManila (@Chinaembmanila) April 19, 2022
April 15, 2022 - 11:55am
Pope Francis expresses solidarity with all those suffering in the wake of cyclone Agaton (international name Megi).
In a letter addressed to CBCP President Pablo Virgilio David conveyed through Apostolic Nuncio Charles Brown, Vatican's Secretary of State Cardinal Pietro Parolin says the Pope "willingly invokes upon all the Filipino people God's blessings of strength and peace."
"He also offers the assurance of prayers for the dead, injured, and displaced as well as those engaged in recovery efforts," Cardinal Parolin says.
April 14, 2022 - 1:14pm
The death toll from landslides and flooding in the Philippines triggered by tropical storm Megi (locally named Agaton) hit 115 on Thursday, official figures show, as more bodies were found in mud-caked villages.
Scores of people are still missing and feared dead after the strongest storm to hit the archipelago nation this year dumped heavy rain over several days, forcing tens of thousands into evacuation centres. — AFP
April 13, 2022 - 10:24am
The death toll from landslides and floods in the Philippines rises to 58 on Wednesday, official tallies show, as rescuers dug up more bodies with their bare hands in villages crushed by rain-induced avalanches of mud and earth.
Most of the deaths from tropical storm Agaton (international name Megi) — the strongest to hit the disaster-prone archipelago this year — were in the central province of Leyte where a series of landslides has devastated communities.
At least 47 people died and 27 were missing after waves of sodden soil smashed into farming settlements over the weekend, local authorities said. Just over 100 people were injured. — AFP
April 13, 2022 - 9:05am
The death toll from "Agaton" has reached 43, NDRRMC says.
The council also reports seven missing persons and eight injured individuals as of April 13.