Election fact-checking initiative launched
January 26, 2022 | 12:00am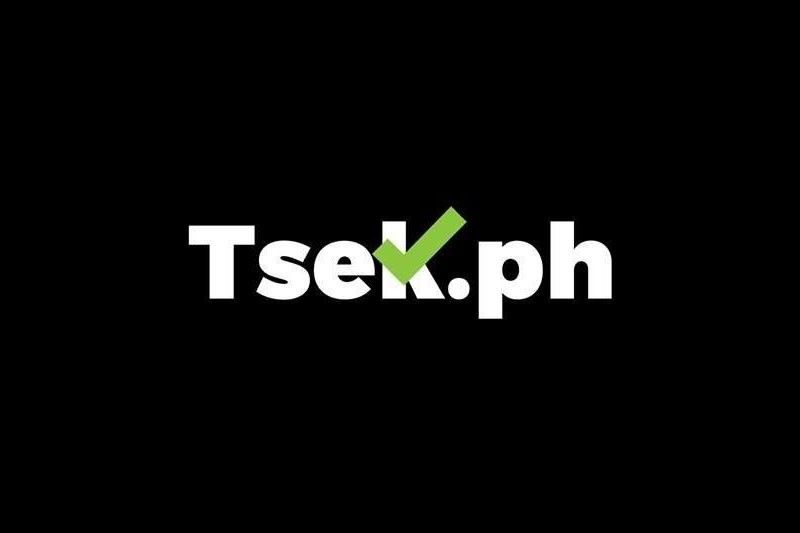 MANILA, Philippines — Twenty-two media organizations, academic institutions and civil society groups have re-launched an expanded fact-checking coalition to combat disinformation in the 2022 elections.
First launched in 2019, Tsek.ph is a pioneering collaborative fact-checking coalition that brought together the academe, media and civil society to address the spread of election-related disinformation.
Fact-checks cover claims on platforms and campaign promises of candidates; election-related statements and remarks made by candidates, personalities, government agencies and other entities; and election-related posts on social media, blogs and other platforms.
"Initiatives like Tsek.ph are vital and necessary," said University of the Philippines (UP) vice president for public affairs Elena Pernia. "Especially now, when an enlightened Filipino citizenry is key to our elections so that we are correctly informed about who and what the candidates running for national and local positions stand for," she said.
Baybars Orsek, director of the International Fact-Checking Network at Poynter, lauded the revival of Tsek.ph in his keynote speech during the launch on Monday.
"Tsek.ph is one of the most significant efforts in the world that has been carrying out these activities in such a collaborative way and it has inspired so many collaborative initiatives among other fact checkers," he said.
The revitalized alliance includes media organizations ABS-CBN, Baguio Chronicle, dzUP, FYT, Interaksyon, MindaNews, PhilStar Global, Philippine Press Institute (PPI), Press One, Probe and VERA Files, as well as civil society groups Akademiya at Bayan Kontra Disimpormasyon at Dayaan (ABKD), BarangayHub, Fact Check Philippines and the Philippine Association for Media and Information Literacy.
Its academic partners are the Asian Center for Journalism at the Ateneo de Manila University, Colegio de San Juan de Letran, Trinity University of Asia Communication Department, UP Los Baños, UP Department of Journalism's Fact-Check Patrol and FactRakers and the University of Santo Tomas (UST) Journalism Program.
"We at the Philippine Press Institute, also known as the national association of newspapers, support a stronger Tsek.ph. Just as we commit to our own mandate as an organization, we bind ourselves to the noble and ennobling intentions and ideals of fact-checking," said PPI executive director Ariel Sebellino.
"Today more than ever, we should all unite to free ourselves from the bondage of infodemic. One big check for Tsek.ph," he added in English and Filipino.
Ging Reyes, head of ABS-CBN's Integrated News and Current Affairs division, commended the group's efforts in uniting fact-checking partners, acknowledging the crucial role that journalism plays in society.
"This is an inherent part of our responsibility as journalists: to hold those in power accountable, and to protect a vibrant democracy where people can make decisions freely based on correct information," she said.
Camille Diola, editor of digital news outlets Philstar.com and Interaksyon, underscored how despite perceived competition among them, all partners are united by the mission of the coalition.
"So it is only right, and it is a necessity, that we set our differences aside and work in concert through Tsek.ph," she said.
Meanwhile, Carol Arguillas, editor of MindaNews – a Mindanao-based online newspaper and Tsek.ph media partner since 2019 – shared the organization's commitment to "this collective endeavor and collective commitment to provide the public with accurate information."
Felipe Salvosa II, program coordinator of the UST Journalism Program, also highlighted the role of academic institutions in addressing disinformation.
"As journalists and journalism educators, our first obligation is to the truth. And this aligns with our official university motto: veritas in caritate – truth in charity. Truth, addressing the problem of disinformation, fighting fake news, is our obligation to one another," he said.
Also joining the launch was ABKD convenor Francisco Guiang, who expressed the group's commitment to the network's mandate to "conduct fact checking, hold webinars about disinformation and fake news, conduct education seminars and join the kontra-daya efforts in the upcoming elections."
Tsek.ph is supported by the UP System, Google News Initiative, UP Journalism Department and the UP College of Mass Communication Foundation.