Pandemic-hit transport workers struggle to make both ends meet
September 28, 2021 | 2:19pm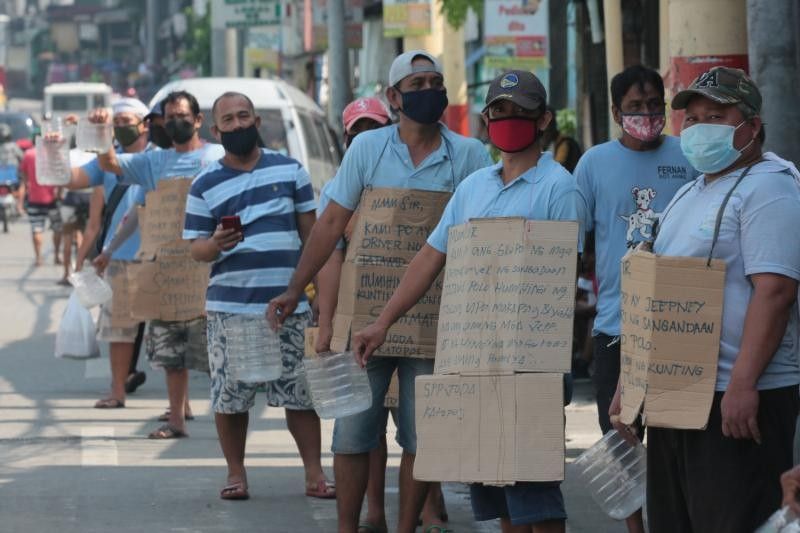 MANILA, Philippines — With tighter travel measures enforced in Metro Manila and other major cities due to pandemic-induced lockdowns, public transportation workers are forced to look for alternative means of income to make ends meet.
While allowed to hit the roads even under the most stringent enhanced community quarantine (ECQ), transport workers faced another setback when the government limited the number of passengers they could accommodate.
Aside from reducing the allowed seating capacity of public utility vehicles (PUV) by half, the government also limited the persons who can go out, a policy that will further reduce the earnings of struggling drivers and operators, according to transport group Pinagkaisahan Samahan ng mga Tsuper at Operators (Piston).
Piston national president Moody Floranda said the financial aid intended for PUV drivers and operators by the two Bayanihan laws did not adequately address the problem.
"If we analyze the data from DSWD (Department of Social Welfare and Development) and LTFRB (Land Transportation Franchising and Regulatory Board), it's small," he said when asked about the status of the distribution of financial aid to PUV drivers and operators.
According to earlier reports, only about 209,000 PUV drivers nationwide were found to be eligible for the Social Amelioration program, which provided financial assistance to sectors affected by pandemic restrictions.
Floranda said only 26 out of 300 members of the Piston Sucat-Baclaran chapter have received financial assistance. In Novaliches, only 150 out of 670 Piston members benefited from the aid, he added.
"How about those individuals who are not members of Piston?" Floranda said.
Struggling sector
Jules Madrid, 24, and her father have been in the transport industry for at least two years. The earnings from their UV express business could have eased the burden from their daily expenses but their vehicle has been sidelined for the past four months because of expired permits.
Madrid said public transport operators who entered the business recently are struggling because of the "tight" guidelines set by the LTFRB. She also had to deal with the reduced passenger capacity, further discouraging her from continuing her UV express operations.
Fortunately, Madrid has another business that helps her family stay afloat.
But not everyone has a lifeline.
Juan (not his real name), a jeepney driver for more than three decades, admitted that the prolonged lockdown has brought him unparalleled challenges.
"For over 30 years, this is the only time we have experienced this," Juan told Talamitam.
Juan's family has heavily relied on his income as a jeepney driver for more than 30 years. But like everyone else, the pandemic took them by surprise and Juan has nothing to lean on but his severely depleted income as a driver.
On average, Jeepney drivers earn at least P700 a day prior to the pandemic, according to Piston. However, this has been reduced significantly because of the seating capacity rule designed to ensure safe distancing among passengers. Now traditional jeepney drivers like Juan, only earn as low as P150 each day
Juan shared that for him to be able to break even with the cost of each trip, his jeep has to be filled with at least 10 passengers per trip.
"Swerte na pag naka pag sakay ka ulit ng sampung pasahero (You're lucky if you were able to get ten passengers)," he said.
To make both ends meet, Juan is forced to look for an alternative source of income.
"For now, my wife sells fruits," he said.
Juan added that if his family relies solely on his job, their bills would pile up.
"If I was the only one working, we would be buried in debt" distressed Juan said
Another traditional jeepney driver, Wilfredo Cano, 54, shared a similar story.
Cano, an officer of a small association among jeepney drivers in Baclaran, Manila said the limited passenger capacity posed a major challenge.
"We lose a lot of earnings due to the limited seating capacity allowed per vehicle, plus the oil price hike," Cano said.
To make matters worse, Cano revealed that he has not received any financial aid from the government since the first lockdown was imposed last year.
"Not a single dime," Cano said.
Cano managed to survive the ordeal through the help of his operator who hired him as a temporary personal driver and food packs from different organizations. The reduced seating capacity rule and the higher maintenance and fuel costs make breaking even "almost impossible," prompting Cano's employer to temporarily suspend operations.
His temporary job as a personal driver for his employer is not good as it sounds though.
"Sometimes, my operator would not call me which means I would not have a source of income that day," Cano said.
Cano usually gets P400 as a personal driver. To augment his income, he joined thousands of Filipinos who are into online selling. But the 54-year-old driver admitted that he still does not have enough knowledge of technology and that he still has to get used to it.
Cano lamented that some of his friends are still struggling to look for alternative income sources.
"Some of my co-drivers were forced to beg for spare coins," Cano said.
"What scares me is that some of them may be forced to do something illegal in order to survive."
What lies ahead
For Juan, the solution to drivers' woes lies in providing "better and equal assistance" to workers of the transport sector.
Despite the problems hounding the transport sector, Floranda said jeepney drivers would continue to offer the "most affordable" means of transportation to the public.
In spite of her hardships, Madrid is still optimistic about being back in the transport industry.
Madrid said if transport agencies would only be more "lenient" in their requirements and would issue better guidelines, then operators like her would not have a hard time securing the required permits. Such adjustments would also help others thrive during the pandemic as it can give more job opportunities, she added.
But Cano is not that optimistic. He believes that the industry won't recover if bigger problems like issues hounding the vaccination program are not addressed.
"Honestly, knowing the government, I do not have expectations anymore," Cano said. - Talamitam
---
This article is an output of Talamitam, a network of schools established in 2017 by journalism societies of the University of Santo Tomas, Bulacan State University, Colegio de San Juan de Letran, Lyceum of the Philippines University, Polytechnic University of the Philippines and University of the East. Talamitam aims to empower ordinary citizens through community journalism, focusing on topics not commonly reported by the mainstream media and alternative angles of current issues.

To achieve its goal of raising public awareness about community issues, Talamitam contributes articles to media outlets. News organizations can use or republish the stories for free provided they give credit to Talamitam and the authors.
Talamitam is a Tagalog-Kapampangan word for conversation.