Duterte on cops selling AKs: Shoot them dead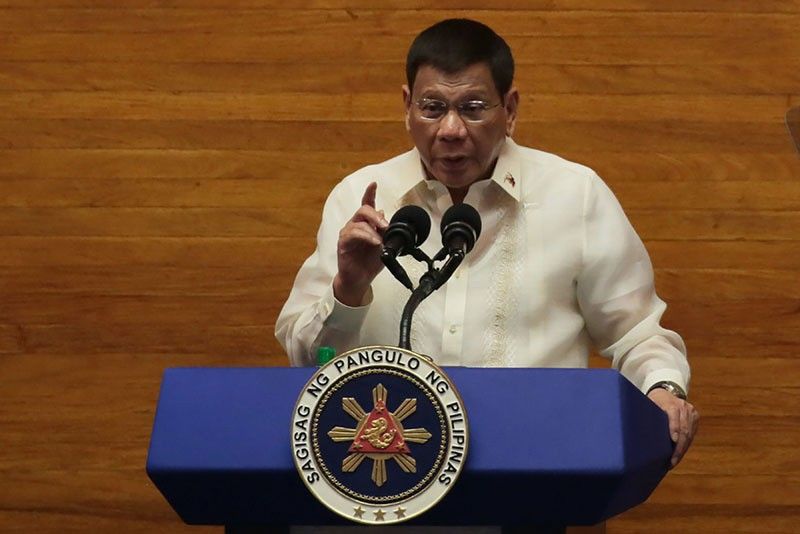 MANILA, Philippines — President Duterte has brought to light anew past cases against former members of the Philippine National Police (PNP), whom he accused of smuggling AK-47 machine guns that were sold to enemies of the state and killed many soldiers.
Duterte gave an order to the public to conduct citizens' arrest and shoot dead the perpetrators who, he said, were former top ranking police officers during the previous administration.
"Shoot them dead," he said during his last State of the Nation Address (SONA) last night at the Batasan complex in Quezon City.
He urged his ally, former PNP chief and now Sen. Ronald dela Rosa, to dig deeper into the matter, which has been pending before the Office of the Ombudsman.
"I'd like to ask Congress, especially Senator Bato, kindly dig into this because we have identified the person who imported the AK-47 into this country on the pretext of using it in security – providing security and guards in all business establishments and for those who can afford (security for) their home," Duterte said.
The President was referring to a former police colonel, who "has gone under the radar" after he was implicated in the drug protection racket a few years ago.
"This policeman, I think, is still there. He was a colonel and he is still... Nothing happened. Many soldiers died because of the arms he brought into the Philippines," he said.
During his SONA, Duterte managed to make light of his shoot-on-sight order, adding the shooter would end up like him who would be charged in the International Criminal Court.
"So that's my orders to you… if you see them walking around, kindly shoot them dead. I would be happy. Anyway, you are already charged in the ICC together with me. So what is the problem of adding another one? Another idiot Filipino who has caused great damage to our country. Iyan ho ang totoo diyan (that's the truth)," Duterte said.
Ex-police colonel surrenders
Meanwhile, former police colonel Wilson Magpali, accused of running a gun-for-hire syndicate, yesterday turned himself into the authorities.
Eleazar said Magpal was accompanied by his lawyer.
The police chief, however, did not give details on Magpali''s surrender.
Sources said Magpali turned himself in to police officials at Camp Crame in Quezon City at around 3 p..m. Magpali is the alleged leader of gun-for-hire group operating in La Union and other provinces in Luzon.
Duterte legacy
Even if critics would like to pin him down on his bloody drug war, the President will likely sweep under the rug the issue of extrajudicial killings but bank on his administration's Build, Build, Build program into his last year in office, presidential spokesman Harry Roque Jr. yesterday said.
The country reached the "golden age" or what allies described as a "renaissance of Philippine infrastructure" during Duterte's term, translating to roads and bridges spanning 30,000 kilometers, he added.
Members of the Cabinet outlined a summary of his accomplishments for the first five years of a six-year term.
Roque said 214 airports and 451 sea port projects have been developed, while about 23,000 hectares of land were distributed to farmers.
While the country is reeling from the coronavirus pandemic, Roque said the government implemented a community-based assistance package that provided emergency employment for displaced workers.
Malacañang also reported that the Universal Health Care was enacted, benefitting many Filipinos, especially while the government faced the challenges brought about by the COVID-19 pandemic.
Apart from the construction of quarantine and isolation facilities, the administration has injected 17 million doses of SARS-CoV-2 vaccine so far.
Presidential Communications Operations Office chief Secretary Martin Andanar expressed belief that the administration has done much in the past one-and-a-half years in the fight against the novel virus.
"We are in a very unusual situation. We are in a very interesting time, especially now we are facing the pandemic… So this is one of the worst crises that we have gone through, because it's a world crisis," he said, noting how difficult it has been for many sectors when Duterte imposed a lockdown last year.
With about year left in office, Duterte still enjoys a high popularity rating and acceptance rating of more than 80 percent, which Andanar said is proof that the Chief Executive is no lame duck.
As far as Cabinet Secretary Karlo Nograles is concerned, Duterte will be best remembered for his "genuine concern for the people, tough leadership" that has improved the lives of millions of Filipinos.
"His legacy is a tough and compassionate leadership that produced gains which reduced poverty and laid a solid foundation for the country's continued economic growth," Nograles said.
Prior to the pandemic, from 2016 to 2019, Nograles said six million Filipinos were lifted out of poverty while poverty incidence dropped to 16.7 percent in 2018 from 23.5 percent in 2015.
Nograles also highlighted 127 Malasakit Centers which provided medical help to two million beneficiaries.
Duterte also launched comprehensive hunger and malnutrition programs, including the creation of the National Food Policy, as well as programs for socialized housing and safe water.
The administration was tough on crime and illegal drugs, Nograles noted, and on those who abuse the environment as seen in his directive to shut down Boracay for six months to rehabilitate the island.
The efforts of the President, said Nograles, are clearly appreciated by the people, as manifested in his consistently high approval ratings from both Pulse Asia and Social Weather Stations.
Despite allegations of human rights abuses, PNP chief Gen. Guillermo Eleazar believes history will judge Duterte's war on drugs favorably.
For Eleazar, the crackdown on illegal drugs has improved the country's peace and order situation.
"This early I assure you that history will be in our favor… aside from indisputable data of our anti-crime and anti-illegal drugs campaign," he said in his speech during flag-raising rites at Camp Crame yesterday.
Eleazar gave Duterte a rating of eight out of 10 as crimes decreased by at least 63 percent during his term. – Emmanuel Tupas, Delon Porcalla