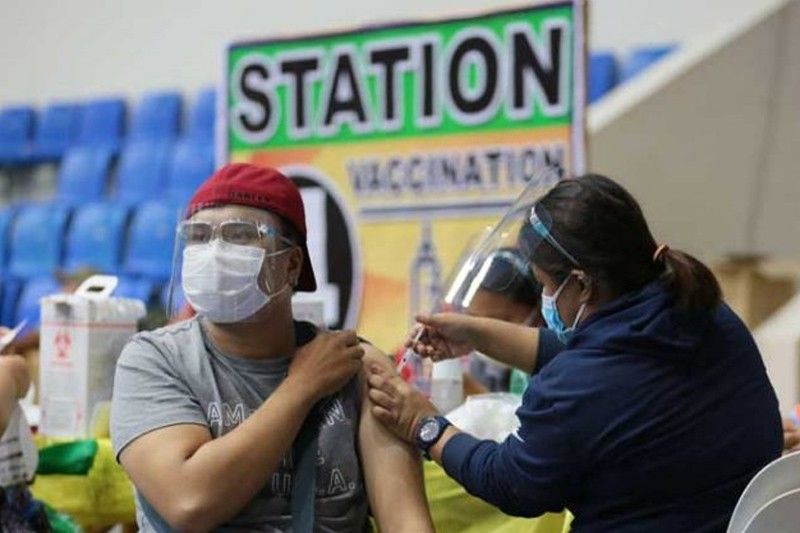 Citing the July 21 whole genome sequencing conducted by the Philippine Genome Center, the DOH said 187 new cases of Alpha variant, 142 cases of Beta and 12 of P.3 variant were also detected.
STAR/Micheal Varcas, file
Philippines detects 12 more Delta variant cases
MANILA, Philippines — Twelve more local cases of the highly transmissible Delta variant have been detected in four regions in the country including three in Metro Manila, the Department of Health (DOH) reported yesterday.
Citing the July 21 whole genome sequencing conducted by the Philippine Genome Center (PGC), the DOH said 187 new cases of Alpha variant, 142 cases of Beta and 12 of P.3 variant were also detected.
Apart from the three Delta cases in Metro Manila, six were reported in Central Luzon, two in Calabarzon and one in the Bicol region.
"All cases have been tagged as recovered, but their outcomes are being validated by our regional and local health offices," the DOH noted.
The 12 new cases bring the total number of Delta variant cases recorded to 47, including 16 sequenced last July 15.
Of the 16 cases, 11 are local cases and five are returning overseas Filipinos (ROFs).
They were put in isolation and subjected to swab testing, after which eight of them turned positive for COVID-19 again. There have been three deaths from the Delta variant.
"With the detection of additional cases, it is crucial that we implement enhanced response immediately in the areas where these cases were detected and its contiguous local government units as well as areas with case spikes, with the premise that there may be ongoing local transmission already," the DOH maintained.
On the other hand, the DOH said 187 more cases of Alpha variant, including 179 local cases, have been detected. Eight cases are being verified if they are local or ROFs.
Based on the case line list, 54 cases have ended as fatalities while 133 have been tagged as recovered. This brings the total Alpha variant cases to 1,668.
The DOH also reported 142 additional cases of Beta variant sequenced by PGC, of which 134 are local cases and the remaining eight still being verified. Twenty-one of them have died while 121 have recovered. Beta variant cases now total 1,827.
Twelve more cases of P.3 variant – first detected in the Philippines – have also been detected. Eleven of the cases were of local origin, while the last is still being verified.
The World Health Organization has reclassified P.3 as "variant of interest" to "alert for further monitoring" after demonstrating that it was no longer a threat to global public health.
Continued vigilance
With the detection of local cases of Delta variant and other variants of concern, the DOH has advised the public to continue observing minimum public health standards including avoiding enclosed spaces and mass gatherings.
"Continued implementation of the PDITR strategies and localized lockdowns, active case detection, contact tracing, completion of isolation/quarantine, and increased vaccination of the priority groups are necessary to control the further transmission of COVID-19 and its variants," the DOH said. PDITR is short for prevent, detect, isolate, treat and reintegrate.
The DOH has also asked local government units to increase their samples for whole genome sequencing especially in areas with identified spikes in cases and clustering.
The DOH appealed to Filipinos especially the elderly to get themselves inoculated against COVID-19, saying six in 10 deaths from the virus are senior citizens categorized as A2 in the vaccination priority group.
DOH Undersecretary Myrna Cabotaje also noted that those in the A3 priority group or persons with comorbidities are "four times more susceptible" to contracting the illness.
"Get yourself vaccinated if there is an opportunity. Also, complete your vaccination to be protected," she said.
Of all the COVID-19 jabs available in the country, only Johnson & Johnson is given in one dose. The others are two-dose regimen.
Cabotaje maintained that getting vaccinated "remains our strong protection" against COVID-19 and its variants, along with the minimum public health standards.
Based on July 18 Vaccination Statistics, a total of 15,096,261 doses of COVID-19 jabs have already been administered in the country since the vaccination rollout last March 1. Of the figure, 4,708,073 were given as second dose.
Data showed that of the 1.88 million healthcare workers who received the first dose, 1.31 million have completed the vaccination.
On the other hand, of the 2.7 million senior citizens who received their first dose, only 1.19 million returned for their second dose.
Data also showed that of the 3.44 million people with comorbidities, 1.57 million have already completed their jabs.
Meanwhile, presidential spokesman Harry Roque Jr. vowed to take up anew with the Inter-Agency Task Force for the Management of Emerging Infectious Diseases (IATF) the need to intensify contact tracing activities, citing the emergence of the Delta variant.
"I will really bring up the issue on the need to strengthen our contact tracing to deter the spread of COVID-19 infection," Roque said.
He said swab testing of infected individuals and their direct contacts are necessary, in addition to strict isolation measures.
Intense contract tracing
"For LGUs, I cannot emphasize that the contact tracing will be intense. So, in the past, one positive will give rise to maybe four; now we will give rise to eight and so that contact tracing will become intense as the Delta spreads," molecular biologist and UST professor Nicanor Austriaco said at a press briefing.
He said LGUs must implement localized lockdowns of barangays "quickly and generously immediately to contain if there is a spread in a barangay."
"And we have to prepare isolation and quarantine facilities. We cannot have home quarantine. Why? Because with the transmission, a reproduction number of eight, if a single person becomes COVID positive and they go home, everyone in the house will pretty much get COVID-19 because the reproduction number is so high," he said.
He noted that in many countries, home quarantine is rarely resorted to. "You have to take the person away and put them in an isolation and quarantine facility," Austriaco explained.
Citing a case in Sydney, Australia, he illustrated how a single individual infected more than 200 people shortly after the person's arrival in the city, prompting authorities to impose a lockdown in the country. "And so what we are seeing here is that we have unprecedented transmission because of super spreader events," he said.
But he said the government should not look too far since the Philippines' neighboring countries are experiencing a surge due to the Delta variant.
"And you can see of course, you brought up the cases in Asia and this is why because Vietnam Thailand, Malaysia and Indonesia are experiencing a dramatic surge. Indonesia in the past few days has begun the negative turn, so, hopefully it has begun to come down," he added.
LGUs, he said, should be extra vigilant in handling COVID-19 cases, including taking steps to avoid the conduct of super spreader events.
"So, what do we have to look for in an LGU? We have to look for an explosive number of cases," he said. "The Delta will be twice as explosive.
"Avoid crowds especially indoors because super spreaders are essential for the transmission of Delta. If you avoid crowd especially indoors, you will minimize your threat and you must of course get vaccinated when you are eligible," he added. — Christina Mendez