DepEd: School year 2021-2022 opens September 13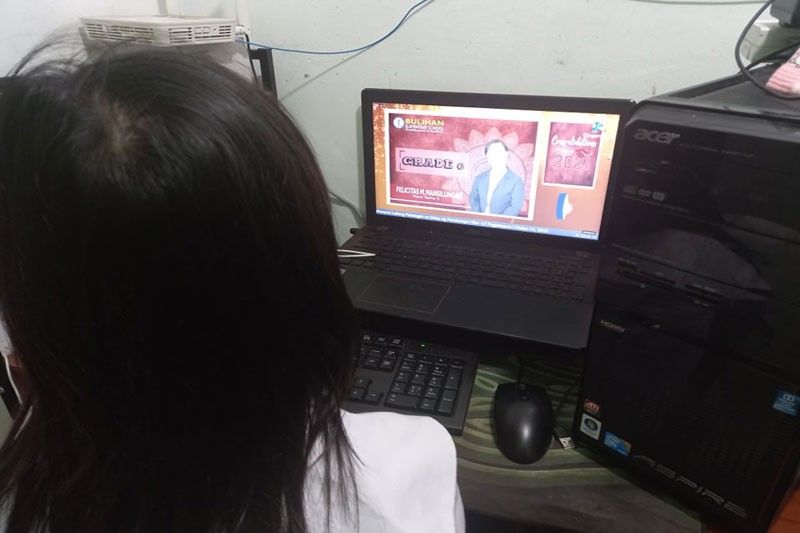 MANILA, Philippines — Classes in public elementary and high schools will resume on Sept. 13, giving students a two-month break from the blended learning setup implemented due to the COVID-19 pandemic.
President Duterte opted for the latest among the three options recommended by Education Secretary Leonor Briones, the department said Friday.
The other options were Aug. 23 and Sept. 6.
DepEd said the school calendar for the upcoming school year will be released once finalized.
"We hope for our stakeholders' continued cooperation and support as we prepare for another challenging yet worthwhile endeavor of educating our children amid a global health crisis," it added.
While a few months later than the usual June opening of classes, the Sept. 13 schedule is almost one month earlier than last year's Oct. 5 resumption of classes.
The delay last year was due to the need to prepare for the shift to blended learning, which adopted different distance learning modalities such as the use of modules, television, radio and various online platforms.
Only public elementary and high schools are mandated to follow the general school calendar, with private schools given the flexibility to set their own schedule for the opening of classes.
Last month, DepEd said private elementary and high schools may already start their school year provided that they will only implement distance learning modalities.
"Private schools and non-DepEd public schools intending to start classes ahead of the general school opening shall submit the relevant documents to the regional director as required under (DepEd orders) on readiness assessment," Briones said in an advisory.
Non-DepEd schools include those that are supported by government but are not under the jurisdiction of the education agency, including science high schools and the laboratory schools of public higher education institutions.
Duterte has yet to allow the resumption of in-person classes in basic education.
He recently rejected DepEd's proposal to implement limited face-to-face classes in some 300 public schools located in low-risk areas.
DepEd said they will follow the decision of the President, who cited the emergence of more contagious variants of COVID-19 as his reason for disallowing face-to-face classes.
"We will continue to prepare and improve the delivery of quality education no matter what the circumstances will be in the coming months," it added, stressing their readiness to continue implementing an "enhanced" blended learning setup for students.
Face-to-face possible
While an initiative to vaccinate all teachers is a welcome development, the Alliance of Concerned Teachers (ACT) on Friday said face-to-face classes may resume even without inoculating all teachers against COVID-19.
ACT secretary general Raymond Basilio said the government must institute a national program to vaccinate teachers if it wants to make vaccination a prerequisite before face-to-face classes can resume.
But he noted the difficulty of achieving such a requirement before the opening of the school year on Sept. 13, citing the low vaccine supply in the country.
"We're already on the second half of the year but so far we've only fully inoculated 3.2 percent of the population, a far cry from our 50-70 percent target by the end of the year," he said.
"Many countries have physically reopened their schools long before vaccines became available. So instead of holding education hostage by tying it to the still unreliable and frankly slacking vax program, we demand that the government implement concrete steps to enable our safe return to schools," he added.
Instead of waiting for teachers to get their vaccines, the ACT recommended a different set of minimum requirements to enable localities to hold face-to-face classes.
These include being low-risk for COVID-19 spread, readiness of school facilities to enable implementation of health protocols and having a health care capacity ready to respond and manage surges.
"It must be emphasized, however, that the fulfillment of these requisites is first and foremost the responsibility of the national government," said Basilio.
Schedule welcome
The ACT meanwhile has welcomed DepEd's announcement that classes will begin on Sept. 13, saying it will enable teachers to enjoy their mandated 80 days of school break, including Christmas vacation.
The group, however, noted that some local DepEd offices have released work calendars requiring teachers to work up to the end of August.
The overtime work that teachers rendered for the recently concluded school year also remains uncompensated, it added.
The ACT earlier said the next school year should open no earlier than Sept. 13 to give educators a much-needed break from work.
Basilio noted that teachers had to work for 13 straight months last school year, depriving them of the 80 days proportional vacation pay that they receive in lieu of leave credits.
Public school teachers started preparing for blended learning last June 2020 and had to work until July 10, three months longer than the usual 10 months that they render in a regular school year.
For its part, the Teachers' Dignity Coalition said the government must ensure that all requirements for online and modular learning are ready before the opening of classes.
"Because if the situation will be the same as last school year, teachers will again be required to fill in all the gaps in the system," the group said in Filipino.