13,000 residents evacuated from Taal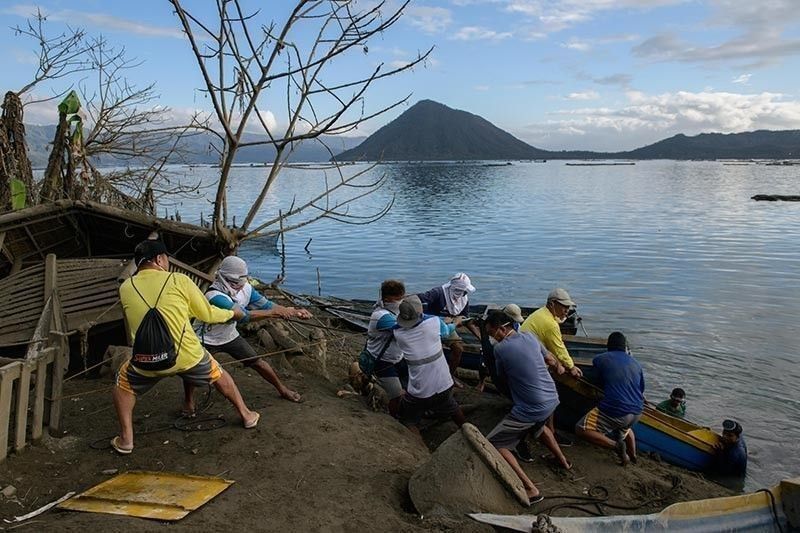 MANILA, Philippines — Almost 13,000 residents have been evacuated in Batangas province over a week marked by a phreatomagmatic eruption and continuous volcanic earthquakes at Taal Volcano.
Latest data from the National Disaster Risk Reduction and Management Council (NDRRMC) said around 5,000 individuals are being served in 21 evacuation centers in the province.
Over 8,900 more or 2,499 families are reported to have fled since the eruption on July 1 but sought shelter not in evacuation centers.
The NDRRMC said about 14,000 individuals reside in the five high-risk barangays in the towns of Laurel and Agoncillo.
These barangays are Banyaga and Bilibinwang in Agoncillo, and Gulod, Buso-buso and Lakeswhore Bugaan East in Laurel.
NDRRMC spokesman Mark Timbal said they are still checking with regional counterparts to confirm if evacuation of all residents in the high-risk barangays has been completed.
"So far, we're checking with the regional DRRMC if evacuation has been completed. There are some residents who have gone to their relatives without informing the local government units and the Department of Social Welfare and Development is trying to reach out to them," Timbal said.
Volcanic quakes
Yesterday, a total of 74 volcanic earthquakes have been recorded in the past 24 hours around the volcano, indicating continued magmatic unrest underneath it.
The Philippine Institute of Volcanology and Seismology (Phivolcs) also recorded continued "high levels" of volcanic sulfur dioxide (SO2) gas emissions, averaging 6,488 tons on Saturday.
A steam-rich plume that rose 1,000 meters before drifting west-northwest and southwest was also observed from the Taal main crater, the agency said.
Alert Level 3 or "magmatic unrest" remains hoisted over Taal. This alert level means magma extruding from the main crater could drive explosive eruptions, Phivolcs explained.
The public is prohibited from entering the entire Taal Volcano Island, which is a permanent danger zone.
No civilians are allowed in high-risk barangays of Agoncillo and Laurel due to the hazards of pyroclastic density currents and volcanic tsunamis during strong eruptions.
'Eruption may trigger brownouts'
Yesterday, a congressman warned of possible power outages if Taal Volcano should have a major eruption and disrupt the operation of power suppliers in Luzon.
"The entire power sector – from generation, transmission to distribution – should brace for the worst-case scenario wherein they might be overwhelmed by ashfall," Makati City Rep. Luis Campos Jr. said.
"Our worry is volcanic ashfall, which could pose a hazard to Luzon's power infrastructure, considering the high concentration of power plants in nearby Batangas City and the municipality of Calaca," Campos said.
"They should have operational plans that will enable them to run their critical functions, including maintenance work, even with ashfall," he said.
He advised power suppliers to adopt risk mitigation and disaster recovery plans to minimize disruptions and to quickly restart operations should temporary stoppages become unavoidable or the stability of the Luzon grid's power supply would suffer.
The northern half of the volcano island forms part of the Municipality of Talisay in Batangas province.
Talisay is only 38 kilometers away from Batangas City, which hosts five large power plants that supply a combined 3,286 megawatts (MW) to the Luzon grid.
Campos noted that Calaca, 29 kilometers away from Talisay, hosts six other power plants that supply an additional 1,100 MW. – Helen Flores,Delon Porcalla