Villagers face twin perils: Volcano and virus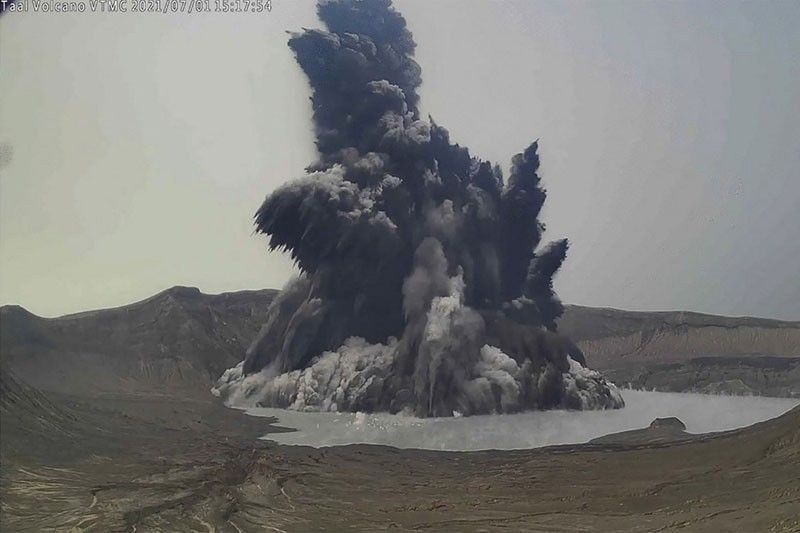 MANILA, Philippines — More than 2,000 people have fled from the Taal Volcano eruption that has filled the air including over Metro Manila with toxic gas, officials said yesterday.
Taal Volcano, which sits in a picturesque lake of the same name, has been belching sulphur dioxide for several days, creating a thick haze over Metro Manila and several surrounding provinces, and prompting health warnings.
At least 2,400 people have left their homes since the government called for evacuation of communities on the lake's shores, Batangas provincial disaster official Joselito Castro said.
"We expect more residents to evacuate over the coming days," he said, adding that they were seeking refuge either in schools closed by the COVID-19 pandemic or in the homes of relatives.
Taal lies just 50 kilometers south of Manila and for much of the past week has discharged volcanic smog that has blotted out the sun in the capital.
Civil defense officials have warned that more than 317,000 people could be vulnerable to toxic gas emissions from the volcano under the current eruption's worst-case scenario.
On Friday, three phreatomagmatic bursts were observed on Taal Volcano, with 48 volcanic earthquakes recorded in a 24-hour period, according to the Philippine Institute of Volcanology and Seismology (Phivolcs).
Phreatomagmatic eruptions are caused by magma coming into contact with water.
The three explosions sent plumes 100 meters into the air from the main crater lake of the volcano, according to volcanologists.
The 1,020-foot Taal, one of the world's smallest volcanoes, erupted in January last year, displacing hundreds of thousands of people and sending clouds of ash to Manila, about 65 kilometers to the north and forcing the suspension of flights at the Ninoy Aquino International Airport.
The Philippines is hit periodically by eruptions and earthquakes due to its location in the Pacific "Ring of Fire," a zone of intense seismic activity.
COVID-19 scare
In the latest eruption, officials said they faced another dilemma of ensuring emergency shelters will not turn into epicenters of COVID-19 infections.
The alert was raised to three on a five-level scale after Taal Volcano blasted a dark gray plume into the sky Thursday. The five-minute steam- and gas-driven explosion was followed by four smaller emissions but the volcano was generally calm on Friday, volcanologists said.
Level three means "magma is near or at the surface, and activity could lead to hazardous eruption in weeks," according to Phivolcs.
Level five means a life-threatening eruption is occurring that could endanger communities.
However, Phivolcs chief Renato Solidum said it was too early to know if the volcano's current unrest will lead to a full-blown eruption.
The preemptive evacuations that began late Thursday involved residents in five high-risk villages in the lakeside towns of Laurel and Agoncillo.
More than 14,000 people may have to be moved temporarily away from the volcano, said Mark Timbal, a spokesman for the government's disaster-response agency.
Town officials, however, faced an extra predicament of ensuring emergency shelters, usually school buildings, basketball gymnasiums and even Roman Catholic church grounds, would not become COVID-19 hotspots. Displaced villagers were asked to wear face masks and were sheltered in tents set safely apart, requiring considerably more space than in pre-pandemic times.
In Laurel town, Imelda Reyes feared for her and her family's safety in their home near the volcano and in the crowded grade school-turned-evacuation center where they took shelter Friday.
"If we stay home, the volcano can explode anytime," Reyes said. "But here, just one sick person can infect all of us. Both are dangerous choices."
Reyes, who washes laundry and has four children, wept in desperation as she said she and her husband, a corn farmer, wanted to leave the evacuation camp for a friend's house in northern Nueva Ecija province but lamented they did not have money for the bus fare.
Isolation camps
Most evacuation camps have set up isolation areas in case anyone began showing COVID-19 symptoms.
"It's doubly difficult now. Before, we just asked people to rush to the evacuation centers and squeeze themselves in as much as possible," said disaster response officer Junfrance de Villa of Agoncillo town.
"Now, we have to keep a close eye on the numbers. We're doing everything to avoid congestion," De Villa told AP by telephone.
A nearby town safely away from the restive volcano could accommodate up to 12,000 displaced Agoncillo residents in pre-pandemic times but could only shelter half of that now. A laidback town of more than 40,000 people, Agoncillo has reported more than 170 COVID-19 cases but only about a dozen remain ill. At least 11 residents have died, he said.
The Philippines is a COVID-19 hotspot in Asia, with more than 1.3 million confirmed cases.
An alarming surge in infections has started to ease in Manila and outlying regions. But daily cases remain high and lockdowns have been re-imposed in several provinces that have reported case spikes.
President Duterte and his administration have faced criticism over a vaccination campaign saddled with supply problems and public hesitancy. After repeated delays, vaccinations started in March.
Duterte blamed the problems on wealthy Western countries cornering vaccines for their own citizens, leaving poorer countries like the Philippines behind.
Heavy ashfall also buried an abandoned fishing community, which thrived for years in the shadow of Taal on an island in Taal Lake, and shut down a popular district of tourist inns, restaurants, spas and wedding venues.
A long-dormant volcano, Mount Pinatubo in Zambales, blew its top in one of the biggest volcanic eruptions of the 20th century, killing hundreds of people.