Palace: All international flights to Mactan diverted to NAIA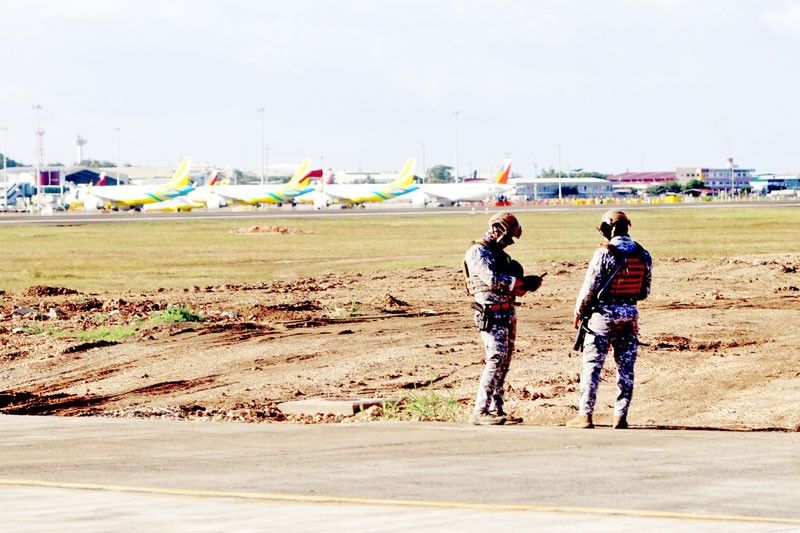 MANILA, Philippines — President Duterte has ordered all international flights to Mactan-Cebu International Airport diverted to the Ninoy Aquino International Airport in Pasay City from May 29 to June 5 to ensure compliance with quarantine procedures including mandatory COVID-19 testing for all travelers seven days after arriving in the country.
Duterte relayed his order through Executive Secretary Salvador Medialdea who issued a memorandum yesterday directing local government units, heads of departments, agencies and offices of the government-owned and controlled corporations (GOCC) to follow the order contained in Resolution 116-A of the Inter-Agency Task Force for the Management of Emerging Infectious Diseases (IATF).
Malacañang issued the order after Cebu Gov. Gwendolyn Garcia defied the seven-day rule imposed by the IATF, which the governor deemed as "repressive" for Filipinos returning from abroad.
"All international flights bound for the Mactan-Cebu International Airport shall be diverted to the NAIA effective 0001H of 29 May 2021 until 2359H of 05 June 2021," the memo read.
The Palace directed the Department of Transportation and its attached agencies, and the Manila International Airport Authority to ensure the smooth diversion of inbound flights.
In his memo dated May 27, Medialdea said the order is in "pursuit of national interest in preventing further spread of COVID-19 in the country."
Medialdea reiterated the need to "enforce current testing and quarantine protocols approved and issued by the IATF applicable to inbound international travellers in all ports of entry, regardless of any specific protocols that may be issued by local government units to the contrary."
Garcia revealed she received information that presidential spokesperson Harry Roque and Justice Secretary Menardo Guevarra were planning to take legal actions against her over the province's decision to stay away from the "whole-of-nation" approach to swabbing returning Filipinos including workers. Cebu province swabs returning Filipinos right upon arrival at the airport.
In defying the IATF rule, Garcia has invoked her authority under Section 105 of Republic Act 7160, which states that the "Secretary of Health, may, upon the direction of the President, and in consultation with the local government unit concerned, temporarily assume direct supervision and control over health operations in any local government unit for the duration of the emergency, but in no case exceeding a cumulative period of six months."
Malacañang directed the Department of the Interior and Local Government (DILG) to enforce the order to ensure strict compliance with quarantine protocols and regulations.
"Heads of departments shall ensure that all offices and instrumentalities under or attached to their departments abide by this directive, while the (DILG) shall enforce compliance with respect to LGUs," the order read.
Under IATF resolution, all inbound travellers from abroad are subjected to 10-day quarantine in a facility, while the remaining four days can be completed under home quarantine. They are supposed to be swabbed on the seventh day of their arrival.